On Tuesday, the Chiefs Community Caring Team stopped by the VA Medical Center to visit veterans and hand out Chiefs posters and yearbooks.
Chiefs Ambassadors Bobby Bell, Ken Kremer, Dave Lindstrom and Jon McGraw, along with KC Wolf, Chiefs Cheerleaders and Red Coaters distributed the items, while chatting with the patients.
"This is something I love doing; I love visiting veterans," Hall of Fame LB Bobby Bell explained. "I started going to military bases and visiting veterans back in 1968, so every opportunity I get, I love to come see these men and women. They are so thankful for our visit and it's so nice to be able to try to give back to them, through these events."
This is the fourth year the Chiefs have made a series of visits to local military bases and outreach groups. The partnership with the VA Medical Center helps strengthen the team's long-standing commitment to our armed forces.
"It's so easy to live in this country and take so much for granted, but visits like these make you realize that we are so fortunate and it's because of these guys and what they've done for this country," Chiefs Ambassador Jon McGraw noted. "It's always great to be able to come by and just tell them thank you."
The Chiefs met with 40 patients while at the VA Medical Center, thanking each of them for their service, signing autographs and posing for photos, in addition to sharing several Chiefs items.
"It means the world to our patients for the Chiefs to come out and visit," Robert Kent, Assistant for the Chief of Staff at the VA Medical Center said. "Over the years, the Chiefs have done numerous things to work with us and to give back to the community. It's always excellent to see people, who have served in the military, who are sick in a hospital bed, get a visit from the Chiefs and their day is made."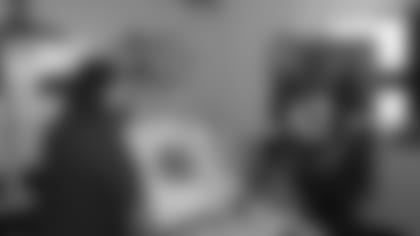 The patients at the VA Medical Center enjoyed the company of the Chiefs Community Caring Team and just as the Chiefs were thankful for the veterans' service, they were in turn thankful for the visit.
"The most meaningful visit we had was to a guy who said, 'You know, I've been through a lot of stuff and these are the kind of things that make it all worth it, when someone comes by just to say thank you,'" McGraw noted.
In addition to our local VA Medical Center, the Chiefs organization also hosts outreach programming with area military-based groups, such as Whiteman AFB, Ft. Leavenworth and Ft. Riley.
Visits such as this are just one of the ways that the Chiefs salute our service men and women. We appreciate all the sacrifices they and their families make on our behalf.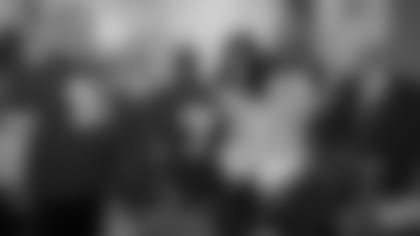 The Chiefs are proud of our veterans and thankful for their service. To learn more about the VA Medical Center click here.