GAMETIME: 12 p.m. CST on Sunday, October 11
LOCATION: Arrowhead Stadium, Kansas City, Mo.
HOW TO WATCH:FOX | WDAF Local
HOW TO LISTEN:101.1 The Fox
CHIEFS REWIND WRAP-UP SHOW:Local listings
GAMCENTER: Chiefs.com
Through the first four games of the regular season, the Kansas City Chiefs (1-3), who talked in training camp of high hopes for the 2015 campaign, find themselves on the wrong side of a 1-3 record.
There have been bright moments—a gritty road win in Week 1 against the Houston Texans, the first touchdown to a wideout since 2013 on Monday Night Football, a franchise record-breaking effort by kicker Cairo Santos last week against the Bengals—but for all those bright moments, an early three-game losing streak has left a bad taste in the mouth of the Chiefs, who know they are a better team than what they've shown so far.
"There's a tremendous amount of urgency in our building to get this thing right," Chiefs head coach Andy Reid said this past Monday night. "There are a lot of people involved in this—players and coaches working together to try and make sure we come out with wins. The one thing I know is we'll continue to battle and get better. We have the right guys here to do that. That's why I like this football team."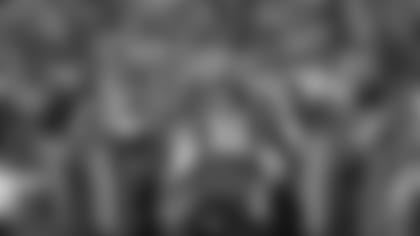 A team that finds itself in a very similar situation is the Chicago Bears (1-3), who will walk into Arrowhead Stadium Sunday with the same disappointing record.
Led by the efforts of quarterback Jay Cutler, who returned the team after a one-game absence, the Bears won their first game last week against the Oakland Raiders, 22-20.
Running back Matt Forte had 25 carries for 91 yards rushing and 4 receptions for 64 yards receiving in the win.
Many NFL analysts compare Forte's skill set to that of Chiefs RB Jamaal Charles, including Charles himself.
"He's very talented, he's very versatile," Charles explained of Forte, who was drafted by the Bears in their shared 2008 class. "He's very athletic – he can do more than one thing. He can go to wide receiver and run wheel routes and run fade routes; that's the position of a running back going into the next level. I'm happy to be able to compete with him this week. He's a friend of mine and the dude can play. The defense is up for a challenge that they probably haven't seen for a while."
So far in 2015, the Chiefs defense has given up an average of 397 yards per game (28th in the league) and 125 total points (tied for 29th in the league).
Prolific offenses have a lot to do with that (the Chiefs losses have come against three undefeated teams), but defensive coordinator Bob Sutton refused to make excuses for his unit this week.
"You just want to be honest," Sutton explained. "You want to say if we won and these things weren't right, we need to fix them. And you know what? If we lost we still need to fix them … It's easier when you win because you feel good, but sometimes it's as dangerous because you don't look as hard as you'd like to look there."
Sutton and the defense will be without starting inside linebacker Josh Mauga this week due to what's being listed as a groin and Achilles issue. Rookie Ramik Wilson should start in his place.
The Chiefs secondary will be up for a challenge in the possible return of Bears wide receiver Alshon Jeffrey, who has been out since Week 1 with a hamstring issue and is listed for the game as questionable.
"He's an excellent receiver, a big body, big hands, great catch radius," Chiefs defensive coordinator Bob Sutton said of Jeffrey. "He's a 50-50 ball guy. He can go up and get those passes. That's what he's really good at."
On the other side of the ball, Chiefs QB Alex Smith faces another good defense in Chicago. Through the season's first quarter, the Bears have allowed just 309 yards per game, the seventh best mark in the league and just 190 yards passing per game, the fourth best mark in the league.
"I think [the Bears start] up front, a physical group upfront," Smith said of his adversary. "With that, I think they play physical – that's their mindset. Trying to get home and trying to be physical. Outside, they have some veteran guys at the corner position that know what they're doing. They switch up the coverage a lot, they throw different things at you, change up leverage, things like that."
To this point, Smith has been sacked a league-high 18 times, so the Chiefs will look for better protection on Sunday. During his final press conference of the week, Reid said that he has liked the progress he's seen over the last few practices in that regard.
"The offensive line has done a good job of working," he said. "We're a young bunch – with the exception of [Ben Grubbs], the rest of them, you're talking about three-to-four years max experience there. The one that has been here four years wasn't a starter. Every week, they've worked to get themselves better and I appreciate that."
When considering the totality of an NFL season, it can sometimes be easy to look at a couple of poor games and get very discouraged.
Through the season's first quarter, the Chiefs could be, but they say they aren't, falling into that trap.
When asked about whether there is any particular importance headed into this game, Reid stayed true to what he's always said this week.
There's no added importance because to be successful in the NFL, win or lose, the urgency needs to be there every week.
At 1-3, the Chiefs don't need to be reminded to be urgent—they get it.
The visiting Bears at Arrowhead Sunday offer an opportunity to hit the restart button, and coming away with a win would be the first step in a crucial early turnaround.