Saturday, August 19, 2017 at 6 p.m. CT on CBS (KCTV5 Local)
Paul Brown Stadium in Cincinnati, OH
• The Chiefs and Bengals have played each other 28 times, but only four times in the last 10 seasons. The series between the two franchises is very close, with Cincinnati holding a 15-13 lead.
• In their entire history, the Chiefs and Bengals have only ever competed during the day, never in a night game.
• Alex Smith has played Cincinnati twice in his career, throwing for 587 yards and zero interceptions.
• The only tie on Chiefs Head Coach Andy Reid's record came when he was with the Philadelphia Eagles. In Week 11 of the 2008 season, the Eagles and Bengals ended the overtime period in a 13-13 tie.
Play-by-Play: Carter Blackburn
Color Analyst: Trent Green
Chiefs Spanish Radio – KCZZ 1480 (Tico Sports)
Play-by-Play: Enrique Morales
Chiefs FOX Football Radio Network - KCFX (101.1 FM)
Play-by-Play: Mitch Holthus
Color Analyst: Kendall Gammon
Chiefs Radio Postgame Show
KCFX Hosts: Art Hains, Len Dawson, Dan Israel, Kendall Gammon
Receive score updates with the free Chiefs App, and play along with the game with the Chiefs Football Bingo.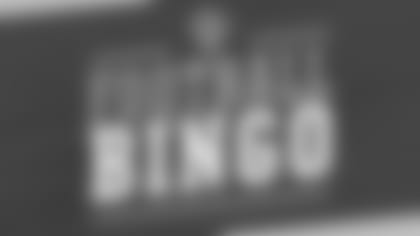 To play Football Bingo open the Chiefs App anytime within 3 hours before kickoff. Click on the Football Bingo card, and fill out your card. You will have the chance to win some great prizes!
Stream Chiefs games online with NFL Game Pass
Get live access to games and full replays of every NFL game, including pre-season and regular season matchups, the NFL playoffs and Super Bowl on NFL.com Game Pass. Game Pass is available across devices including desktop, smartphones, tablets, and select connected TV devices, so you can rewatch games wherever you are.
You can also watch the game on-demand after its conclusion using the NFL's Game Rewind package.
Be sure to follow the Chiefs on Twitter for live game day updates, videos and behind-the-scenes photos:
@chiefs| *@ChiefsReporter| @KCChiefs_Matt*