GAMETIME: 12 p.m. CT on Sunday, November 29
LOCATION: Arrowhead Stadium, Kansas City, Mo.
HOW TO WATCH:CBS | KCTV5 Local
HOW TO LISTEN:101.1 The Fox
The Kansas City Chiefs (5-5), after rattling off four wins in a row, currently hold possession of sixth place in the AFC. The Buffalo Bills (5-5), who boast the same record as the Chiefs, are in eighth.
Given those circumstances, head coach Rex Ryan openly stated how important the matchup between the Chiefs and Bills at Arrowhead Stadium this Sunday becomes.
"I think both teams are desperate to win this game because we know what it means," Ryan said. "Both teams are fighting to try to get into the playoffs, so we know it's a critical game for both teams."
Ryan, who has coached in either the college or pro ranks since 1989, is known for his aggressive defensive style. That's something he shares with Chiefs defensive coordinator Bob Sutton, whom he coached with in New York (Jets) from 2009 to 2012.
Sutton's unit has played spectacularly during the Chiefs four-game win streak, holding quarterbacks to less than 200 yards passing a game and causing 12 turnovers during that period.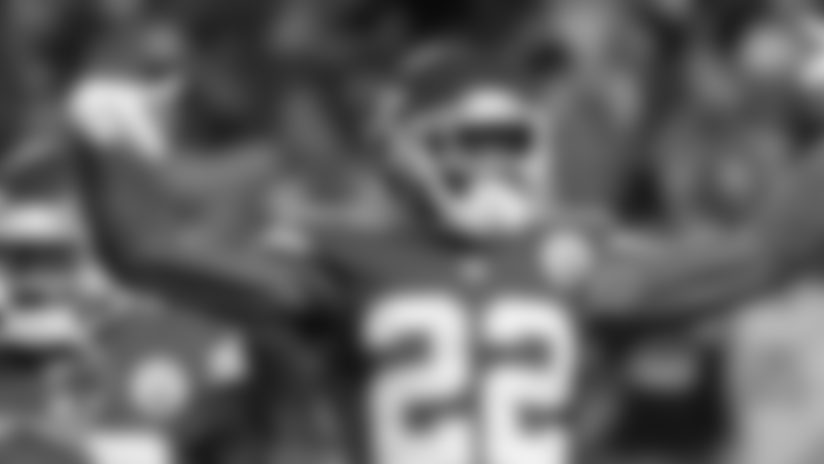 "I think we put, collectively, a tremendous emphasis on taking advantage of your opportunities in [turning the ball over]," said Sutton when asked about what has been working. "The more people that go to the ball, the better opportunity we're going to have on tips and overthrows or if the ball is on the ground via fumble."
The Chiefs will aim to maintain that success this week without linebacker Dee Ford, who injured his back in warm-ups last week, and defensive lineman Allen Bailey, who continues to be hampered by a calf injury.
As the Chiefs defense causes turnovers, the offense is doing a tremendous job of holding onto the ball. Kansas City hasn't turned the ball over since its Week 6 loss to the Minnesota Vikings, and quarterback Alex Smith hasn't thrown an interception in 253 pass attempts, a franchise record.
After watching film this week, Smith said he's ready to face a Buffalo defense that shows a willingness to bring pressure on the quarterback from any location or position.
"Really talented group and then you watch them and they do a ton," Smith said. "With that Rex Ryan defense, they throw a lot at you with crazy looks that are all over the place – guys walking around, standing around. Guys are lined up anywhere and everywhere. They give you a lot to prepare for, and we'll certainly have to be on it getting ready for this."
The Chiefs offense may need backups to step up against the Bills on Sunday, as wide receiver De'Anthony Thomas will miss the game with lingering concussion symptoms. Playmakers Charcandrick West (hamstring) and Travis Kelce (groin and ankle) are officially listed as questionable.
If West can't go, expect the combination of running backs Spencer Ware and Knile Davis to play in his absence.
Ware is coming off the greatest stat line of his career against the Chargers—11 carries for 96 yards rushing and 2 touchdowns.
"As far as [starting at running back] falling on my shoulders, I'm going to do my job," Ware explained this week. "It's not one man's game, I have the team. We still have Knile Davis, we still have Anthony Sherman in the backfield to help us in different aspects. But at the end of the day every win is a team effort."
Buffalo will be without defensive linemen Mario Williams and Kyle Williams against Ware and the Chiefs.
A key point to watch for the Bills in this game is that they are coming off a short week after losing to the New England Patriots, 20-13, on Monday Night Football.
Towards the end of the game, Buffalo QB Tyrod Taylor looked to be bothered by a nagging shoulder injury, but after limited practice all week, he is officially listed as probable. Taylor, who will be without starting right guard John Miller, received high praise from Sutton this week.
"He kind of goes unnoticed," Sutton said. "His statistics would really be matching Philip Rivers. He's a 100 quarterback rating (100.9), just under 70 percent (67.9) in the completion (percentage), his touchdown-to-interception ratio is really good and he can run. I think he's done a great job for them.
"You get the feeling watching the players respond to him, so that's a huge asset. I think he's going to be a really, really good player in this league. I think he's in a great system for what the does."
Taylor's offense ranks 17th in the league based upon yards per game, and his favorite weapons include TE Charles Clay, WR Robert Woods and the former first-round pick, WR Sammy Watkins, in the pass game.
LeSean McCoy, who played for Chiefs head coach Andy Reid from 2009 to 2012 in Philadelphia, takes the majority of snaps at running back for the Bills.
With only six games left to play in 2015, the Bills and Chiefs are teams that have thus far played well enough to be in the playoff conversation. 
Ryan's club has been up and down but has won two of its last three, while Reid's bunch, in following his game-at-a-time approach, has completely turned the season around.
In their eighth meeting in as many years Sunday, the Bills and Chiefs will each try to find their sixth win, and with a large group of candidates right in the middle of the AFC pack, that offers the chance for security as the season turns to its final month and stretch.