GAMETIME:12:00 p.m. CT on Sunday, November 26
LOCATION: Arrowhead Stadium in Kansas City, Mo.
HOW TO WATCH: CBS (KCTV5 local)
HOW TO LISTEN: 101.1 The Fox
A lot can happen in a single football season.
There's ups, downs and a whole lot in between, but it's all about staying the course with the eventual goal in mind.
The Kansas City Chiefs dropped a tough one to the New York Giants last week, losing for a fourth time in their last five games after racing out to a 5-0 start, but they'll have a chance to bounce back this Sunday against the Buffalo Bills (5-5) at Arrowhead Stadium.
It'll mark the Chiefs' first game at Arrowhead in nearly a month as Kansas City aims to finish the final six weeks of the season strong and claim a second-consecutive AFC West title.
That push starts with Sunday's matchup against Buffalo.
The Chiefs have seen plenty of the Bills over the years, facing them three times since Head Coach Andy Reid took over in Kansas City five years ago - winning all three.
The matchup will be Reid's first against Bills' Head Coach Sean McDermott, who coached under Reid for 12 seasons with the Philadelphia Eagles.
Reid's former assistant has led the Bills through what's been a strange season in his first year at the helm, with oddities reaching a peak last weekend.
The Bills got off to a 5-2 start on the year, placing them right in the midst of the playoff hunt, but a pair of losses led McDermott to bench starting quarterback Tyrod Taylor in favor of rookie signal caller Nathan Peterman for last Sunday's game against the Los Angeles Chargers, and the results were not ideal.
Peterman threw five interceptions in the first half as Buffalo lost by 30 points, prompting McDermott to shift course and reinstall Taylor at quarterback for this Sunday's game.
Taylor has been solid for the most part this season, posting a 91.4 quarterback rating in nine starts, and played well upon relieving Peterman in the second half last week.
"He's a dynamic player," said Defensive Coordinator Bob Sutton. "He has great playmaking ability - I think that's one of his great strengths – but he's not just a scrambling quarterback. He can throw the ball or run the option and just presents a lot of problems."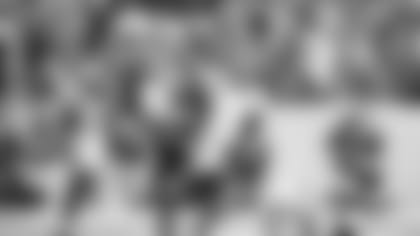 In addition to Taylor, the Chiefs will be tasked with slowing down Bills' running back LeSean McCoy.
A former draft pick of Reid's while in Philadelphia, McCoy is putting together another strong season, averaging 4.2 yards per carry and tallying the eighth-most yards on the ground in the league (709).
The ninth-year professional leads the NFL in rushing (9,663 yards) since entering the league in 2009.
McCoy has played well despite the issues plaguing the Bills' offense of late, though Buffalo's defense has been just as much of a problem.
The Chargers' dropped 54 points on the Bills last weekend, and while that can largely be attributed to six offensive turnovers, Buffalo yielded 47 points to New Orleans the week prior and 34 points to the New York Jets the week before that.
The Bills are allowing an average of 414 yards per game in those three contests, the fourth-worst mark in the league, and are surrendering a league-most 28.6 points per game since Week 3.
At the core of those defensive struggles has been an inability to stop the run.
Buffalo has allowed the opposition to pick up double-digit yards on 43 carries this season, the second-most in the NFL, and has yielded a league-most 16 touchdowns on the ground.
That creates an intriguing matchup for Kansas City running back Kareem Hunt, who leads the league with 24 runs of 10 or more yards this season.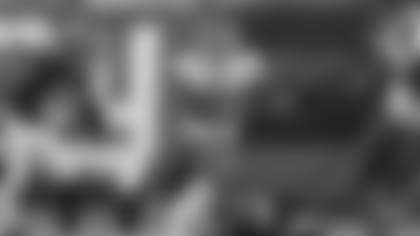 The Chiefs' offense as a whole is looking to get back on track after struggling last week in New York, managing just nine points.  
"We all just need to focus more on the details, every one of us," said Offensive Coordinator Matt Nagy. "That's players and coaches - you've got to look in the mirror, and that's not a cliché, that's true. We just need to fix those mistakes and stick together. If you eliminate those mistakes, you end up getting a win instead of a loss."
At the root of the Chiefs' problems offensively last week were turnovers, as they committed a season-high three on the afternoon.
The Bills have excelled at forcing turnovers this year, tallying 18 on the year and at least one in seven of their 10 games, so protecting the ball could prove paramount on Sunday.
Chiefs' quarterback Alex Smith was responsible for a pair of those turnovers last week, tossing multiple interceptions for just the fifth time in 75 games in Kansas City.
It was only Smith's third game this season in which he didn't post a passer rating over 100.0, the fewest of any signal caller to play in 10 games this season.
"That's going to happen sometimes, it's about how you respond to it," Nagy said. "That's our biggest challenge right now as a staff and as players - how we're going to respond to what's been going on – and I feel good about it."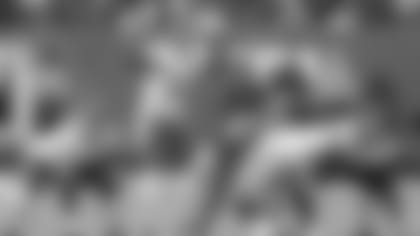 Smith will look to get the offense rolling again as the Chiefs begin a stretch of four home games in Kansas City's next five contests.
The Chiefs are 3-1 at Arrowhead this season, and 20-7 in the regular season dating back to 2014.
Kansas City's home field advantage has traditionally intensified as the weather gets colder, with the Chiefs posting a 10-3 record in bouts at Arrowhead in November and December over the past three years.
Reid has fared well against former assistants in his career as well, winning nine of 12 meetings.
The Chiefs will aim to continue those trends on Sunday, as Kansas City looks to snap its two-game skid entering the homestretch of the season.