Here are five things to look for during the Chiefs game on Sunday night:
It's easy to say hitting the opposing quarterback is important for your defense to be successful.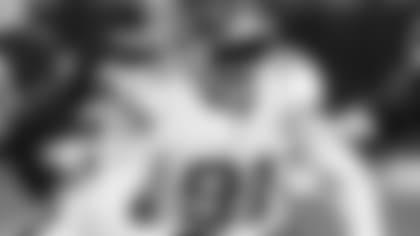 But in the Chiefs' matchup of going up against Peyton Manning, a quarterback who has been sacked fewer times than any other quarterback this season, it's just about affecting him.
"[Manning] is almost impossible to sack because he just doesn't allow a sack to happen," Chiefs defensive coordinator Bob Sutton said. "He just throws the ball away and throws it out quick. He understands pressures and who the free guys are and so he can get rid of it.
"It's just a matter of can you make him get rid of the ball and make it advantageous for you?"
The best way to slow down any offense is to win the battle up front and get the quarterback "off his spot," but in the case of Manning, who leads the NFL in shortest average time to pass attempt at just 2.27 seconds, the entire defense has to be on the same page.
It's worth noting that against the blitz this season, Manning is completing just 57 percent of his passes with 10 touchdowns and five interceptions. When facing four or fewer rushers, however, Manning is completing 72 percent of passes with 24 touchdowns and four interceptions.
The Chiefs defense has still not allowed a 300-yard passer this season.
2. Chiefs defensive backs' ability to tackle in space
The Broncos rank fifth in the NFL in with 1,577 yards after the catch from their skill position players this season.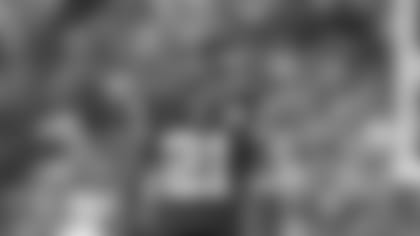 When you combine Manning's ability to get the ball out quickly (in fact, he's the fastest in the NFL) to playmakers like Demaryius Thomas, Emmanuel Sanders, Wes Welker and Julius Thomas with the ball in space, the Chiefs defensive backs have to be able to come up and make tackles when they're put on the spot.
"Knowing that the ball comes out quick and we're a press-man team, you've got to win the first five yards," cornerback Sean Smith said. "That means getting your hands on receivers, throwing off timing and just staying tight to your coverage. We know Manning isn't going to take a hit and that the ball is going to come out quick and he's going to put the ball exactly where it needs to be for his receiver to make a play."
With safety Eric Berry out for the season, Chiefs coach Andy Reid said we can expect to see Ron Parker back at safety, moving back over from cornerback. This is how the Chiefs played it earlier in the season when Berry was out with an ankle injury.
If the Chiefs defensive backs can eliminate as many yards after the catch as possible by being sound tacklers in space, they have a much better chance at slowing down this Broncos offense.
3. Can the Chiefs maintain the same offensive efficiency as the last meeting?
In the 24-17 loss to the Broncos back in Week 2, quarterback Alex Smith and the Chiefs offense were very good.
That success also came without their best offensive player for the majority of the game as Jamaal Charles went down with an ankle injury early in that game and finished with just two carries.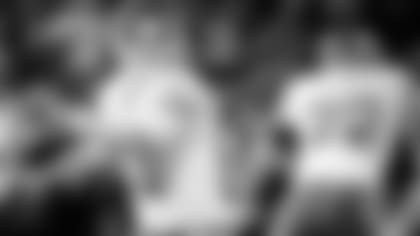 Healthy now, Charles is obviously excited to face the Broncos on Sunday night.
"What a great environment to be home playing against a division team," Charles said. "We know we have to win this game. This game is a go-out-there-and-get-it win this week. We know we're going to have a tough challenge with a Hall of Famer and a great defense coming in. I think we're up for that challenge this week.
"We're happy that we can go out there and we control our own destiny right now."
In that last meeting, the offense converted 11 of 16 third downs and controlled the time of possession battle (36:14 to 23:46). They finished the game with 380 yards of offense as Alex Smith was 26 of 42 for 255 yards, while the running game featured Knile Davis, who ran it 22 times for 79 yards and two touchdowns.
The Chiefs found success in a variety of ways in that game against the Broncos as well, when they had six of the seven personnel groups they ran in the game have at least one play of 10 or more yards.
"I feel like we're so multiple out of all our personnel's and balanced out of them that, good luck trying to get a beat on that," Chiefs quarterback Alex Smith said. "And for us I think we enjoy that in how multiple we are and the different guys that come in and touch the ball, the more problems that we present to the defense."
4. Protecting Alex Smith on third down
While Jamaal Charles should get his fair share of touches on Sunday, there will be times that a third-and-7 or a third-and-8 will need to be converted from Smith and the Chiefs offense.
It's on those specific plays that the offensive line will need to protect Smith from the Broncos' pass-rushing duo of DeMarcus Ware and Von Miller. The ability to convert on those crucial third downs will not only help the Chiefs move the ball down the field, but it will keep Manning and the Broncos offense on the sidelines as well.
In the run game, the Miami Dolphins had success last week against the Broncos. They were able to get the edge and it will be Eric Fisher's ability to kick out and seal with tight end Anthony Fasano that will be something to watch this week for the Chiefs.
That ability could also help keep third downs manageable for the Chiefs offense.
With Eric Fisher and Ryan Harris lined up on Ware and Miller, if they can win their share of battles on Sunday night, the chances of the offense having a good day are that much better.
5. Non-offensive touchdown
Most big wins involve some kind of a game-changing play on either defense or special teams, and the Chiefs have the ability in both areas to score a non-offensive touchdown.
Although defensively that will be extremely difficult against a Manning-led offense, it is worth noting that Manning has thrown two interceptions in three straight road games.
Also, all three of the Broncos' losses this season have come on the road.
From what we've seen so far this season, rookie returner De'Anthony Thomas is a threat to score any time he gets his hands on the ball, and he's been very, very close at breaking some big returns.
If Thomas gets a chance to return a punt, that will have meant the Chiefs defense stopped Manning and the Broncos on third down. Combine that with a big return from Thomas and you have the makings of a big momentum change in the game, and it's something to watch for on Sunday night.
Take a look through the Chiefs vs. Broncos history.