The Kansas City Chiefs (9-6) travel to take on the Denver Broncos (5-10) Sunday afternoon in the regular season finale for both teams.
The Chiefs—winners of their last three games—are already locked into the AFC's No. 4 seed and will move on to host a Wild Card game next week at Arrowhead Stadium, while the Broncos are playing to try and break their current four-game losing streak to the Chiefs.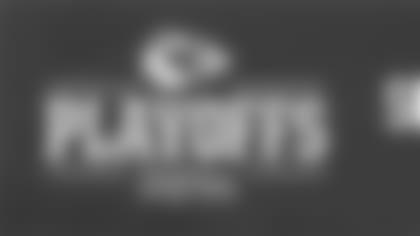 ](https://www1.ticketmaster.com/kansas-city-chiefs-playoff-game-1-kansas-city-missouri-01-14-2018/event/0600536891592930?artistid=805955&tmlink=tmheader_search)
But before the Chiefs can worry about the playoffs, they still have to finish out the regular season.
Here are five things to watch on Sunday in Chiefs-Broncos:
The NFL debut of rookie first-round pick Patrick Mahomes 
The benefit of clinching the division and the fourth playoff berth in five years under Andy Reid before Week 17 is that some veterans can rest up for the playoffs and not risk injury in a game that doesn't determine anything moving forward, and that's what has led rookie quarterback Patrick Mahomes to get to make his professional debut on the road against one of the league's best defenses on Sunday.
Mahomes will get the nod with veteran Alex Smith getting the day off.
"You finally get a chance with live action, it's not training camp, it's not preseason, this is the real deal,' Chiefs' offensive coordinator Matt Nagy explained of Mahomes getting the start this week. "You're going against a really good defense that's known to be one of the better defenses to play this game in a long time. So, he understands that, and it's a great challenge, and I know he's looking forward to it."
Nagy was asked what he sees as the biggest difference for Mahomes now compared to the preseason, which is the last time Mahomes was on the field with live action around him.
"Probably his confidence," Nagy noted. "You can see his presence of being in the huddle, being around the guys, taking a snap from under center, understanding the timing of when the ball has to be out. The stuff that you saw on tape in college where there was a lot of scrambling around, the timing wasn't there, you don't see that with him anymore."
And Nagy's advice to Mahomes?
"Protect the football," he explained. "The guy in front of him right now, number 11 [Alex Smith], is one of the best in the league at doing that, and you win football games when you protect the football. So, staying away from turnovers, ball security in the pocket, not trying to make too much happen.
"He's a dynamic playmaker; he's proven that his whole college career. Now you're playing with the big boys, and you have to understand that you have to play within the system, but still let your talent show. So, there's a balance there. How's he going to transition into that balance?"
The Broncos' defense ranks No. 2 in the league by allowing just 284.1 yards per game.
But for Mahomes, this is a big opportunity and the culmination of a lot of hard work.
"The biggest thing for me is just to go out there and win," Mahomes said. "Any way possible, just go out there. If it's (throwing for) 300 yards, or 100 yards, whatever it takes to get a win is the biggest thing."
Will Kareem Hunt get a shot at the rushing title?
Heading into the final week of the regular season—Kareem Hunt—the Chiefs' rookie running back—trails the Los Angeles Rams' Todd Gurley by just 13 yards for the league-lead in rushing.
Hunt has 1,292 yards rushing this year, which is already a franchise record and puts him within striking distance of taking home the rushing title. Only twice in Chiefs' franchise history have they had a player take home the rushing title (Christian Okoye-1989, Priest Holmes-2001).
In addition to Hunt and Gurley, the Steelers' Le'Veon Bell is in the mix as he trails Hunt by just one yard, and so it begs the question of how much (if at all) any of these guys will play on Sunday as each team already has a playoff spot secured?
Which other young players will have an opportunity to play?
With Smith sitting out of Sunday's game, the question becomes which other veterans could sit out and give some younger players a chance to grab some valuable game reps.
"Well, that's going to come from higher headquarters,' Chiefs' defensive coordinator Bob Sutton explained of that earlier this week. "We're waiting just like you are to find out what that is going to be, but I'm sure there's going to be more guys playing this game than the past. But really coach hasn't given us a definitive 'Hey, this guy is not playing, or these guys are playing more,' so we're just rolling guys through a little more than we normally do in a week.
"We're approaching it the same as a regular game, the plan is the same, all the things we're doing are the same, so hopefully somewhere at the end of the week we'll get a better idea of that."
When asked on Friday, Chiefs' coach Andy Reid said there's a benefit to giving young guys some reps.
"I'll try to give guys an opportunity," he said. "I've got a lot of confidence in some of our guys there, younger guys, and I think it pays off for you down the road."
Can everyone stay healthy?
It goes without saying, but one of the biggest things to watch in this game is for the Chiefs' players, particularly any starters who *do *end up playing on Sunday, to leave the game healthy.
The Chiefs will be playing either Saturday or Sunday of next week, and they'll need all-hands on deck as they face either the Ravens, Titans or Bills at Arrowhead in the Wild Card round.
Are the Chiefs seeing a glimpse of the Broncos' future at quarterback?
While the Chiefs are rolling out their young quarterback on Sunday, the Broncos are doing the same thing with their first-round pick (No. 26 overall) from the 2016 NFL Draft, Paxton Lynch, who will be making his fourth career start.
Lynch started two games for the Broncos last year and then he started a game against the Oakland Raiders earlier this year, but considering the Broncos have rolled out Lynch, Trevor Siemian and Brock Osweiler already this season, this game on Sunday may be a pretty important interview for Lynch to show he can be the guy heading into next year.
Against the Raiders, Lynch finished 9 of 14 for 41 yards and an interception. He didn't finish the game because of an ankle injury.
"He's strong-armed, a big man and he's got great arm talent,' Sutton said of Lynch this week. "Very mobile for a big man. Because of his length he can gobble up the yards when he gets out there, kind of like how (Colin) Kaepernick used to do it. They just are rolling off there. So, he's got that talent going for him.
"I think he's going to be a really good quarterback. He's like all, I think, young players at any position, but particularly that one, I guess you need a lot of reps. You need a chance to get in there and play…but I think the arrow's going to be up on this guy."
The Chiefs' defense has had success against divisional quarterbacks this season, holding them to a combined quarterback rating of just 61.2, which included a completion percentage of 54.6, with 11 interceptions and just six touchdowns.