When it comes to rivalries in professional sports, it doesn't get much better than this.
They've been playing one another for 58 seasons, minting some of the most memorable moments in the history of the National Football League along the way.
There was Joe Montana's touchdown pass with just seconds remaining in 1994, Dante Hall's unforgettable kickoff return in 2003, the clash on Thanksgiving in 2006 and Cairo Santos' game-winning field goal just two seasons ago.
The list goes on, and with the nation watching, the Kansas City Chiefs and Denver Broncos will go at it once again on Monday night at Mile High.
Kansas City is in the midst of its most successful run over Denver in more than 40 years, winning each of the last five meetings between the two teams while scoring at least 27 points in all of them.
For context, the Broncos have allowed that many points just eight other times since 2015 – and never to the same team more than once. The Chiefs, meanwhile, have managed to do so in five consecutive contests.
Of course, quarterback Patrick Mahomes is responsible for one of those performances, leading Kansas City to a three-point victory over Denver in his first-career start as a professional.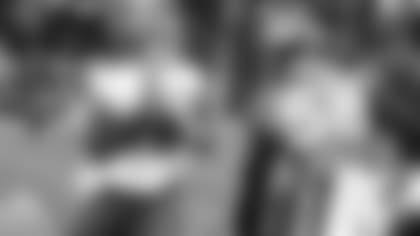 Mahomes threw for 284 yards in that game, authoring an 11-play, 62-yard drive in just under two minutes to set up Harrison Butker's game-winning field goal with just seconds remaining.
It was a thrilling finish to an otherwise inconsequential game, providing a glimpse into the next chapter of Chiefs' football.
And just three games into the 2018 campaign, that future has arrived.
The 23-year-old Mahomes leads the league in touchdown passes (13), passer rating (137.4) and throws of at least 25 yards (25) this season, all without throwing an interception. His 13 scoring strikes are the most through three games in NFL history, and overall, Kansas City is the first team to open the season with at least 38 points in each of its first three games since the 2007 New England Patriots.
It's simply been the top offense in the NFL, but Mahomes isn't getting caught up in the hype.
"There's still room for a ton of improvement," Mahomes said. "There's still [times] that I might not go to the right read or we might have a bust in the route running or protection might break down. That just speaks to the guys that we have that can still make plays. We have a lot of room for improvement. We've gotten compared to some of those [great] offenses, but it's still early in the season. We still have to do a lot of things and prove a lot of things."
Mahomes' favorite target through three weeks has been tight end Travis Kelce, who's hauled in 16 catches for 229 yards and two touchdowns already on the year. The three-time Pro Bowler has tallied triple-digit receiving yards in each of his last two games, and for whatever reason, Kelce always seems to play his best when lining up against the Broncos.
The 29-year-old tight end has caught 26 passes for 394 yards and two touchdowns in his last three games against Denver, recording at least 100 yards receiving in each of them. In fact, Kelce is the only player since 2009 to notch multiple 100-yard performances against the Broncos' heralded pass defense.
He's certainly a player to watch on Monday night.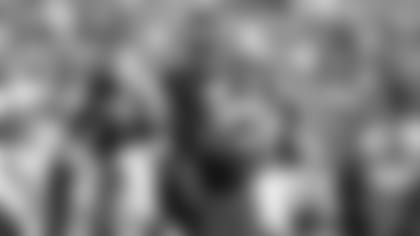 Another player who's enjoyed his fair share of success over Denver is wide receiver Tyreek Hill, with four touchdowns in just three career games. Interestingly enough, each of Hill's last three performances against Denver have been in primetime, contributing to an even larger trend.
The speedy Hill has played in 10 regular-season primetime contests during his brief professional career and has scored a touchdown in all but two of them, finding the end zone 11 times overall.
"I just like playing under the lights because it reminds me so much of playing in front of my hometown, like Friday Night Lights," Hill said last season. "I'm always trying to make that big play under the lights because everyone's watching."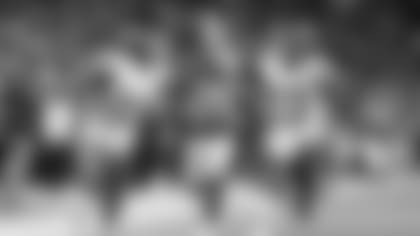 Hill, Kelce and the rest of the Chiefs' offense will have another opportunity to make those big plays on Monday night, but in order for Mahomes to get the ball in his playmakers' hands, he'll need to avoid one of the league's top pass-rushers in linebacker Von Miller.
"You always have to know where he is," Mahomes explained. "They move him around, they try and get him different ways he can rush the passer and make plays. The thing with their defensive front is they have weapons all over the [place], so you always have to know where Von is, but you need to have a plan for their whole defense."
That defense includes players like linebacker Bradley Chubb (1.5 sacks), the No. 5 overall pick in the 2018 Draft, and University of Missouri product Shane Ray (1.0 sack), but it all starts with Miller.
The eight-year veteran has gotten to the opposing quarterback four times already this season – tied for the most in the NFL – setting up another classic battle between Miller and All-Pro right tackle Mitchell Schwartz.
"They go back and forth and challenge each other - it's a fun matchup to watch," said Head Coach Andy Reid. "They get after each other. I was there for the [Jon] Runyan and Michael Strahan [matchups] and it's kind of like that. Von is a heck of a player, he is going to get you every once in a while, and Mitch is a good player, so that's a fun matchup."
In addition to a dynamic pass-rush, the Broncos also feature a top-flight run defense, holding opponents to an AFC-low 77.7 rushing yards per game.
On the other side of the ball, Kansas City's defense will look to slow down a Broncos' offense that has a new face under center. Denver signed quarterback Case Keenum this past offseason after the five-year veteran led the Minnesota Vikings to the NFC Championship Game last season, but the results have been mixed so far in 2018.
The 30-year-old Keenum has thrown five interceptions to just three touchdowns, posting a 71.6 passer rating through three weeks. Furthermore, Keenum has particularly struggled in the first half of games this season, compiling a quarterback rating of 66.7.
That makes for an interesting matchup with the Chiefs as a whole, who have outscored opponents 73-43 in the first half of games this year.
Though despite some up and down performances thus far, Keenum was still one of the best passers in all of football last season and has a dynamic stable of playmakers at his disposal.
Keenum's top weapons on offense include mainstay wide receivers Emmanuel Sanders (19 catches for 269 yards) and Demaryius Thomas (16 catches for 144 yards) in addition to a triumvirate of three impressive rookies.
Tailbacks Royce Freeman (36 carries for 152 yards) and Phillip Lindsay (33 carries for 198 yards) lend their talents to a formidable rushing attack while wide receiver Cortland Sutton (5 catches for 91 yards) has chipped in some big plays of his own.
It all makes for yet another significant test as the Chiefs put their perfect record on the line under the lights on Monday Night Football. Catch the game on ESPN at 7:15 CT.