GAMETIME: 7:30 p.m. CST on Sunday, November 30LOCATION: Arrowhead Stadium, Kansas City, Mo.HOW TO WATCH: NBC (KSHB local)HOW TO LISTEN: 101.1 The Fox | NFL Network Game Rewind (Monday, 1:00 p.m. CST)GAMCENTER/LIVEBLOG:KCChiefs.com
It's been a roller coaster of a week for the Kansas City Chiefs (7-4).
First, the team announced last Friday that wide receiver A.J. Jenkins was being placed on injured reserve with a shoulder injury. In his place, the Chiefs brought in Jason Avant, a player head coach Andy Reid knows well from their time together in Philadelphia (2006-2012).
As Avant began frantically learning his new playbook, the team released some jarring, unfortunate news Monday that safety Eric Berry was being placed on the non-football injury list due to a mass in his chest. The move ended Berry's season and he now shifts his focus to what could be a greater battle, as Chiefs head trainer Rick Burkholder revealed the leading consideration for Berry's problem is lymphoma.
As players adjust to a locker room now without both Jenkins and Berry for the foreseeable future, what lies in front of them is the most important game of their season.
The Denver Broncos (8-3) visit Arrowhead Stadium Sunday night to take on a Chiefs team that desperately needs a win to stay alive in the AFC West divisional race.
"It's just that time of year," Chiefs quarterback Alex Smith said this week. "As the season goes on all these weeks get bigger and bigger. And that's what you want. You want to be in a place where these games are meaningful at this time of year.
"This is a big one, a big division game and a lot on the line."
The Denver Broncos currently sit in first place in the AFC West division and are one game behind the conference-leading New England Patriots. A win for Denver would further solidify their chance for a bye in the first round of the playoffs as well as keep them in striking distance of the ever sought after number one seed.
A win for the Chiefs would tie the Broncos in overall record, but they still would be in second place in the AFC West due to Denver's perfect 3-0 division record (the Chiefs are 1-2). Almost more importantly than catching teams in front of them, however, the Chiefs need to win in order to widen the gap between them and teams chasing from behind.
While if the season ended today, Kansas City would get the first wild card, seven teams in the AFC are vying for those two spots, meaning a loss could drop the Chiefs out of playoff position.
"This goal is to go out there and get a win this week," running back Jamaal Charles said. "We know we're going to have a tough challenge with a Hall of Famer and a great defense coming in. I think we're up for that challenge this week. We're happy that we can go out there and control our own destiny right now."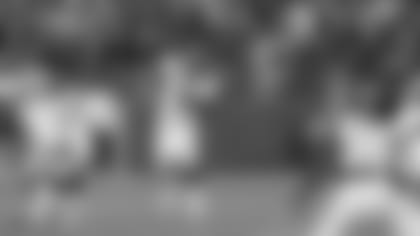 The "Hall of Famer" Charles referred to is of course Broncos quarterback Peyton Manning (No. 18). After winning his fifth Most Valuable Player award last year, Manning is putting together another outstanding season. His 34 touchdowns lead all quarterbacks in the league and after throwing two interceptions in three consecutive road games (against New England, Oakland and St. Louis), Manning looked back on track in Denver last week, throwing four touchdowns and no interceptions in the Broncos' comeback win over the Dolphins.
As far as targets, Manning spreads the ball around, but his two favorites have been wide receivers Emmanuel Sanders (No. 10) and Demaryius Thomas (No. 88), who each have more than 75 receptions and 1,000 yards on the season.
"They're a really talented team," Chiefs defensive coordinator Bob Sutton said of Denver. "It's one of those deals that you're going to have to play good defense and you've got to make some plays in this game. That's what it really comes down to.
"You've got to make some plays whether it's third down getting off the field, take away if you get an opportunity, whichever it is, you've got to be able to do it."
While Thomas and Sanders have gotten the bulk of the receptions for the Broncos, tight end Julius Thomas (No. 80) leads the team in touchdowns receiving with 12. Thomas, who's dealt with an ankle issue all week, is officially listed as questionable to play after limitedly participating in just two out of three practice days for Denver this week.
The Broncos, who have run the ball only 37.7 percent of the time this season, showed that they still possess the ability to hurt you on the ground and for that, Andy Reid said the Chiefs will be prepared.
"You have to make sure you're obviously ready for both so that's what you do," he said Friday. "They're going to give you a little of each I think so you better be on your game."
The players to watch for the Broncos on defense are linebacker Von Miller (No. 58) and defensive lineman DeMarcus Ware (No. 94), who have 10 and nine sacks respectively. They lead a defense that ranks No. 2 in the league at stopping the run at just 75.5 yards rushing allowed per game.
In the first game against the Broncos, the Chiefs dominated the time of possession, holding the ball for 36 out of a possible 60 minutes. The result wound up being a loss despite outgaining Denver both on the ground and through the air and being much more efficient on third down.  
To beat the Broncos, the Chiefs will seek to win those statistical categories once again. Accumulating time of possession and converting on third down will keep the reigning MVP off the field and allow Alex Smith and the Chiefs offense to work.
The Broncos will no doubt want to leave Arrowhead Stadium with the win, but for the Chiefs, making sure that doesn't happen is imperative.
As we tiptoe into the final stretch of the NFL season, having to only look at your scoreboard is much better than the alternative. 
Take a look through the Chiefs vs. Broncos history.