GAMETIME:7:30 p.m. CT on Monday, October 30
LOCATION: Arrowhead Stadium in Kansas City, Mo.
HOW TO LISTEN: 101.1 The Fox
It doesn't get much better than a divisional showdown under the lights at Arrowhead Stadium.
That'll be the case on Monday night as the Kansas City Chiefs look to get back into the win column against the Denver Broncos on the national stage.
Kansas City has won three straight against Denver, scoring at least 29 points in each, and is seeking a fourth-straight win in the rivalry for the first time since 2000.
It'll be a matchup between the top two contenders in the AFC West, but also a pair of teams coming off consecutive losses.
The Broncos jumped out to a 3-1 start this season, defeating the likes of the Dallas Cowboys and Oakland Raiders, but have struggled since, dropping two in a row.
Denver fell to the previously winless New York Giants at home in Week 6 before losing to the Los Angeles Chargers the following week, scoring just 10 points in both games combined.
The Broncos have found the endzone just once in their past three games, and have turned the ball over six times in that span.
It's all added up to a pair of losses despite featuring one of the best defenses in all of football.
The Broncos are allowing a league-best 272.3 yards per game this season, and have excelled at stopping the run, yielding a mere 3.04 yards per attempt.
Those numbers are impressive, and they're an extension of what the Broncos have done defensively over the past several years, which makes Kansas City's recent success against Denver so unique.
The Broncos have yielded 29 or more points just five times since 2015, with the Chiefs accounting for three of those occurrences.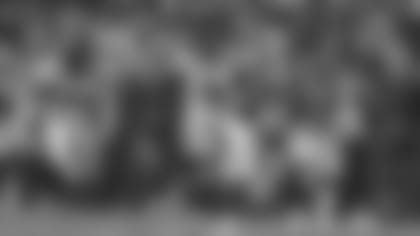 "It helps knowing them and playing them twice a year, but they're good," said Offensive Coordinator Matt Nagy. "These guys are ranked first in the league for a reason. They're well coached, they play really fast and with 58 (Von Miller) on that side of the ball, he's a special talent and you have to know where's he's at."
Miller and the Broncos' run defense will again present an intriguing matchup on Monday, as nobody runs the football better than Chiefs' rookie tailback Kareem Hunt.
Aside from leading the league in rushing, Hunt has tallied at least 100 yards from scrimmage in each of Kansas City's first seven games this season – an NFL record for a rookie – and has propelled what's been the second-best offense in the league.
The Broncos have allowed an opposing rusher to run for triple digits just once all season, and have been even stinger against the pass, surrendering 100 or more yards through the air to just two players since the beginning of the 2016 season.
One of those players is none other than Chiefs tight end Travis Kelce, and he's done it twice.
Kelce hauled in 19 catches for 261 yards and a touchdown in two games against Denver last season, good for the most yards the Broncos had allowed against a divisional opponent in a single season since Tim Brown tallied 289 yards through the air in a pair of games in 1993.
It was an all-time performance for the fifth-year tight end, and one he'll look to build upon on Monday night.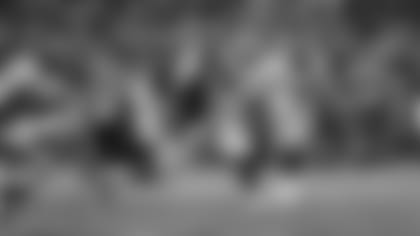 A player who appears ready to his mark is wide receiver Demarcus Robinson, who caught five passes for 69 yards – both career highs – in Thursday night's loss to Oakland.
Robinson is seeing more action due to wide receiver Chris Conley's season-ending Achilles injury, and is yet another young receiver making an impact for Kansas City on offense, joining Tyreek Hill, Albert Wilson and De'Anthony Thomas.
"We have a lot of youth. It becomes infectious – the competition with each other," said quarterback Alex Smith. "Everybody wants a piece, everybody wants to pitch in and everybody wants to make plays. Those guys aren't scared of anything. They get in the game ready to roll and they play fast, which is rare for a young group."
Smith is the one spreading the ball around to Hunt, Kelce and those young wide outs, and despite the Chiefs' two-game slide, he's still playing the best football of his career.
Smith threw for 342 yards and three touchdowns in last week's loss against Oakland, posting a passer rating of 127.3 – his sixth game this season with a rating of at least 100.0.
Through Week 7, he leads the league in passer rating (120.5), completion percentage (72.4 percent) and yards per attempt (8.68) while ranking second in passing yards (1,979) and touchdowns (15), all without an interception.
Smith is the only qualified passer yet to throw a pick this year, and is one of just four players to ever begin a season with at least 15 touchdowns and no interceptions.
The Broncos' defense will be a challenge on Monday, but Kansas City's offense is up to the task.
The crowd will also play a factor, as Arrowhead Stadium seems to take it to another level when the lights are on.
The Chiefs have won three straight primetime games at Arrowhead dating back to last season, and four of six contests since 2013.
The Arrowhead faithful will have yet another chance to will the Chiefs to victory on Monday night against a bitter rival as Kansas City looks to get back on track in a crucial divisional matchup.