The Kansas City Chiefs (7-2) are looking to stay hot and pick up their sixth straight victory as they host the Tampa Bay Buccaneers (4-5) Sunday afternoon at Arrowhead Stadium.
The Chiefs, who are currently tied for the best record in the AFC and are leading the AFC West division, have won 17 of their last 19 regular-season games and have been particularly good in front of their home crowd.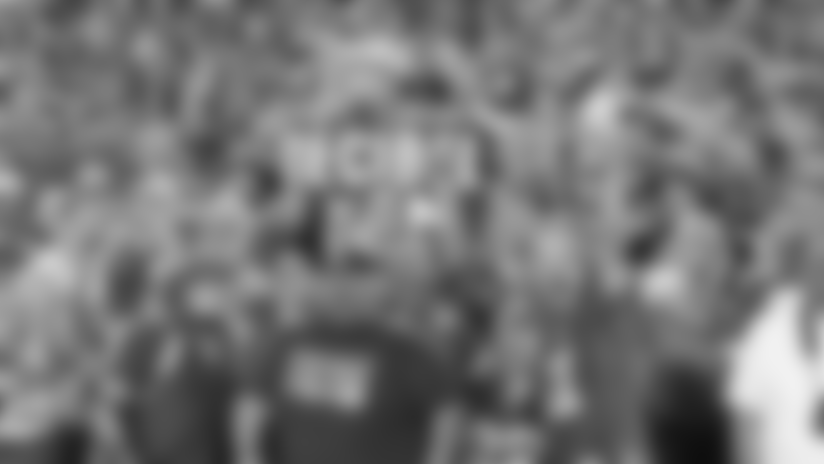 It's been more than 400 days since the Chiefs lost a game at Arrowhead during an NFL-leading active 10-game home winning streak, but the Bucs come into the game having won three of their four road games this season, including an impressive win over the NFC South division-leading Atlanta Falcons (6-4) in Week 1 by a score of 31-24.
Over the past three games, the Bucs have averaged 29 points per game offensively. 
"We know they're very well coached," Chiefs coach Andy Reid said of the Bucs this week. "Their head coach (Dirk Koetter) is a phenomenal coach—one of the best guys that I've ever worked with. We were together for a number of years. Honestly, I thought he would beat me to being a head coach in the National Football League, but he's a tremendous football coach.
"These kids are getting great, great training there. It's paying off, and you can see it on tape – how they're playing."
Throughout his 18 years as an NFL head coach, Reid is 6-4 against the Bucs, but this will be the first time he's faced them leading the Chiefs.
Here are five things to watch in Sunday's game: 1.       Introducing a young Bucs team to the Arrowhead Advantage
For the first time in his young career, Bucs second-year quarterback Jameis Winston will step under center at Arrowhead Stadium—the loudest outdoor stadium in the world.
"I'm looking forward to it," Winston told the media this week. "They've got a great fan base. It's going to be a great game."
The noise factor is a real thing at Arrowhead, and it's one linebacker Dee Ford spoke about this week.
"That crowd, when they get loud, it vibrates you," Ford explained. "I feel bad for the opposing offenses. It's a little hard for us (to hear) because it's so loud. We can't really communicate, but that's a good thing. If we're all out of whack, I guarantee you if we can't communicate, the offense can't communicate.
"You can't ask for a better atmosphere to play."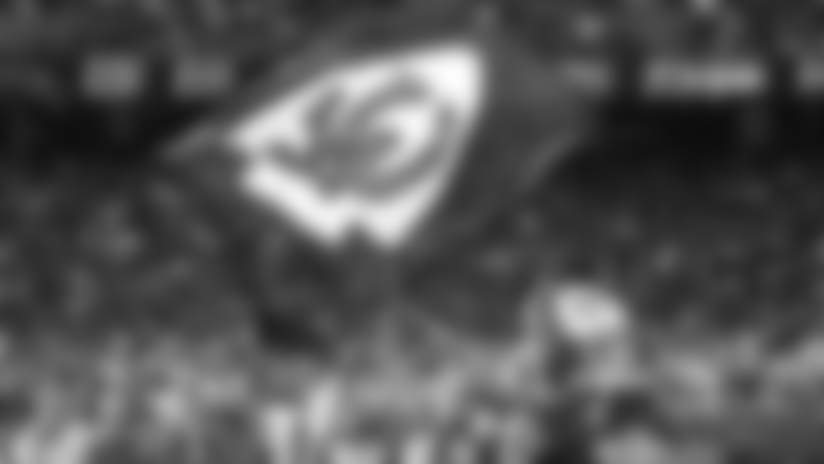 When asked about playing in that environment, Winston said he's not focused on what's happening outside of the white lines.
"At the end of the day, we're not playing against the noise," Winston added. "We're playing against the Kansas City Chiefs."
The Bucs have three starting offensive linemen who are 25 years old or younger, and the two veterans in that group—Joe Hawley (28) and Demar Dotson (31)—have never played at Arrowhead Stadium in a regular-season game.
The noise has always been a factor for Chiefs Kingdom. 2.       How do the Chiefs handle the Jameis Winston-to-Mike Evans connection?
There isn't a receiver in the league who has been targeted more often this season than Buccaneers third-year receiver Mike Evans, who has 59 receptions on 108 targets for 811 yards with eight touchdowns, which also leads the league. 
"He's another big guy—like we just dealt with last week in Carolina," defensive coordinator Bob Sutton explained of Evans, who is similar in size to the Panthers' Kelvin Benjamin. "[Evans] probably has a little more speed, but a very physical receiver. He almost plays receiver like a tight end in the sense that he uses his body very well and is very good on the 50-50 balls."
Bucs second-year quarterback and the former No. 1 overall pick in 2015, Jameis Winston, knows the challenge that Evans, who stands at 6 feet 5 and 230 pounds, presents a defense.
"Mike [Evans] is just a superstar," Winston told the media earlier this week. "He always finds a way to get open. My job is to give him a catchable ball. Anywhere I throw it around him, he's going to catch it."
While Evans has put up some gaudy numbers this year, Sutton said the emergence of second-year tight end Cameron Brate over the past few weeks has caught their attention. 
"It would have been great if this tight end hadn't of come along," Sutton explained of dealing with Brate and the Bucs offense. "He's had a great run and I think he's caught almost as many passes in the league at tight end except for a few these last five weeks, and he has more touchdowns than any tight end.
"So any time you have two players to deal with, it becomes more complex to handle."
Over the past three weeks, Brate has caught 15 passes for 149 yards with three touchdowns.
It's worth noting that after missing practice all of last week, cornerback Marcus Peters (hip) is listed as questionable for Sunday's game.
3.       Will this be Justin Houston's season debut?
After being activated off the Physically Unable to Perform (PUP) list to the 53-man roster back on November 9, veteran linebacker Justin Houston has been working his way back from offseason knee surgery but hasn't yet played in a game, despite practicing for the past couple of weeks on a limited basis.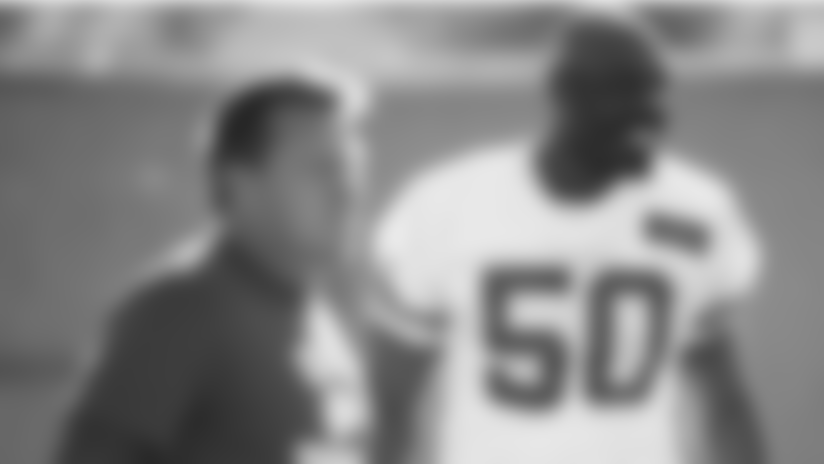 For the first time all year, Houston was a full participant at practice on Wednesday, but Reid stopped short of saying he'll play on Sunday.
"We're heading in that direction," Reid explained of Houston's availability. "As long as he progresses forward, then, we'll take it day-by-day and see how he does.
"He's upbeat about it. I'm taking it day-by-day."
In Houston's place, third-year linebacker Dee Ford, who is currently tied for the lead league in sacks, has emerged as one of the league's best pass rushers.
Defensive coordinator Bob Sutton said if Houston was added back to the group with Ford, veteran Tamba Hali and company, there would most certainly not be an embarrassment of riches at outside linebacker.
"You're excited as a defense, you're excited for the player," Sutton explained. "These are guys that love to play, love to compete. Justin [Houston] has been down. He got a handful of plays in the Houston game last year, a few less than that in New England. He hasn't really played in quite a while, so I know he's excited to get back out there and see where exactly he's at.
"We're probably not going to know that until he goes out and plays and does it. I just think we'll have to see. We're excited about having him back. He's an outstanding player. He's going to help our defense. We just want him to be 100 percent or as close to that. I think the more he plays, the more comfortable he's going to get." 4.       What will we see from Alex Smith and the passing offense? 
Last week against the Carolina Panthers, the Chiefs scored 20 total points and won the game despite the offense specifically not finding the end zone.
It's something they've worked on correcting, and QB Alex Smith understands what they have to do to get back on track.
"I felt like we've been out of character the last two of weeks," Smith added. "I think everyone on offense would agree. I feel that way about myself as well. I think we all want to get back to our form and play the way we're capable of. It's a lot of things. It's being better on first and second down. It's also critical situations like third down and red zone.
"Those are difference-makers in games. If you play well on those downs, your chances of winning greatly increases. We need to be better, put ourselves in better situations and when we get there, we need to execute."
Smith echoed Reid's sentiment from earlier in the week of the speed of the Bucs' defense.
"They're a little Jekyll and Hyde on film," Smith explained. "They've had some games where they've played really, really well against some good units. They've taken the ball away and shut some teams down. There's been some other weeks where teams have gotten after them.
"They have that one rookie corner [Vernon Hargreaves] but the other three guys back there have played a lot of football at this point. They're fast at linebacker and they run really, really well. It'll be another challenge for us." 5.       What game-changing play will we see this week?
The Chiefs defense leads the NFL with 22 takeaways this season. They just keep making plays.
Last week against the Panthers, the comeback win was sparked by a couple of sacks from Ford and rookie defensive lineman Chris Jones, then an Eric Berry pick-six and Peters deciding he wanted the ball more than receiver Kelvin Benjamin.
So the question this week becomes, what game-changing play will we see on Sunday?
Is it rookie returner Tyreek Hill finally getting loose on a return? Does Marcus Peters add on to his NFL-leading five interceptions this season?
The Chiefs have become one of the most exciting teams in the NFL because of their propensity to take the ball away from their opponents in the biggest of situations.
Of the 22 takeaways by the defense, six have come inside the red zone, which leads the NFL.