GAMETIME: 12 p.m. CT on Sunday, November 20LOCATION: Arrowhead Stadium in Kansas City, Mo.HOW TO WATCH:FOXHOW TO LISTEN:101.1 The FoxGAMECENTER: Chiefs.com
The last time anyone saw Justin Houston on a football field was in Foxborough, Massachusetts, site of the AFC Divisional Round matchup between the Kansas City Chiefs (7-2) and the New England Patriots last January.
Houston took eight defensive snaps in the game, and then couldn't continue due to a knee injury.
Surgery happened, and then rehab happened. Training camp began, sans Houston.
A few weeks ago, finally, practice happened.
And now, for the first time in 10 months, Houston could suit up as the Chiefs look for their sixth straight win against the Tampa Bay Buccaneers (4-5) this Sunday at Arrowhead Stadium.
"I think it's a good chance, but we'll see," Chiefs head coach Andy Reid said Friday.
Houston was officially listed as questionable on the injury report.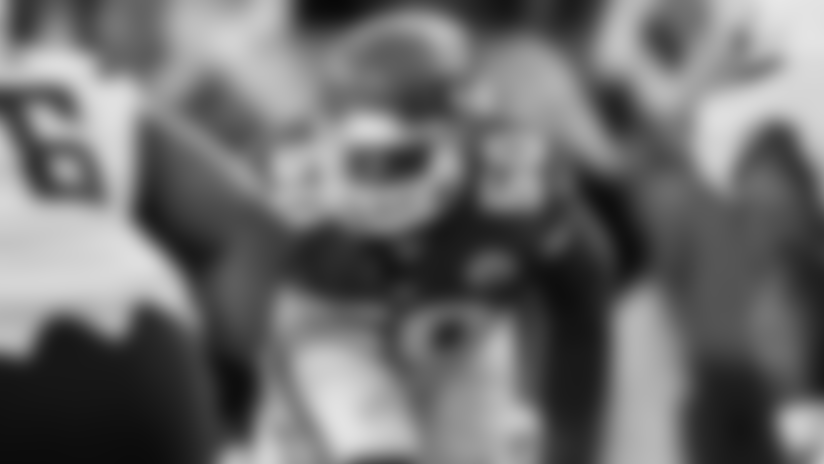 If he does return, he'll arrive to a much different Chiefs defense than he left, particularly at his position. When Houston last played with fellow linebacker Dee Ford, Ford had yet to break out.
That has happened in 2016, with Ford entering Sunday in a tie for the NFL's sack lead—10.
"These are guys that love to play, love to compete," Chiefs defensive coordinator Bob Sutton said this week. "We're excited about having [Houston] back. He's an outstanding player. He's going to help our defense. We just want him to be 100 percent or as close to that. I think the more he plays, the more comfortable he's going to get."
Ford, Houston and the rest of the Chiefs defense have quite the task at hand against the Bucs on Sunday. 2015 rookie of the year Jameis Winston leads Tampa Bay into Arrowhead Stadium looking for its fourth win in the last six games.
"Jameis is a really excellent outside the pocket—I mean excellent, and he's very accurate, and that causes you a lot of problems," Chiefs defensive coordinator Bob Sutton said of Winston. "I mean he can be running and scrambling over here and he can throw the ball back across the field and really not put himself or the team in jeopardy, That's the kind of athlete he is and the kind of arm strength this guy has … I don't know if there's anybody doing right now better than him outside the pocket."
Last week, in the Buccaneers' win over the Chicago Bears, Winston showcased his out-of-pocket skills with one of the best plays of the season to wide receiver Mike Evans.
At 6 feet 5 and 231 pounds, Evans is by far Winston's favorite target—in fact, he leads the NFL in the category with 108. Evans has 59 receptions for 811 yards receiving and a team-leading eight touchdowns this season.
"Mike is just a superstar," Winston said during a conference call with the Kansas City media this week. "He always finds a way to get open. My job is to give him a catchable ball. Anywhere I throw it around him, he's going to catch it."
Defending Evans could prove to be a tougher challenge than usual for the Chiefs, as they could be without their No. 1 cornerback, Marcus Peters, who is officially listed as questionable with a hip pointer. Phillip Gaines is also listed as questionable with a neck injury (FULL INJURY REPORT).
Steve Nelson and rookie D.J. White, who may play for the first time since suffering a broken hand Week 7, would fill in for Peters and Gaines if they cannot go.
"He's done a good job," Reid said of White. "[The training staff] got it where he can move his hand and do that whole thing."
Defensive lineman Jaye Howard could also miss the game as he recovers from a hip flexor injury.
As the Chiefs deal with injuries on defense, the offense will be without WR Jeremy Maclin for the second straight week.
The offense heavily relied on rookie WR Tyreek Hill in Maclin's absence last week against the Carolina Panthers. Hill posted career highs in both targets (13) and receptions (10).
"He puts in the work during the week and he asks a lot of good questions," Chiefs co-offensive coordinator Matt Nagy said this week. "If he makes a mistake, he normally doesn't make the same mistake twice. He takes that Wednesday through Friday, Saturday walkthrough and puts it onto the field. On Sunday, if he does make a mistake on a certain play, it normally doesn't happen again."
The Chiefs offense hasn't scored a touchdown in its last seven quarters, so it will look to get something going against a Buccaneers defense ranked No. 28 in the league based upon yards allowed per game (386). Chiefs kicker Cairo Santos has made his last 10 field goals, including going 4-for-4 in each of the last two games.
The players to watch on the Tampa Bay defense are defensive linemen Gerald McCoy and Noah Spence, who have 4.0 sacks apiece, and linebackers Kwon Alexander and Lavonte David. Alexander leads the team with 65 tackles (53 solo).
In the Buccaneers backfield, cornerback Brent Grimes has 14 passes defensed, second only in the league to the Chiefs' Peters, who has 15.
At 7-2 entering Sunday's game, the Chiefs are in first place in the AFC West and are in a tie with the New England Patriots for a share of the conference lead.
To this point, Kansas City has played well enough to be in the conversation for home games in January.
No better time to bring in the reinforcements.