GAMETIME: 3:05 p.m. CST on Sunday, December 7LOCATION: University of Phoenix Stadium, Glendale, ArizonaHOW TO WATCH: CBS (KCTV5 local)HOW TO LISTEN: 101.1 The Fox | NFL Network Game Rewind (Monday, 11:30 a.m. CST)GAMCENTER/LIVEBLOG:KCChiefs.com
Entering Week 12, the Kansas City Chiefs (7-5) and Arizona Cardinals (9-3) were both on winning streaks, Kansas City at five and Arizona at six.
Things changed in a flash.
Visiting Oakland in the pouring rain, the Chiefs were upset on Thursday Night Football by the winless Raiders and that subsequent Sunday, the Cardinals lost to the Super Bowl champion Seattle Seahawks.
The losing continued the week after for both clubs as the Chiefs fell to the Broncos at home and the Cardinals, then at 9-2, lost to the previously four-win Falcons in Atlanta.
With a loss now meaning a three-game streak in the wrong direction, the Chiefs and the Cardinals meet Sunday afternoon in Arizona both hoping to right the ship.
"I'm saying the obvious but you're starting the last quarter of the season," Chiefs head coach Andy Reid said after the final practice of the week on Friday. "That's an important phase. Not everybody is in a striking position so you're in that position and you take care of business."
The Cardinals, another team in "striking position" despite their two losses in a row, currently sit on top of the entire NFC, but injuries throughout the middle of the year have put their season in question.
Quarterback Carson Palmer (No. 3) suffered a torn ACL in his left knee Week 10 against the Rams and though the Cardinals won that game, they have been 1-2 since under seven-year veteran replacement Drew Stanton (No. 5).
Stanton, who is a career 5-5 in the regular season as an NFL starter, has three very dangerous weapons to work with at the wide receiver position. John Brown (No. 12), Michael Floyd (No. 15) and a returning Larry Fitzgerald (No. 11) have all eclipsed over 500 yards receiving on the season and each has at least two touchdowns. Fitzgerald, who is officially listed as questionable, leads the pack by nearly 100 yards even after missing the last two games in a row with a knee problem.
On the ground, the Cardinals will be without starting running back Andre Ellington (No. 38) and on defense, safety Tyrann Mathieu (No. 32) won't play. Ellington injured his hip during the Cardinals' last game against Atlanta and Mathieu will be out for at least a few weeks after thumb surgery.
With no Ellington, Arizona will turn to rookie running back Marion Grice (No. 23), who was actually drafted by the San Diego Chargers in the sixth round this season but was demoted to their practice squad after training camp. Arizona signed him from San Diego in late September.
After Ellington went down last game against the Falcons, the former Arizona State Sun Devil rushed five times for 16 yards and caught three passes from Stanton for 24 yards in the loss.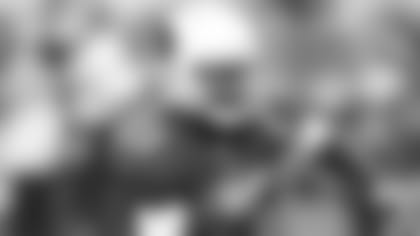 Grice, in what will be his first career start, will be up against a Chiefs run defense that has given up a combined 393 yards rushing the past two weeks. In what is somewhat of a bizarre stat to read, the Chiefs currently rank first in the entire league at stopping the pass, but 30th at stopping the run.
"Runners in this league don't need a lot of room and so you have to really constrict that," Reid said earlier this week. "That's something we can go back and work on. Then tackling becomes another part of that."
"As a guy that's been around for so long, I remember coaches putting on the pads," said veteran linebacker Tamba Hali. "We're getting the proper fits and going back to the basics, going back to the fundamentals."
The Chiefs defense will look to take those fundamentals with them in a game without one of their best players in the trenches in Allen Bailey, who is recovering from a concussion. It's likely that former Raider Vance Walker will see more snaps in his place.
The Chiefs, who are still searching for their first touchdown by a wide receiver, will want to take advantage of that. Since wide receiver Junior Hemingway will miss his second game in a row due to concussion symptoms, expect recent Chiefs signee Jason Avant to get even more involved in the offense than last week after another seven days of playbook study.
A player the Chiefs will certainly look to feature is three-time Pro Bowler Jamaal Charles, who after rushing 19 times for 80 yards in the loss against the Raiders, was limited to just 10 carries and 35 yards against the Broncos when the Chiefs found themselves in an early 17-0 hole.
"I think keeping the game balanced is important," Chiefs quarterback Alex Smith said this week. "Part of that is getting off to a better start and not getting down multiple scores and turning it into a one dimensional game."
A greater number of run plays will also help the Chiefs get fullback Anthony Sherman in the mix as he takes on the Cardinals for the first time since being traded from Arizona to Kansas City in May 2013.
Going up against the Chiefs offense, perhaps the most important player for the Cardinals is defensive end Calais Campbell (No. 93), who has six of the Cardinals' 26 sacks this season and has intercepted one pass.
"I watched him come out of college," Reid said of Campbell, who is in his seventh season. "You look at the improvement that he's made over the years, I had teams play against him since he was young and you see that improvement every year."
Though the Cardinals and Chiefs are from different conferences, they have found themselves in matchup that is critical for both championship hopes and team psyche.
While Arizona is in current possession of the first NFC bye at 9-3, the conference is so close that the seventh-placed Detroit Lions are a game behind at 8-4, meaning a loss could turn that narrow lead into a free fall.
In the AFC, the Chiefs are in a seven-team race for two wildcard spots and need a win to keep control of their own destiny.
When the calendar reads December, it doesn't matter whether you're opponent is from the AFC or NFC. It's gut-check time.
Win now, or you won't even have the chance to come January.  
Photos of the Arizona Cardinals starting roster