The Kansas City Chiefs have made a habit of playing well against teams within the division, which is evidenced by the fact that they've won 11-straight games against AFC West teams.
It's a streak they'll look to continue Sunday afternoon when they take on the newly-located Los Angeles Chargers, who have fallen victim to the Chiefs in six-straight games.
The game is set to kickoff at 3:25 p.m. CT.
The Chargers will be looking for their first win of the season. They are currently one of nine teams in the NFL that haven't yet won a game.
"Being 0-2, I've been 0-2 before," Chiefs' linebacker Derrick Johnson explained Thursday. "So, I know their mindset. You don't want to go 0-3, so there's a sense of urgency they have, and we have to match that, or even overtake it."
Both of the Chargers' losses could have easily been wins as they've lost both games by a combined five points.
"They've come right down to the end," Chiefs coach Andy Reid explained. "They've had more of those types of games than anybody over the last few years. When you play right to the end there, you're a good football team. That's what they do."
The Chiefs know they have to play well to earn their third victory of the season.
Here are five things to watch in Chiefs-Chargers:
1. The matchup—Keenan Allen and Marcus Peters
It's best-on-best on the outside as Chargers' fifth-year receiver Keenan Allen, who leads the team in targets (20), receptions (14), yards (135), and first-down receptions (9), will find himself at times lined up across from Chiefs' All-Pro cornerback Marcus Peters.
It's a matchup that is particularly interesting this time around after an offseason social media post from Allen, who wasn't particularly complimentary of the NFL's interception leader over the past two years.
In the Week 1 matchup last year, Allen was lost for the season as he tore his ACL at the end of the first half, but not before he snagged six catches for 63 yards.
Before this year, Allen had played in just nine games over the previous two years because of various injuries.
But when healthy, Allen has proven to be one of the league's better receivers, and he appears to be healthy right now.
"Highly competitive guy," Chiefs' defensive coordinator Bob Sutton explained of Allen. "He's very explosive in and out of his cuts. Every route he runs, he runs hard. Whether he's the primary guy or not, he runs like he's getting the ball every play. Very willing to take the underneath pass, go over the middle.
"He's just really good football player."
2. What will we see from the rookie running back Kareem Hunt this week?
Through two games, Hunt—the rookie third-round pick out of Toledo—leads the NFL in rushing (229) and total yards from scrimmage (355). He's averaging a ridiculous 9.3 yards every time he touches the football.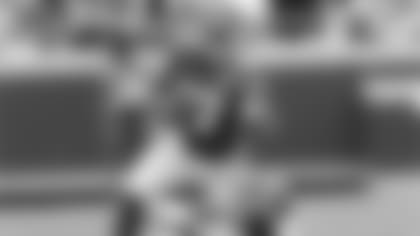 Overall, Hunt has carried the ball 30 times for 229 yards with three touchdowns, and added eight receptions for 126 yards and two touchdowns in the passing game as well.
"[Hunt] runs with power, and mentally he knows where he's at, he's able to block for us (as well)," Chiefs' offensive coordinator Matt Nagy explained this week. "So, right now, he's doing everything that we're asking him to do, and it's hard. You don't find that with every back."
According to Pro Football Focus, Hunt leads the league among running backs with 14 forced missed tackles (10 rushing, 4 receiving), which was kind of his deal coming out of college, where he left as Toledo's all-time leading rusher with almost 5,000 yards on the ground.
Heading into Sunday, the Chiefs face a Chargers' defense that has been tested on the ground this year.
Only two teams through two games have had more rushing attempts against them than the Chargers, who may have given up 251 yards combined on the ground to the Dolphins and Broncos, but that came on 68 attempts, which equals out to a yards-per-carry average of 3.7—a respectable number.
The Chiefs head into this game without starting center Mitch Morse, who injured his foot during the win over the Eagles last week. That's something to note as the Chiefs try and continue their momentum in the running game.
In Morse's place will be Zach Fulton, who has started 34 games for the Chiefs since being selected in the sixth round out of Tennessee in 2014. Fulton's first play against the Eagles last week was the shovel-pass touchdown to tight end Travis Kelce.
"The first play, I kind of checked with [Fulton]," Reid explained earlier this week. "That was a tough one and he handled it. He handled the gun snap and the option-type play that he was going to maneuver a little bit on.
"We have full trust in him at, really, all the spots. He is a good one to have on our team. He did a nice job."
3. Can the Chiefs keep up their red-zone success?
Last year, the Chiefs ranked 30th in the league in red zone scoring efficiency, finding the end zone just 45.5 percent of the time they got inside an opponents' 20-yard line.
It's a number they obviously needed and wanted to improve this year, and the early returns through two games have been pretty good.
The Chiefs currently rank second in the league in red zone scoring efficiency at 83.3 percent (5 of 6).
"I think the plays we're dialing up are good, but I think most of all the guys are doing a great job executing them," Reid explained. "That's something you've got to stay on every week. That's a great challenge to get down in there. Defenses have that twelfth guy back there with the end line, so you have to put a lot of focus and emphasis on that.
"You don't get a ton of reps on it like you do your base stuff, so you've got to really keep yourself in tune with that."
Quarterback Alex Smith, who is off to the best start of his 13-year career, attributed the success to a mentality.
"I think it is a combination of having a good plan and having good players to go execute it," Smith said. "That plan has to be taught and there's a lot of adjustments as well. For us in the fourth quarter, getting them in, you have to make adjustments.
"Then this last week, two just big will plays. Two touchdowns that were total willpower. Extra effort plays that found a way to get into the end zone."
Smith is alluding to Hunt's touchdown run in which he fought through several would-be tacklers and seemingly reached the ball through an offensive lineman's legs to cross the goal line, and the other was Kelce's leap from the five-yard line in which he sacrificed his body to find the end zone.
4. Can the Chiefs contain the Chargers' two standout pass rushers?
After dealing with the Eagles' Fletcher Cox and Brandon Graham last week, the task doesn't get any easier this week as the Chiefs will have to deal with the standout duo of Melvin Ingram and Joey Bosa, who are as talented of a pass-rushing pair as there is in the league.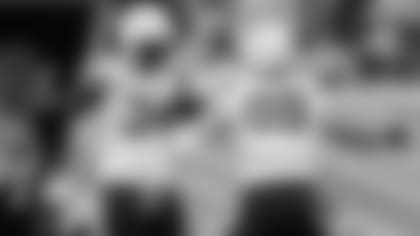 The two have combined for 19 quarterback pressures through two games, and the Chiefs are well aware of what they're up against on Sunday.
"They're fast, they complement each other really well, and they get after the quarterback," Nagy mentioned. "Ingram right now is playing at a really high level and so I think it starts there. He's an experienced defensive end, and then the rest of those guys all complement each other really well."
"They present a unique problem when you have two edge guys like that that are playing at a high level as they are, it makes things tough," Smith added.
The success Bosa (11 tackles, 1.5 sacks) and Ingram (8 tackles, 2.5 sacks) have at getting after the passer is a reason the Chargers haven't had to blitz much so far this season. They have only blitzed six times, which is the fewest in the league (sending four or more guys, or sending someone not on the line of scrimmage).
5. How is Chiefs Kingdom represented at the StubHub Center?
In Week 17 of last year—in the last game the Chargers will ever play at Qualcomm Stadium in San Diego—the sound people heard leaving the game was the thousands of Chiefs fans in attendance doing "The Chop."
The Chiefs won the game, 37-27, and over the years, Chiefs fans had always traveled well to San Diego.
It was a beautiful display if you're a Chiefs' fan, which begs the question of what the atmosphere will look like Sunday at the StubHub Center in Carson, California. It's the temporary home of the Chargers for the next three years while their new stadium is being built in Hollywood Park.
The StubHub Center, which seats just 27,000 people, is the permanent home of the L.A. Galaxy soccer club.
Last week, the Chargers had their first game in their new stadium, which came with mixed results. The Chargers lost, 19-17, on a late missed field goal by Younghoe Koo, who also had a late game-tying field goal attempt in Week 1 against the Broncos blocked.
Trailing by two points with nine seconds left in the game last week, Koo's 44-yard field goal was no good, and quarterback Philip Rivers' comments after the game on the attempt summed up the atmosphere.
"I heard the roar before I saw the official's signal," Rivers explained. "I wasn't sure which roar it was."
There were so many Dolphins fans that Rivers wasn't sure if the news was good or bad.
"It was perfect, it was perfect for us,'' Dolphins' receiver Jarvis Landry added of the atmosphere after the game. "It's always good to take over somebody else's stadium."
As the Chiefs look for their 12th straight win over an AFC West opponent on the field, which is the longest current divisional winning streak in the NFL, the atmosphere of what's happening off the field might be interesting to check out as well.
After Dolphins' fans brought it last week, the challenge has been laid for those members of Chiefs Kingdom who plan on being there Sunday afternoon.
If history tells us anything, there's going to be quite a bit of red there again, and maybe we'll hear more of "The Chop" to open up this stadium, just as they closed out the last one.