GAMETIME: 12:00 p.m. CT on Sunday, September 11LOCATION: Arrowhead Stadium in Kansas City, MissouriHOW TO WATCH:KCTV5HOW TO LISTEN:101.1 The FoxGAMCENTER: Chiefs.com
By now, the story of 2015 has been well told. After a 1-5 record to begin the season, the Kansas City Chiefs woke up.
They rattled off 10 wins in a row, clinched a playoff berth, and then won their first playoff game in more than two decades.
The run was astounding, the story amazing and unprecedented, but for as much fun as it was, that slow start is not one this year's team wishes to repeat, and that intention starts Sunday when the Chiefs host the division-rival San Diego Chargers at Arrowhead Stadium in their first game of the 2016 regular season.
"I felt like I could do a better job," Chiefs head coach Andy Reid said this week when asked about the beginning of last season. "I thought as it went on, we kind of pushed and stressed a little bit more than just playing. We settled down and did that. We were playing some good teams too. I'm not going to short change the teams we were playing. We were feeling ourselves out. We kind of just settled down as it went, and we did better – coaches and players."
To start on the right foot Sunday, the Chiefs will need to beat a revamped San Diego team that made some changes after posting a 4-12 record last season.
With quarterback Philip Rivers and tight end Antonio Gates serving as San Diego's nearly-forever constants, the team added wide receiver Travis Benjamin from the Cleveland Browns this past offseason.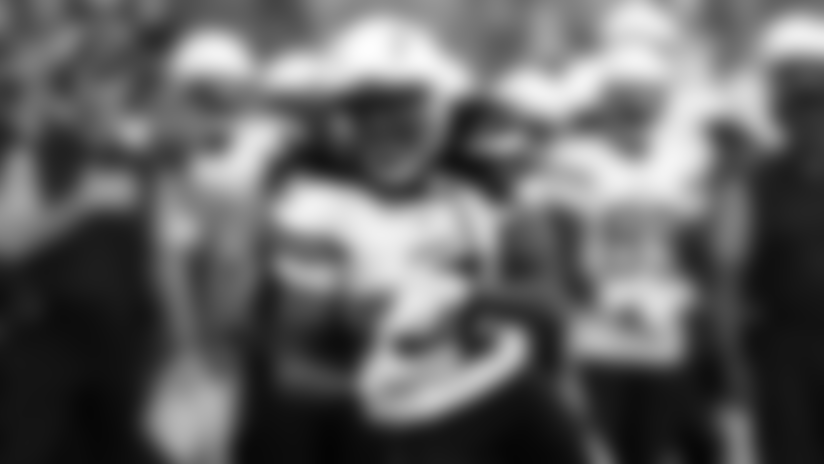 Benjamin, who was drafted by the Browns in the fourth round of the 2012 NFL Draft, is coming off his most productive season and was signed as a complement to Keenan Allen. Allen, the team's No. 1 wide receiver, returns to San Diego after a season-ending lacerated kidney injury that cost him half the year.
Chiefs starting cornerbacks Marcus Peters and Phillip Gaines will be the most often tasked with guarding the duo. Peters is hoping to have a good follow-up season to his Defensive Rookie of the Year campaign in 2015, while Gaines makes his much-anticipated return to the regular-season starting lineup after missing nearly all of last year with a Week 3 left ACL tear.
Defensive coordinator Bob Sutton commended the way Gaines has improved week by week since the start of training camp.
"He's feeling confident and fine there," Sutton said. "I think he's feeling more comfortable as a player and his reaction time is improving. That's where I think he's really making some strides and he's feeling good about it."
Inside linebacker Justin March is also scheduled to make the first regular-season start of his career after losing his rookie year to a torn meniscus last preseason. March received the nod after it was announced Josh Mauga would miss the entire season due to a labral tear in his hip.
March will serve as the "Mike" next to veteran Derrick Johnson, who likes the way their chemistry progressed throughout the preseason.
"Our communication is getting better," Johnson said. "He's a guy that wants to learn all that he can. He asks me and Josh Mauga questions galore, he's a young guy that's very hungry and I'm excited to see what he does on Sunday. We know he can make plays."
Starting safeties Eric Berry and Ron Parker will likely round out the base secondary for the Chiefs. LB Tamba Hali is expected to play in a limited role. LB Justin Houston, who is on the Physically Unable to Perform (PUP) List, will not play.
Some combination of Knile Davis, Spencer Ware and Charcandrick West is expected to fill in for Charles in the ground game. Ware and West combined for more than 1,000 yards rushing and 10 touchdowns in Charles' absence last season.
"At the end of the day, we don't care who's in there," West said this week. "As long as when that clock hits zero and we're in the W column, we don't care who is running the ball, who's throwing it, who's catching it. As long as someone is doing it, and we're being productive."
In the passing game, Chiefs QB Alex Smith looks to continue his trend upward since he joined the team in 2013. Over the past three seasons, Smith's final passer rating has been higher than the last, and he had more yards passing in 2015 than any other year in his 11-year career.
Smith explained this week that he is very confident in this year's Chiefs, and that comes from it being the fourth season under Reid and his West Coast offense.
"There's a confidence that comes with knowing your system, your fundamentals, the way you've been coached, the way you've prepared," Smith said. "The great thing going against our defense is you've really kind of seen everything, a form of it. You have the answers, a matter of going out and trusting what you're seeing, trusting your coaching and being able to handle it."
The biggest differences to the San Diego defense will be the addition of former Seattle Seahawk Brandon Mebane and the departure of long-time Chargers safety Eric Weddle.
Weddle, who was with the team for nine seasons, departed for the Baltimore Ravens this offseason.
"Eric is a very talented player and he was the leader of our team, of our defense and did an outstanding job for us," Chargers head coach Mike McCoy said via conference call this week. "In this business, change happens. I think the guys who've jumped in his position – we brought Dwight Lowery in. Dwight has done a nice job for us, and we have some players last year that got some valuable playing time and have done a nice job."
San Diego CB Jason Verrett was limited at practice with a calf issue this week and the No. 3 overall pick in this year's NFL Draft, defensive end Joey Bosa, is not expected to play.
There is no better way to start the season than against a division rival, and that is precisely what the Chiefs have on Sunday in the Chargers.
The players on each team are a little different, but the goal remains the same.
February football only happens by consistently winning from September to January.