The Kansas City Chiefs (4-2) travel to take on the Indianapolis Colts (3-4) Sunday afternoon as they look for their third straight victory.
Here are 10 stats to know heading into the game:
1.       Alex Smith is playing really good football right now
Over the past two games, Smith has completed 78 percent of his passes for 438 yards with two touchdowns and no interceptions.
Taking that a step further, Smith has five passes that have resulted in gains of 25 yards or more on those 46 attempts, which means one out of every nine passing attempts has resulted in a huge chunk of yardage for the Chiefs offense.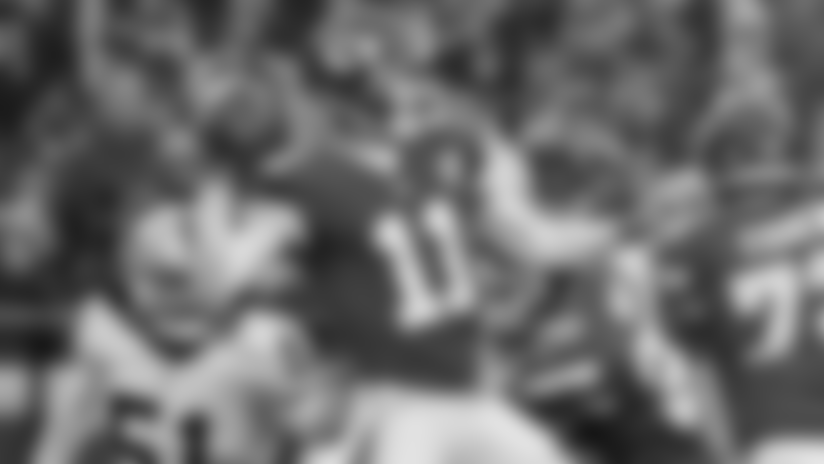 Smith's 9.5 yards per attempt also ranks third in the NFL over the past two weeks.
2.       Andrew Luck is pretty good too 
For Colts quarterback Andrew Luck, throwing the football has been a pretty normal occurrence so far this season. He ranks second in the NFL with 276 passing attempts so far this season.
Luck has completed 65 percent of his passes for 2,074 yards with 14 touchdowns and just four interceptions. 3.       Colts offense has proven the ability to score quickly or grind out drives if needed
It's pretty interesting that the Colts offense ranks No. 1 in the NFL in number of 10-play drives with 18 so far this year, and it also ranks third in the NFL with the average length of its scoring drives being 8.95 plays.
So the Colts can sustain drives and grind out long-scoring drives, but they can also score quickly, leading the NFL with 51 points scored in less than four plays.
It's an interesting connection that shows their offense can do multiple things depending upon the situation. 4.       Spencer Ware still ranks among the NFL's best dual-threat running backs
Through Week 7 of the NFL season, Ware ranks fifth in the NFL with 777 scrimmage yards.
He has carried the ball 95 times for 492 yards with two touchdowns, adding 15 receptions for 285 yards and a touchdown in the passing game as well.
Of the four guys ahead of Ware in those rankings, three of them have played in seven games. The Chiefs already had their bye week and therefore Ware has played in one less game. 5.       Colts have struggled to protect Luck 
The Colts have surrendered 25 sacks on Luck so far this season, which ranks as the most by any team in the NFL.
As we've seen before, it's tough for any quarterback to consistently have success if he's constantly being moved off his spot and affected by a pass rush.
The Chiefs pass rush has been led this year by outside linebacker Dee Ford, who has 3.5 sacks already this season. His career high is four, which he set last year. 6.       Chiefs lead NFL with 10 interceptions this season
Led by second-year cornerback Marcus Peters, who has five interceptions already this season, the Chiefs rank No. 1 in the NFL with 10 total interceptions.
In fact, Peters' five interceptions are more than the interception totals of 13 NFL teams.
The Chiefs also lead the NFL with five red zone takeaways this season. 
Since the beginning of the 2013 NFL season, the Chiefs (plus-36) rank second in the NFL in overall turnover differential to the Seattle Seahawks (plus-38). 7.       Tyreek Hill ranks among the NFL's best punt returners
Through six games, Hill has returned 13 punts for a total of 197 yards, which averages out to 15.2 yards per return and currently ranks second best in the league and best in the AFC. 
The best season in franchise history in terms of punt return average was Dante Hall back in 2003, when he averaged 16.28 yards per return (29, 472).
Hill also leads the team with three receiving touchdowns.
8.       The big play has been kind to the Colts offense
The Colts have scored 104 points from outside the red zone this season, which is the most for any team in the NFL. 9.       T.Y. Hilton is the real deal
On the outside, fifth-year receiver T.Y. Hilton, who has amassed at least 1,000 yards receiving in each of the last three seasons, leads the Colts. 
Through seven games this year, Hilton has twice as many targets (76) as any other player on the Colts roster, and he's caught 45 passes for 689 yards, which ranks third in the NFL. 10.   Veteran Frank Gore paces Colts backfield
Two weeks ago against the Chicago Bears, Colts running back Frank Gore moved past Pro Football Hall of Famer Jim Brown on the NFL's all-time rushing list.
In 12 NFL seasons, Gore, the long-time San Francisco 49er, has carried the ball 2,819 times for 12,535 yards, which currently ranks ninth in NFL history. He's 204 yards away from moving up to No. 8 and passing another Hall of Famer in Tony Dorsett.
So far this season, the 33-year-old Gore has carried the ball 117 times for 495 yards, which ranks No. 9 in the NFL. He has two touchdowns on the ground and two in the passing game, in which he's caught 20 passes for 96 yards this season.
Since 2013, the Chiefs have allowed the fewest touchdowns rushing (23) of any team in the NFL.