It has to be one of the most anticipated home openers for the Kansas City Chiefs in recent memory, and not just because it's a team with lofty expectations, but because of how they dominated the defending Super Bowl champion New England Patriots a week ago on national television.
The Chiefs won in decisive fashion, 42-27.
This Sunday is Chiefs Kingdom's chance to let this team know how they feel about them, and while the coaches and players understand that success doesn't carry over from week to week, the hype from the fans definitely does.
And it's at an all-time high right now.
The Chiefs welcome a Philadelphia Eagles team that's feeling pretty good about themselves as well, coming off a big divisional win last Sunday over the Washington Redskins, 30-17.
The Eagles are led by second-year head coach Doug Pederson, whose name should be familiar to Chiefs fans as he spent three years in Kansas City as Andy Reid's offensive coordinator (2013-15).
Reid, who spent 14 years as head coach of the Eagles prior to joining the Chiefs before the 2013 season, currently has five former assistants who are head coaches around the league.
Actually, Reid gave Pederson, who played quarterback for him and the Eagles in 1999, his first shot in the NFL as a coach in 2011. Pederson was coaching at the high school level in Louisiana at the time.
"The guys who worked with him knew what he was capable of doing," Reid said earlier this week of Pederson. "So, what seemed like a fast-paced progression for people outside of here, seemed kind of natural for the people who were here (around him).
"I have a lot of respect for [Pederson], and I think he's doing a nice job there."
This will be the 12th game Reid has played against one of his former assistants, and he's faired pretty well in those games—accumulating an 8-3 record.
Outside of Reid, Pederson, and a handful of assistants and staff members on both sides who have worked together in both Philadelphia and Kansas City, the game will also be a reunion for defensive tackle Bennie Logan, who signed with the Chiefs this offseason after spending the first four years of his career with the Eagles.
Logan is a guy to watch on Sunday as he helped the Chiefs' defense shut down the Patriots' run game last week. The Patriots averaged just 3.5 yards per carry.
Here are five other things to watch during Chiefs-Eagles on Sunday:
How do the Chiefs try and make up for the loss of Eric Berry?
One of the biggest storylines to come out of the Chiefs' big win over the Patriots was the season-ending loss of All-Pro safety Eric Berry, who suffered a ruptured Achilles late in the game.
It was a tough loss in an otherwise great night for the Chiefs.
Earlier this week, Berry went to see the same renowned doctor who took care of Derrick Johnson's two Achilles injuries, and before surgery, Berry vowed to come back better than ever in a social media post.
And while nobody is going to replace what Berry brings to the table, the Chiefs are confident in the depth they have at the position.
"I think we've got a capable group," Chiefs' defensive coordinator Bob Sutton explained. "We've played a lot of guys, so we're fortunate to have Dan Sorensen and Eric Murray, who in different groupings can help fill that void. It's a big void, obviously, when you lose a guy like EB (Eric Berry), who is one of the real top-flight players in the game. But unfortunately, we've had to go through that before with him and other guys here and you just try to march on."
Sorensen signed a contract extension this offseason and has spent time both as a deep safety, and also down inside the box as the "dime" linebacker. It'll be interesting to see how much Sorensen's role is changed by this situation. He had been the only player on the Chiefs' roster to learn that in-the-box-safety role.
For Murray, who had been drawing rave reviews all offseason heading into his second year after playing just 64 total defensive snaps as a rookie, the time to step up is now.
"I think he's very confident in himself and the system," Sutton said of Murray. "He made the transition from (college) cornerback to safety a year ago, and I give him a lot of credit because he attacked the position, demanded a lot out of himself. His practice habits are outstanding and I think that's why he's been able to make this jump that I think we'll all see when he gets out there and plays.
"But he's well prepared and that's credit to him and the coaches that work with him. I feel good about him."
Earlier this week, the Chiefs also re-signed safety Steven Terrell, who spent all of training camp with the team and was released during the final cut-down to 53 players.
Will the Chiefs' offense continue their hot ways?
The Chiefs lead the NFL after one week by averaging 537 yards of total offense per game.
Now, to believe that pace can continue is a stretch, and not just a little one, that's a big one.
If the Chiefs kept up that pace, they'd not only break the NFL record, which was set by the St. Louis Rams and the "Greatest Show on Turf" in 2000 with 7,075 total yards, but they'd shatter the record. The Chiefs are on pace for 8,592 total yards.
The extrapolation of numbers after one week is fun, even if it's meaningless.
To go a step further, quarterback Alex Smith—the reigning AFC "Offensive Player of the Week"—is on pace for 64 touchdown passes after completing 28 of 35 for 368 yards and four touchdowns last week against the Patriots. That's a solid pace.
"We've added stuff, which we do every year," Chiefs coach Andy Reid explained of Smith's performance and the offenses explosion in Week 1. "The more [Smith] has been in it, the more input he's had. We feel very comfortable with his suggestions on things. I think that's all part of the relationship and having trust in each other.
"There are certain things that he likes and we know he likes and we make sure that they are in there for him."
"If you play long enough, I have certainly seen teams where they play really good and feel so good about themselves, then they walk into the next week and get smacked in the mouth," Smith explained.
Sounds like a guy who has been around for a while.
How will the Chiefs handle to the Eagles' defensive front?
Defensively, the Eagles are led by their defensive front, particularly their two-time Pro Bowl defensive tackle Fletcher Cox. He was a part of two of the biggest plays for the Eagles' defense last week during their 30-17 victory over the Washington Redskins.
Cox finished with a sack, forced fumble, fumble recovery and touchdown, which came with less than two minutes remaining in the game and as the Redskins were attempting a game-winning drive.
Cox, who picked up the ball after Eagles' standout edge rusher Brandon Graham knocked it out of the hands of Redskins' quarterback Kirk Cousins, had other plans.  He took it back 20 yards for the score.
"He has a high motor and he's smart, strong, and powerful," Chiefs' offensive coordinator Matt Nagy, who was with the Eagles in 2012 when Cox was selected in the first round, explained. "There are so many positives that go in to Fletcher. He has a great mindset and he understands the amount of games that take place on the line.
"I remember when we were there he was always doing backup snaps wanting to be the long snapper to help out if anything happened. He has a great personality."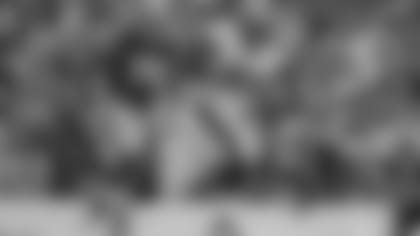 The Eagles, which forced four turnovers on the day, also held the Redskins to just 3 of 11 (27 percent) on third down.
One of the guys tasked with slowing Cox and company down is right guard Laurent Duvernay-Tardif, who will often find himself lined up across from Cox on Sunday.
"I think it's going to be a challenge," Duvernay-Tardif explained of dealing with Cox. "But I think it's a great opportunity to show people what you're all about as a player. It's not going to be easy, everybody is getting paid to make plays in the league, but going against guys like that, it's when you can separate yourself."
The Chiefs' special team's units were challenged this week. How do they respond?
The Chiefs have been one of the league's best special team's units over the past several years, but according to the guy leading them—Dave Toub—they weren't very good last week against the Patriots.
"We were sloppy," Toub explained. "We've coached them hard this week because we were so sloppy, you know with the fair catch, the bobbled catch, missed blocks. We almost gave up two punt blocks. Really not ourselves."
The Chiefs luckily didn't need the usual standout special teams' performance they get from that group against the Patriots, but that won't always be the case.
And the task doesn't get any easier this week.
"They are excellent," Toub said of the Eagles' special teams' units. "They finished No. 1 last year on Rick Gosselin's rankings. They were where we're trying to get to – that's where we want to be. They fly around. They're very well-coached. They've got eight guys who are all solid, solid special team's players. Good in return game, good in their coverage – everything."
The Eagles held Redskins' speedy punt returner Jamison Crowder to two returns for three yards, and both of their kick returners averaged less than 20 yards per return against the Eagles' coverage units.
Although one thing to keep in mind is the Eagles will be using a new kicker this week as their normal guy—Caleb Sturgis—is out with a core muscle injury.
Consequently, the Eagles signed undrafted rookie Jake Elliott off the Bengals' practice squad earlier this week. This will be Elliott's first NFL action.
The Arrowhead advantage is back
The Chiefs have won 12 of their last 14 games at Arrowhead Stadium—winning by an average score of 28 to 14.
And after last week's big win over the Patriots, plus the fact that it's the home opener with all kinds of things happening around the game (like a pregame B2 bomber flyover-weather permitting, among plenty of other stuff), the atmosphere is going to be on another level.
"There's nothing like Arrowhead," veteran linebacker Derrick Johnson explained. "Especially on a Sunday at 12 o'clock. It's going to be rocking, and I can't wait. Hopefully I can make one of those first plays and see how loud the crowd gets, but it's going to be electric.
"It's a feeling you can tell people about, but you've got to be on the field at that time to experience that."
It's simple: Arrowhead is the place to be on Sunday.