Sunday, September 17, 2017 at 12:00 p.m. CT on Fox (WDAF Local)
Arrowhead Stadium in Kansas City, MO.
• This will be only the eighth time the Chiefs and Eagles have faced-off in their history. Philadelphia holds the edge in those matchups at 3-4.
• This is the second time Chiefs Head Coach Andy Reid has faced his former team. In the first game, Kansas City won 26-16 on September 19, 2013.
• In his last two games vs. Philadelphia, Alex Smith has thrown for 564 yards and two touchdowns and won both games.
• After the first meeting in 1972, the Chiefs and Eagles would not play again for 20 years, picking up their first win over Philadelphia on October 11, 1992.
Play-by-Play: Kevin Burkhardt
Chiefs Spanish Radio – KCTO 1160AM Tico Sports (100.5 FM)
Play-by-Play: Enrique Morales
Chiefs FOX Football Radio Network - KCFX (101.1 FM)
Play-by-Play: Mitch Holthus
Color Analyst: Kendall Gammon
Chiefs Radio Postgame Show
KCFX Hosts: Art Hains, Dan Israel and Len Dawson
Receive score updates with the free Chiefs App, and play along with the game with the Chiefs Football Bingo.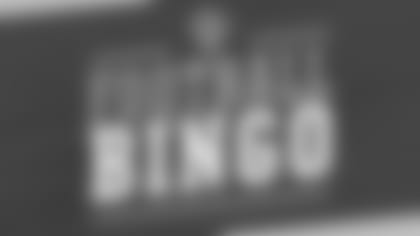 To play Football Bingo open the Chiefs App anytime within 3 hours before kickoff. Click on the Football Bingo card, and fill out your card. You will have the chance to win some great prizes!
Stream Chiefs games online with NFL Game Pass
Get live access to games and full replays of every NFL game, including pre-season and regular season matchups, the NFL playoffs and Super Bowl on NFL.com Game Pass. Game Pass is available across devices including desktop, smartphones, tablets, and select connected TV devices, so you can rewatch games wherever you are.
You can also watch the game on-demand after its conclusion using the NFL's Game Rewind package.
Be sure to follow the Chiefs on Twitter for live game day updates, videos and behind-the-scenes photos:
@chiefs| *@ChiefsReporter| @KCChiefs_Matt*