The Kansas City Chiefs travel to take on the Atlanta Falcons Friday night at 6:00 p.m. CT in the second preseason game of the year for both teams.
The game can be seen locally on KCTV5 (CBS).
Here are five things to watch:
1. Can the Chiefs' first-team offense find a groove?
Andy Reid said earlier this week that he plans for quarterback Patrick Mahomes and the Chiefs' first-team offense to play the entire first half against the Falcons, with the second team taking the third quarter followed by the third team in the fourth quarter.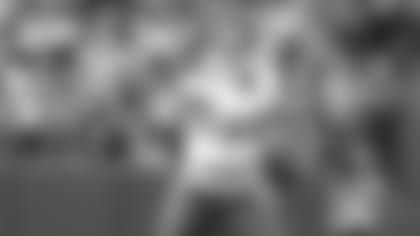 There was no update given on which specific players may play in the game, specifically being asked about Anthony Hitchens, Reggie Ragland and Leon McQuay.
After the first preseason game in which the Chiefs' first-team offense was given two drives (nine snaps total) against the Texans, Reid challenged his offensive line to be better after the overall group failed to score on either of those possessions. 
"I'm a little hard on the two lines, both sides of the ball," Reid explained this week. "I know how important it is that both of those sides play well. Nobody else can do their job without both of those sides playing, so we're always striving to do a little better."
For Mahomes, who finished 5 of 7 for 33 yards in the game and took a few hits and a sack on limited snaps, the plan for this week is a simple one.
"You get to go out there and have a little bit more time in the game," Mahomes explained. "Hopefully get into a rhythm and get some scoring drives. That's something we didn't have last week, so you want to go out there and score. At the same time, as I've said all camp, you want to be efficient. Get in and out of the huddle, make the right checks at the line and get the right protection calls."
We've seen them move the ball at camp and the talent is obviously there, but it's always important to note that they aren't game planning or showing a lot of their scheme in these games. It's their basic stuff which means there can't be too many big takeaways—good or bad.
2.    How do a couple of players perform stepping in for injured guys?
With veteran safety Daniel Sorensen out for a few more weeks with a leg injury and the fact that fellow veteran Eric Berry missed the last three practices because of a sore heel, the opportunity now presents itself for a trio of young safeties to stand up and show what they can do.
Those players would be third-year player Eric Murray, second-year player Leon McQuay, and rookie fourth-round pick Armani Watts.
"You have to keep developing your team," Chiefs' defensive coordinator Bob Sutton explained of the safety position this week. "We have some good players. We have a good group depth-wise and some good talent. They just have to take advantage of these opportunities, the guys that have to step up.
"Who that is going to be? We don't know that for sure right now."
On the other side of the ball, the one player to keep an eye on is right guard Andrew Wylie, who is stepping in for starter Laurent Duvernay-Tardif, who is still in concussion protocol after taking a hit to the head last week in practice.
"[Wylie] has been one of those pleasant surprises," Reid said this week of the second-year offensive tackle who spent a brief time on the Chiefs' practice squad last year. "He's really done a nice job for us. We put him at guard and tackle, he was working in at the right tackle position, and so right now, while [Duvernay-Tardif] is out. I think that was good for him.
"I'm curious to see him in a game situation and see what he can do, but he's done very well at practice."
3.    Can the defensive front seven generate some pass rush?
The Chiefs didn't have a sack last week in their game against the Texans, although they did find themselves with several opportunities at different points throughout the game.
And the best way to thwart an opposing offense, outside of first stopping the run, is by consistently affecting the opposing quarterback. It means moving him off his spot, making him slide up and around inside the pocket, and generally just let him know that you're always around. They did have some success in this area.
While the Falcons will most-likely play it pretty vanilla, just as the Texans did, the Chiefs' edge rushers—led by Justin Houston and Dee Ford—could use a good day either way.
As a group, the edge rushers may have had their best day of training camp last Sunday, which saw Ford, rookie Breeland Speaks and second-year player Tanoh Kpassagnon—one of the surprise players of camp—all cause disruption during the 11-on-11 periods.
"If you play fast, it fixes a lot of things," Kpassagnon told the media last week of his development. "I have learned that over time. One of my goals was to play fast and play hard and everything else will come."
Kpassagnon had one of the Chiefs' three quarterback hits last week.
And it's got to be mentioned that veteran Frank Zombo, who continues to be steady and grade well every day at practice, finds his moments to stand out as well. He always seems to be in the right spot and never takes a play (or rep) lightly. He's an example to the younger players of how to practice and prepare every day.
4.    What young undrafted players step up this week?
Last week the Chiefs had an undrafted free agent step up and lead the team in tackles in former Iowa Hawkeye Ben Niemann, who finished the game with five stops (four solo).
Chiefs' coach Andy Reid spoke of both Niemann, as well as fellow undrafted free agent inside linebacker Raymond Davison, after the game.
"I thought [Niemann] had some nice plays down the stretch," Reid said after the game. "Raymond Davison had a nice deflection in the end-zone (as well). We have to keep going. A little bit too much in the run game. We have to secure that up a little bit there."
Niemann's fourth-down stop in a goal-to-go situation was one of the highlights of the night.
Looking ahead to this week, the one young player to keep an eye on might be rookie running back Darrel Williams, who was one of the top undrafted free agents available this year and had some nice moments last week against the Texans.
With the shoulder injury to Damien Williams, who was also having a fantastic camp, plus the fact that Charcandrick West (concussion) hasn't practiced fully and Spencer Ware (knee) is still easing himself back in, there could be an opportunity for Williams to get some key reps.
5.    Can Demarcus Robinson and Xavier Williams both build upon a good first game?
Finally, the game on Friday night provides an opportunity for one guy on each side of the ball to stack good games on top of one another.
On the offensive side, third-year receiver Demarcus Robinson led the Chiefs with three catches for 48 yards and a touchdown against the Texans—displaying the playmaking ability we saw throughout much of camp.
This is an opportunity for him to show consistency, which is the word coaches will most-often use to describe what a player needs to show in order to get more playing time in the regular season.
For Robinson, that doesn't just mean make the catches down the field and display the "glide-like" route-running prowess we've come to expect from him, but it means to always line up in the right spot and know what he's doing on any given play.
On the flip side, one of the defensive standouts from the Week 1 game was defensive lineman Xavier Williams, who found himself in the backfield on multiple occasions. It didn't matter if he was taking on a double or not, he seemed to be willing himself wherever he wanted to go.
The run defense has been a story all offseason and general manager Brett Veach talked multiple times about bringing in guys with a certain mindset, which has been most often associated with linebacker Anthony Hitchens, but it also fits with Williams, who was one of the top run stuffers available in free agency this year.
Williams showed why that was the case with his performance against the Texans, and if he can do it again on Friday night against the Falcons, there may be a lot of people who begin to feel better about the defensive front seven—regardless of whether or not Hitchens and Reggie Ragland play this week.