GAMETIME: 3:25 p.m. CT on Sunday, September 25
LOCATION: Arrowhead Stadium in Kansas City, Missouri
HOW TO WATCH:KCTV5
HOW TO LISTEN:101.1 The Fox
GAMCENTER: Chiefs.com
Starting games slow is not a recipe for long-term success in the NFL, and through the season's first two weeks, the Kansas City Chiefs (1-1) have done just that.
Against the San Diego Chargers in Week 1, they managed to erase a 21-point deficit en route to the greatest comeback win in franchise history, but they could not come back a week later against the Houston Texans in a 19-12 loss.
When asked about the two slow starts, head coach Andy Reid explained that everyone, both the coaching staff and the players, simply need to be better.
"I've got to make sure I do a better job of putting the guys in the right position and then when given the opportunity to make plays, we have to do that," Reid said this week.
The challenge will be there for Reid's offense as the Jets pose one of the best front sevens in the National Football League.
In their Week 1 loss to the Cincinnati Bengals, the Jets defense, led by Leonard Williams and Muhammad Wilkerson, sacked quarterback Andy Dalton seven times.
"Very, very strong inside seven," co-offensive coordinator Brad Childress said. "The front seven is substantial. They're big, physical guys – most of them are first round draft picks, and then you have a guy like David Harris who is a 10-year pro. Their anchoring linebacker, Erin Henderson, who was with the Vikings before he got there. The front seven is substantial."
New York's high-pressuring defense could potentially be an even greater challenge for the Chiefs this week, as they will be without starting left guard Parker Ehinger, as he deals with a concussion and foot injury, and backup guard Jah Reid, as he deals with knee and ankle injuries. Starting right guard Laurent Duvernay-Tardif is questionable with a lingering high-ankle sprain.
Jets linebackers David Harris and Henderson are questionable.
Behind the front seven is a Jets secondary led by a future Hall of Famer in cornerback Darelle Revis, who will surely provide a challenge for quarterback Alex Smith and the Chiefs offense.
"Watching him on film, he's a good player," Smith said. "He has good eyes, good feet, sees things well and he's smart. I know there's been two deep balls caught on him—one I'm not sure if you can totally put on him. That's not what the media sees, so some of [the recent criticism] is a little overblown."
The Jets will typically have Revis follow around an opposing team's No. 1 aerial threat, so the expectation would have to be he'd be frequently matched up with wide receiver Jeremy Maclin on Sunday. Maclin has been targeted by Smith 22 times this season, and he has brought in 11 balls for 131 yards receiving and a touchdown.
With Jamaal Charles
officially listed as doubtful to play once again, Spencer Ware and Charcandrick West should fill in for the Chiefs in the ground game.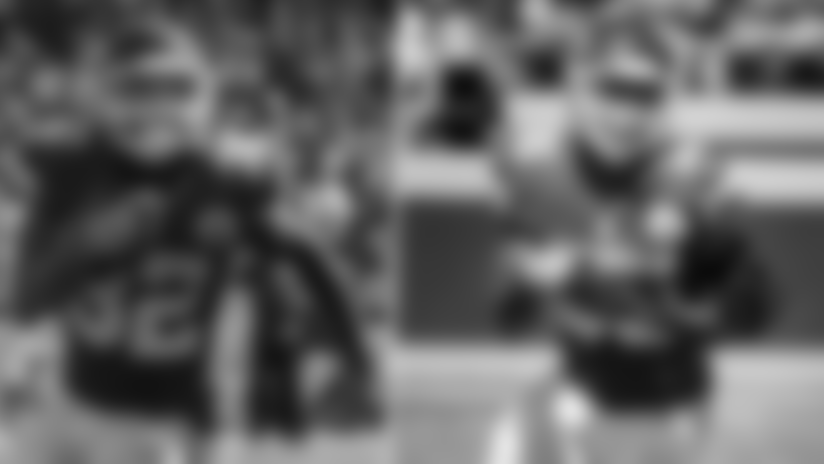 So far through the two games, Ware has seen nearly double the workload of West as far as carries, but Reid and the offense have used them both depending upon the game situation. This has allowed the Chiefs to remain cautions with Charles.
"The way our running backs, Charcandrick and Spencer, are playing, it's nice not to have that pressure where we need to hurry [Jamaal] back before he's ready," Smith added. The way these guys have been playing in the run and pass game, they've been really dynamic and have made plays for us. It's nice for the organization, the coaches and Jamaal to not feel pressured."
On defense, the Chiefs could be without cornerback Phillip Gaines, who only practiced limitedly on Friday due to a problem with his knee and is officially listed as questionable. Remember, Gaines had surgery to repair a torn ACL in his left knee this offseason.
If Gaines can't go, the Chiefs could turn to rookie D.J. White, who has logged just one defensive snap this season, to see more time. Gaines' fellow cornerback Steve Nelson, who has played more than 90 percent of Kansas City's snaps in the first two games, would remain the right cornerback starter in the base defense across from Marcus Peters.
Chiefs LB Sam Barrington will also be out with a hamstring injury.
It isn't the ideal time for injuries in the Chiefs defense, as the Jets offense was clicking on all cylinders last Thursday in their 37-31 win over the Buffalo Bills.
QB Ryan Fitzpatrick was 24 of 34 for 374 yards and a touchdown in the game, a line good enough for AFC Offensive Player of the Week honors.
The problem for Fitzpatrick is that he could be without his No. 1 wide receiver in Brandon Marshall, who is officially listed as questionable with knee and foot injuries. Eric Decker, an area of concern for the Jets earlier in the week, should be good to go
With word out that Marshall could be a game-time decision, which could put added pressure on a younger player in third-year WR Quincy Enunwa, who is leading the team in receptions with 13 at the moment.
"[Quincy Enunwa] is playing at a really high level for them," defensive coordinator Bob Sutton said. "He's upped what he's done and it's upgraded their offense."
Matt Forte, who joined the Jets this offseason after spending the first eight years of his career with the Chicago Bears, is another player that could have an impact this Sunday.
"He's done a really nice job coming in and being professional," Fitzpatrick said of Forte this week. "He does a great job with his vision and seeing holes and opening holes up, maybe when they're not necessarily there and getting the tough yards. So, I think just his consistency – not just the way he runs the ball – but the way he can catch the ball out of the backfield will be a real asset for us as the year goes on."
Though there are injuries on both sides, the weight of the game between two AFC playoff hopefuls remains stagnant.
Last year, the Jets finished 10-6, and it was AFC losses like this that kept them out. The Chiefs made the postseason, and it was winning games like this that got them in.
Winning games, especially against AFC foes, holds the same value whether they are played in mid-September or the end of December.
The Chiefs know they can't come out slow for the third week in a row. Not against the Jets, and not against anyone.