GAMETIME: 6 p.m. CST on Thursday, August 28
LOCATION: Lambeau Field, Green Bay, WI
HOW TO WATCH: KCTV5/CBS | NFL Network re-air (Sunday, 9 a.m. CST)
HOW TO LISTEN: 101.1 The Fox
GAMECENTER/LIVEBLOG: KCChiefs.com
Right around the time of the fourth preseason game, fans start to get a bit antsy. Football is back, sure. But they are ready for the games to count.
Some head coaches aren't so convinced. With a perfectionistic attitude, they might be fine with four more weeks of preseason. That would mean more time to watch, to evaluate, to make the most of any potential resource and most importantly, hold no regrets.
That in mind as the regular season looms, Kansas City Chiefs head coach Andy Reid realizes that every last second counts.
"Right now, we've got good competition on this team," he said to the media after practice on Tuesday. "So you want to try and be as right as you possibly can and give them every opportunity."
A fourth and final preseason matchup against the Green Bay Packers Thursday night will provide just that as Reid and his staff begin to finalize their evaluations. On Saturday by 3 p.m. CST, the Kansas City Chiefs 53-man roster will need to be in place.
Contrary to the game against the Vikings, which was important for the starters, this fourth game will be about the players on the roster bubble. Based on Reid's comments, it seemed as though barely anyone from the first team—quarterback Alex Smith and running back Jamaal Charles included—will play in this one.
"I'm trying to give the guys an opportunity to show [what they can do]. That's one reason I normally hold the ones," Reid explained. "I can get a pure evaluation of these young guys."
One aspect of the team Reid is still gauging is the offensive line.
"I'm still working on it," he admitted. "I'm just going to keep it rolling here."
Last game, after right tackle Donald Stephenson's four-game suspension was announced and Rishaw Johnson was sent to Tampa Bay in exchange for safety Kelcie McCray, the offensive line had a new look against Minnesota.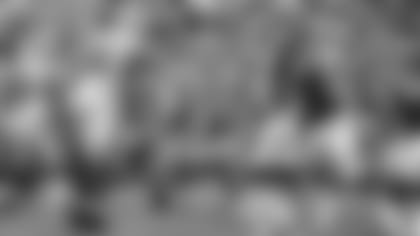 To fill Stephenson's void, left guard Jeff Allen moved over to right tackle, and at the all-of-a-sudden vacant left guard position, Ricky Henry and Jeff Linkenbach alternated series. Against the Vikings, the line looked to be out of sync, yielding three sacks and scoring no touchdowns.
Though it has been implied that the Chiefs first team will be rested, the starting offensive line may be given more time against Green Bay in order to gel as a unit.
A to-be starter on the Green Bay side of the ball that will almost assuredly be seeing time Thursday night is rookie center Corey Linsley (No. 63). In the Packers preseason game against the Oakland Raiders, starting center JC Tretter (No. 73) suffered a knee injury that is expected will keep him out of the Packers lineup for multiple weeks.
There was speculation early this week that because quarterback Aaron Rodgers (No. 12) has spent no in-game preseason time with Linsley, Packers head coach Mike McCarthy may uncharacteristically play him in the last game. But refuting that, McCarthy told Packers.com that would not be necessary.
"To go out there and totally overdo reps because you've got one player that's going to start, I'm not going to do that," he explained. "Because if I have to do that, he's not the right guy. Corey will be ready to play."
While Rodgers won't play, a battle to watch will be between backup quarterbacks Matt Flynn (No. 10) and Scott Tolzien (No. 16). With nothing decided in Green Bay, both players will likely see time against the Chiefs.
For Kansas City, as Chiefs quarterback Alex Smith sits, head coach Andy Reid has already confirmed who will get that playing time. Chase Daniel, who can be assumed as the backup for this season, will get the start for the first quarter. Third-string hopefuls Tyler Bray and Aaron Murray will split the rest of the game.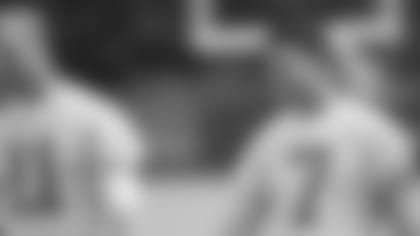 Other Chiefs battles to watch revolve around special teams. First, the obvious—the Chiefs have yet to name a starting kicker. After rookie Cairo Santos did not get as many kicks as the Chiefs would have hoped against Minnesota, both he and Ryan Succop will actively kick against Green Bay. How those kicks will be divided has yet to be determined by the Chiefs.
"We haven't really decided yet," special teams coordinator Dave Toub said. "We just know it's going to be an ongoing competition. Both guys will kick."
The second battle revolving around special teams will be the third running back position. With Jamaal Charles and Knile Davis set into the first two spots, the third position remains up for grabs between Cyrus Gray and Joe McKnight.
Earlier in camp, Toub said that Gray was "critical" to the special teams unit. To win the job, McKnight may need to show that he's just as valuable to what Toub is trying to accomplish.
Thursday night will mark the fifth consecutive season that the Chiefs and Packers will have played in the final game of the preseason, and after the game, the teams will go there separate ways.
For the Packers, it's the Seahawks one week from Thursday on opening night at CenturyLink Field. As for the Chiefs, they will play the Titans at Arrowhead Stadium three days later.
Evaluation over, games will count and coaches league wide will hope for no regrets, and the quest for a Super Bowl championship will have officially begun.
Photos from the Chiefs final preseason game, a 30-8 win against the Green Bay Packers