Last week, in Kansas City's first outing against Cincinnati on Aug. 7, the team tallied 41 points, the most points scored in a preseason game since the club posted 42 vs. New Orleans on August 10, 1996. All three phases contributed to the effort. Defensive backs Sean Smith and Malcolm Bronson each returned an interception for a touchdown. Additionally, De'Anthony Thomas returned a punt 80 yards for a touchdown, the longest punt return in the preseason since Dante Hall took a punt 92 yards to the endzone vs. Washington on August 12, 2001.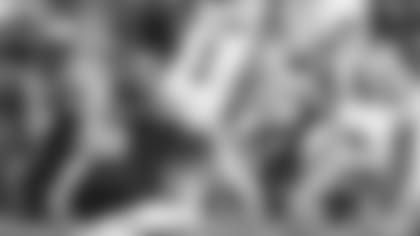 This week, the Chiefs face the Carolina Panthers. This is the first of four nationally televised games for the Chiefs this year. Kansas City will take on the New England Patriots on ESPN's Monday Night Football in Week Four and then have back-to-back nationally televised contests in Weeks 12 and 13. The team will face the Oakland Raiders on November 29th, which will be featured on NFL Network and the following week, they take on the Denver Broncos, which will be shown on NBC.
Here is all the info you need to be sure you don't miss the game.
Game Date/Time
Sunday, August 17, 2014 at 7:00 p.m. CT
Location
The Chiefs second preseason game will be played at the Bank of America Stadium in Charlotte, NC.
Forecast
Mostly sunny
High: 93°
Low: 72°
Matchup History
The Kansas City Chiefs and Carolina Panthers have met five times in NFL history with the Chiefs holding a 3-2-0 advantage. The Chiefs are 2-1 at Arrowhead Stadium and possess a 1-1 record in Carolina.
TV Coverage
FOX (WDAF Local)
Play-by-Play: Kevin Burkhardt
Color: John Lynch
Sideline: Pam Oliver
Radio
Chiefs Spanish Radio - La Gran D (1340 AM)
Play-by-Play: Enrique Morales
Color: Oscar Monterroso
Sideline: Ricardo Soto
Chiefs FOX Football Radio Network - KCFX (101.1 FM)
Play-by-Play: Mitch Holthus
Color: Len Dawson
Sideline: Kendall Gammon
Chiefs Postgame Show
KCFX (101.1 FM)
KCFX Hosts: Art Hains, Len Dawson and Kendall Gammon
Online
Visit kcchiefs.com for live play by plays, stats and info, plus a game day story, along with videos and photos.
You can also watch the game on-demand after its conclusion using the NFL's Game Rewind package.