All is good in Chiefs Kingdom right now.
The Kansas City Chiefs made a statement on Monday night with their 41-14 victory over the New England Patriots.
With almost 200 yards rushing between Jamaal Charles (92) and Knile Davis (107), quarterback Alex Smith's 144.4 passer rating after going 20 of 26 for 248 yards and three touchdowns and finally the defense forcing three turnovers, including a pick-six interception return from safety Husain Abdullah, the Chiefs turned some heads on Monday night.
Oh, and Chiefs fans got their Guinness World Record back for loudest crowd roar at an outdoor stadium at 142.2 decibels.
"The fans were phenomenal," Chiefs coach Andy Reid said. "I never thought I'd be fired up about decibel levels but I'm fired up for them. My ears are still ringing. I mean it was loud-loud down there—like incredibly loud."
Chiefs quarterback Alex Smith agreed with coach Reid.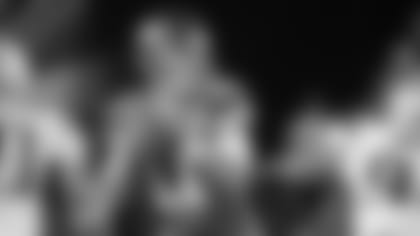 "These fans are special fans and they proved it tonight again," Smith said. "Best in the country. This doesn't happen anywhere else like this. The whole town is feeding off it."
The Chiefs were missing seven projected starters in this game, including three-time Pro Bowl safety Eric Berry and the lightning-quick rookie running back De'Anthony Thomas (hamstring), who has yet to make his NFL debut after impressing in the preseason.  
The Chiefs leaned on Charles and Davis, who helped the Chiefs offense outgain the Patriots 443 to 290 in total yards.
"Both of them together, I think they're both explosive players," Reid said of Charles and Davis. "They're completely different players but they're both explosive players and that makes my job easy, just giving them the ball."
Charles carried the ball 18 times for 92 yards and a touchdown, also adding three catches for 15 yards and two touchdowns.
Davis carried the ball 16 times for 107 yards and caught one pass for 12 yards.
Smith had an efficient night in the passing game and led a Chiefs offense that won the turnover battle for the first time this season.    
"That's been his trademark there is taking care of the football and being smart with it," Reid said. "He did that tonight against a very disciplined defense. His leadership is the thing that stands out most to me, just how he handles the whole team and the situation. He can turn chaotic situations into calm situations."
On the outside, the Chiefs were led by tight end Travis Kelce, who caught eight passes for 93 yards and a touchdown. Dwayne Bowe caught five passes for 81 yards and Donnie Avery caught a couple of big passes as well, finishing with two catches for 46 yards.
Smith spoke after the game about how they were able to spread the ball around.
"Always part of the game plan," Smith said of hitting nine different receivers. "That's just the nature of coach Reid and the West Coast Offense is the ball is going to get spread around. Everybody's got a piece of the game plan.
"If you've got a strength or you've got something to help us with, coach (Reid) is going to find a way to exploit that. But certainly when I'm out there, I'm just going through the reads where the ball is supposed to go."
The Chiefs defense, which had yet to force any takeaways in the Chiefs first three games of the season, picked up three on Monday night.
"We were able to get some takeaways today which I thought were huge," Reid said. "[Defensive coordinator Bob Sutton] had a phenomenal game plan. The players executed it like clockwork.
Reid said that while the three takeaways were good, they should never stop searching for more opportunities to make plays.
"I'm proud of them for getting the three tonight but we have to keep that coming," Reid said after the game. "That's a big part of the game—that whole giveaway-takeaway ratio. It's important that the offense doesn't turn the ball over; it's important that the defense creates takeaways so there's no complacency amongst the guys with just the three. We want to keep it coming."
Tamba Hali had a strip-sack fumble recovery and both Sean Smith and Husain Abdullah picked off Patriots quarterback Tom Brady.
The Chiefs won all three phases of the game against the Patriots on Monday night, and coach Reid said the crowd's energy should transfer over to the other stadium just next door tomorrow night. "I know that's going to carry right over to the Royals tomorrow when they dominate."