A good ol' fashioned rivalry on the league's biggest stage.
The Kansas City Chiefs (9-3) host the Oakland Raiders (10-2) in primetime in what's being billed as one of the best Thursday Night Football games in history.
There are playoff implications on the line for both teams and the winner will take possession of first place in the AFC West division, which is considered the strongest in the league.
The Raiders have won six straight since losing to the Chiefs 26-10 back in Week 6, while the Chiefs have won eight straight against the division and will have a raucous crowd on their side.
It's the very best of what the NFL is all about—meaningful primetime games between rivals with plenty on the line late in the season.
Here are five things to watch on Thursday night: 1.       The weather is going to be a factor
It's been a storyline all week—the weather is going to play a factor in Sunday's game. It's just a matter of which team handles it better.
The Chiefs have built much of their success this season around their league-leading 25 takeaways and six non-offensive touchdowns. The weather could help lead to another one of those on Thursday night.
It's going to be the coldest game either team has played in all year. That said, Chiefs coach Andy Reid said it won't affect their game plan when he was asked by reporters about it this week.
"Normally, you just call the game and you go," Reid said. "The players are used to that stuff, so it's all part of it."
For the fans, the parking lots at Arrowhead are open for tailgating beginning at noon on Thursday, more than seven hours before kickoff.
It's the place to be, and Reid has already given everyone a note to leave work early.
It's going to be cold, but we've also got a future doctor's advice on how to stay warm.
It's time to be loud and prove it again, Chiefs Kingdom.
2.       Derek Carr and the Raiders' passing game
It's easy to think that the weather could affect the passing game, which for Raiders QB Derek Carr, who finds himself in MVP consideration here late in the season, hasn't been a good thing over the past three cold games he's played in.
"He's a good player," Reid said this week of Carr. "We had him over at the Pro Bowl last year, so I had an opportunity to get to know him and see how he's wired. He's fearless with his throws, he can make all of them and he loves the game."
Carr has completed 66 percent of his passes with 24 touchdowns and five interceptions this season. He leads a Raiders offense that's averaging 28.8 points per game, which ranks third in the NFL.
The Chiefs have faced each of the NFL's top four scoring offenses this year, and each of them is averaging at least 27.8 points per game, and the Chiefs held each to less than their season average.
In the case of the Raiders, who have scored at least 27 points in 10 of their 12 games this season, their worst output of the season was the Week 6 loss to the Chiefs, when they finished with just 10 points.
In his career, Carr is 1-4 against defensive coordinator Bob Sutton and the Chiefs, completing 58 percent of his passes with six touchdowns and five interceptions.
On the ground for the Raiders, it's important to note that their starting running back, Latavius Murray, who ranks among the best in the NFL with 11 touchdowns on the ground this season, didn't play in that first game between these teams. 3.       Spencer Ware and the Chiefs' running game
For a physical running back like Ware, who averages 2.9 yards after contact, which ties him for third best in the NFL, the cold-weather games tend to provide an atmosphere that puts the focus of the game in hands of the guys doing the dirty work between the tackles.
That's music to the ears of Ware.
"It's a ground game and we control it," Ware said of Thursday's matchup against the Raiders. "Up front with our linemen and on the defensive side, they're going to control it because [the Raiders] are going to run the ball as well.
"They're thinking the same thing we're thinking."
Ware is thinking and hoping for a continuation of the kind of production he had in the first meeting between these two teams.
The Chiefs' 26-10 win back in October was the best game of Ware's career, as he finished with 24 carries for 131 yards and a touchdown. 
Ware's toughness and fondness of playing in the cold derived from growing up as a kid in Cincinnati. 
"As far as little league went, the playoffs and Super Bowl weren't that deep into the winter days, but around the neighborhood, just because football ended, that didn't stop me and my friends," Ware explained. "We would play in the neighborhood and do 'Top hill vs Bottom hill' – stuff like that. It didn't matter if it was snowing, raining, or temperatures in the negatives, we were out there playing all bundled up.
"There would be times when the blacktop was all covered in snow, and instead of playing on the grass, we had more space in this big parking lot compared to trying to play in-between these little brick houses with vents and sidewalks and all these things you could get hurt on, so we'd play out there."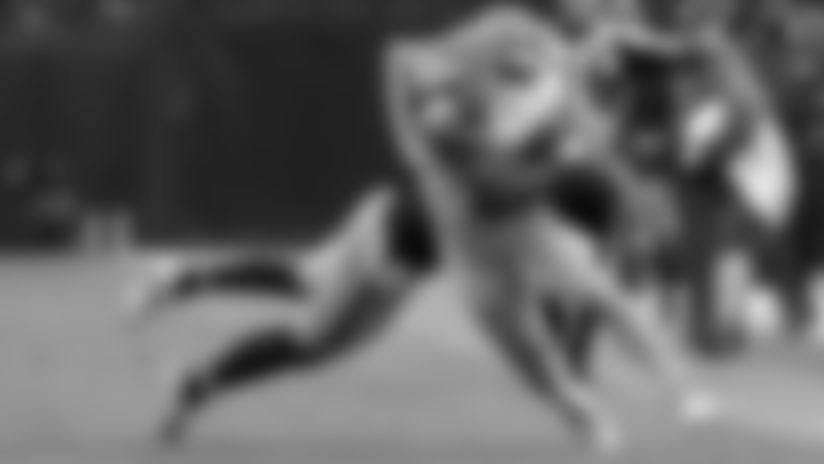 Ware's determination in running the football is obvious to anyone who has watched him since his breakout season a year ago.
"Just knowing that nothing is promised in life, or this profession—every yard counts, every inch counts, and I want to try and make that difference," Ware added.
Ware's success in Week 6 against the Raiders wasn't an outlier for their defense, which has had their troubles stopping the run this year.
The Raiders rank 29th in the NFL by allowing 125 yards rushing per game this season, including giving up 465 yards and seven touchdowns on the ground over their past three games. 4.       Marcus Peters making plays against childhood team
Since the beginning of last season, there isn't a player in the NFL who has more interceptions than cornerback Marcus Peters and his 13. Peters will be playing his fourth career game against his childhood team on Thursday night.
In the three previous career games—all wins, Peters has nine tackles, two interceptions, four passes defensed and a forced fumble.
The best players always tend to shine in the biggest of moments, and that could be the case again when the entire country is watching Peters and this defense continue to make plays we'll all remember years down the road.
We saw it last week with safety Eric Berry, who was named the AFC Defensive Player of the Week after his performance against the Falcons in his hometown of Atlanta, and maybe that's the case with Peters this week.
The Chiefs have been living on the big play so far this season, so Peters is as good as a guess as anyone on who might be making the big play this week, although it's worth noting that linebacker Justin Houston didn't play in the first meeting between these two teams.
"I'm happy to see him back," Carr said of Houston's return from injury via conference call this week. "He's one of the best players we have in this league. I never ever wish bad for anybody. Whenever anybody comes back from an injury, I'm fired up for them.
"I know the stress that can be on his life and things like that. I'm happy to see him come back and play well."
In that Week 6 game without Houston, Dee Ford had a couple of sacks—one of which was a key strip-sack on a ball that Peters recovered for the Chiefs defense, just one of their NFL-leading 25 takeaways this season. 5.       What's the Chiefs injury situation?
Here's the official injury report for Thursday's game for both teams.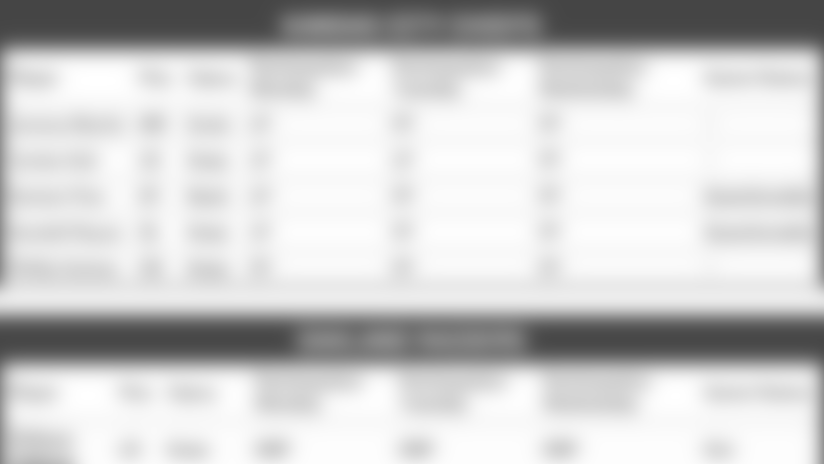 With only defensive linemen Dontari Poe (back) and Kendall Reyes (knee) listed as questionable for Thursday's game, the Chiefs are in decent shape as far as injuries go at this point in the season.
Players are dealing with the usual bumps and bruises that come along with the season, but a few extra days off after this Thursday game will be helpful.
Maclin looks to make his return to the field for the first time in more than a month as he missed the last four games with a groin injury.
In eight games this season, Maclin has 30 receptions for 376 yards and two touchdowns. In his last three career games against the Raiders, Maclin has 15 receptions for 198 yards and three touchdowns.