GAMETIME: 12:00 p.m. CST on Sunday, December 14LOCATION: Arrowhead Stadium, Kansas City, Mo.HOW TO WATCH: CBS (KCTV5 local)HOW TO LISTEN: 101.1 The Fox | NFL Network Game Rewind (Monday, 10:00 p.m. CST)GAMCENTER/LIVEBLOG:KCChiefs.com
Four weeks ago, having just soundly defeated the world champion Seattle Seahawks at Arrowhead Stadium, the Kansas City Chiefs (7-6) were riding high.
Once at 0-2, they had won six of their last seven games including five in a row. Head coach Andy Reid was reluctantly celebratory.
Reid's victory cry, which by that point the Chiefs had almost become accustomed to hearing, is pretty simple. As he says "Chiefs," the rest of the team joins him in unison followed by group applause.
But this time, it was different, as Reid made sure to stop before any extended celebration.
"That's about all the time we have right there," Reid said, nearly jokingly, before advising his players. "Get some rest, and then it's a quick turnaround."
Four days later, the Chiefs would lose to the then-winless Raiders (2-11) on a dreary Thursday night in Oakland, and they haven't won a game since.
Now with three games to go after the three-game skid, the Chiefs' playoff chances rely heavily on sweeping the rest of their games, meaning the postseason for Kansas City truly begins at Arrowhead Stadium in the rematch on Sunday.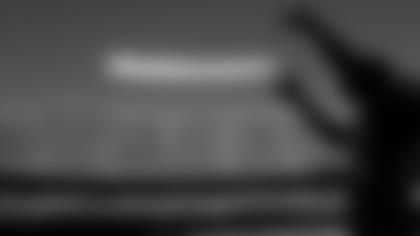 Despite the situation, there was an unforeseen feeling of calmness in the locker room this week, and it didn't matter who you talked to.
The Chiefs realize the best way to win three games is by taking each of them in stride.
"You can't get to that end of the line there unless we take that first step," quarterback Alex Smith told reporters this week. "That starts on Sunday."
The Raiders, who had 10 losses in 2014 before they won that first game against the Chiefs four weeks ago, became spoilers much earlier than they would have ever hoped to anticipate in this year's campaign. Since that first win, they are playing some of the most unpredictable football in the league.
After beating the Chiefs, they were shut out 52-0 in St. Louis against the Rams, but then won last week at home against the 49ers, likely ending any hopes of playoffs in the Bay Area.
One name that stands out during that wacky stretch for the Raiders is running back Latavius Murray (No. 28), who had a 90-yard touchdown in the first game against the Chiefs.
"We saw him go by us for about 90 yards so we got a long, long look at him as he went down the field," Chiefs defensive coordinator Bob Sutton said of Murray. "He is a big man that runs fast and that is not always a great combination if you are on defense."
Murray left early against the Chiefs with a concussion after compiling 112 yards. He then sat out in the loss against the Rams but returned for 76 yards in the Raiders' win against the 49ers.
The Chiefs run defense, which has given up 534 (178 per game) yards during the three-game losing streak, realizes improvement is needed to get back on the right track against the Raiders.
Reid blamed several things—scheme, fits and linebackers needing to play downhill football—as reasons for the lack of success the past few weeks.
"I thought we did a little better job on the tackling part, but we've got to take care of those seams," he said. "It doesn't take much for an NFL running back to hit a seam. You've got to narrow those things and make sure that you can free up your hands, then make the tackle."
Besides what Murray can do running the football, the Chiefs again need to respect what rookie quarterback Derek Carr (No. 4) is capable of. Carr has 17 touchdowns on the year, including three last week against the 49ers.
"He's been pretty consistent at what he does," defensive end Vance Walker, who will start in place of an injured Allen Bailey, said of Carr. "He does a lot of good things and we just have to be prepared for it."
The three targets Carr prefers are wide receivers James Jones (No 89) and Andre Holmes (No. 18) and tight end Mychal Rivera (No. 81), who each have over 70 targets and exactly four touchdowns a piece on the season.
On defense, rookie linebacker Khalil Mack (No. 52) is the Raiders' best player.
"He and (Justin) Tuck (No. 91) both are playing well right now and Khalil Mack is going to be and is a tremendous pass rusher," Chiefs offensive coordinator Doug Pederson said. "I think Tuck feeds off of that or vice versa there, but this is another good defensive front. These guys can rush the passer."
Smith and the Chiefs will need to be aware of where Mack and Tuck are lined up at all times. Expect Smith to once again spread the ball around to WR Dwayne Bowe, TE Travis Kelce and Jason Avant, who since coming to the Chiefs two weeks ago has continued to build a rapport with his quarterback.
"[He's] done a great job of coming in and the mental part of it," Smith said of Avant, "being prepared when his number is called and then going out there and making plays."
On the ground and through the air, look for RB Jamaal Charles to play a significant role in the offensive game plan despite nursing an ankle and knee issue all week.
"You saw early in the game last week how explosive he can be," Pederson said, referring to Charles' 63-yard touchdown against Arizona. "As the coordinator, my job is to get him in positions where we can take advantage of one-on-one matchups where he's not being doubled or where they're not blitzing him or keeping him in the backfield and coming up with schemes that allow him to touch the ball in these games."
In games where Charles has had at least 18 touches (rush attempts and receptions), the Chiefs are 6-1.
Three weeks ago, the Raiders were a winless team who upset the Chiefs in the pouring rain and reversed any momentum they had seemed to have.
On Sunday, the Chiefs will look to take that momentum back and keep control of their own playoff destiny.
No better time to do it than Raider Week.
---
*Note: The Chiefs downgraded LB James-Michael Johnson (No. 52) from "probable" (back/knee) to "questionable (illness) on Saturday for Sunday's game against the Raiders.
*
Photos of the 2014 Oakland Raiders starting lineup.