It was 53 years ago that the Kansas City Chiefs and the Oakland Raiders met at the Oakland-Alameda County Coliseum for the very first time.
Quarterback Len Dawson tossed three touchdown passes and tailback Mike Garrett rushed for another score in that game as Kansas City defeated the Raiders in a classic matchup of original American Football League franchises.
One of the league's greatest rivalries developed in the years following that matchup, and more than five decades later, the two teams will meet again in Oakland on Sunday for the final time – and on the infield dirt of the multi-sport facility, no less - before the Raiders relocate to Las Vegas in 2020.
And while the Chiefs are 10-2 against Oakland since 2013 – where they're averaging 30.5 points-per-game - the rivalry is still very real for Head Coach Andy Reid.
"I think when you step into that stadium and when you're out there, you understand the rivalry. The guys that have been here, they get it," Reid said. "It's probably as close are you're going to have to a college atmosphere, as far as rivalries go. Likewise, when the Raiders come here, I think they realize that. I think it's a neat thing. Our fans feel it, their fans feel it and the players feel it."
The rivalry will of course continue following the move, but the circumstances inevitably create some additional significance to an already important game between divisional opponents, and if the new-look Raiders' performance last week against Denver was any indication, the finale could be a good one.
Oakland added several fresh faces this offseason ahead of their second campaign under Head Coach Jon Gruden, and from wide receiver Tyrell Williams' big game to an impressive performance by veteran linebacker Vontaze Burfict, those new pieces paid dividends in a season-opening victory over the Broncos on Monday Night Football.
The Raiders raced out to a two-touchdown lead in that contest while holding Denver out of the end zone until late in the fourth quarter, demonstrating a certain intensity throughout.
"Those guys are playing with a ton of energy. Those young guys they had last year have elevated their game and the guys they brought in are playing with a ton of confidence," said Chiefs' quarterback Patrick Mahomes. "It'll be a great test for us. They have a lot of different coverages and different blitzes, so for us, it's going to be an early test and we're going to need a good game plan."
At the middle of Oakland's re-shaped defense is Burfict, a long-time member of the Cincinnati Bengals who signed with the Raiders this offseason while re-uniting with defensive coordinator Paul Guenther, who coached Burfict in Cincinnati.
Injuries have slowed the eight-year veteran's production in recent years, but he was impressive during his Raiders' debut last week in both his play on the field and his ability to lead the defense.
"I think most of all, he knows that defense inside and out," Reid said. "You give him different looks and he can be the adjuster on that who get guys lined up. From a coaching standpoint, he helps out in that way. He's like a coach on the field that way."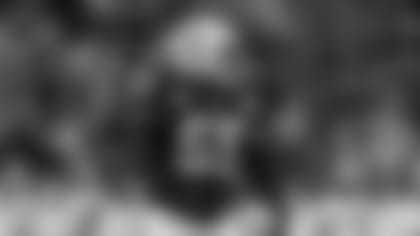 Burfict lines up behind a talented defensive front that also features a slew of new faces such as defensive ends Clelin Ferrell – the No. 4 overall pick in the 2019 NFL Draft – and veteran Benson Mayowa, who combined to tally six pressures and three sacks in last week's victory.
The secondary has benefitted from some new additions as well, as rookie cornerback Trayvon Mullen – a second-round pick in the draft last spring – and former Los Angeles Rams' safety Lamarcus Joyner have joined a defensive backfield that already featured a pair of solid young players in safety Karl Joseph and cornerback Gareon Conley.
And while Oakland was dealt some bad news this week with the loss of rookie safety Johnathan Abram for the year due to a shoulder injury sustained in the season-opener, the defense as a whole at least appears to be much improved from the group that allowed an NFL-worst 29.2 points-per-game in 2018.
It all makes for an interesting matchup with the Chiefs' offense, which is only a week removed from scoring 40 points on one of the league's better defenses in the Jacksonville Jaguars.
Kansas City scored on each of their first seven drives in that contest, eventually becoming the first team to tally 40+ points against Jacksonville on the road in five years behind Mahomes' 378 passing yards and a monster performance from wide receiver Sammy Watkins, who currently leads the NFL in receiving yards and touchdowns.
The Chiefs will be without electric wide out Tyreek Hill in Sunday's game, but with pass-catchers like Watkins, tight end Travis Kelce, wide receiver Demarcus Robinson and rookie wide out Mecole Hardman available at Mahomes' disposal, the offense still has plenty of firepower.
In fact, Chiefs' Offensive Coordinator Eric Bieniemy spoke at length about Hardman – the Chiefs' first selection in the 2019 Draft – and what he expects out of the speedy receiver on Sunday.
"Since we've been here, we've always had the 'next man up' approach. We coach our starters to be starters, but we also coach our guys who are backing up those guys to be starters, too," Bieniemy said. "It's his job now to make sure we don't lose anything with him being out there. He understands the responsibility and the accountability to his teammates, the people in that room and to Tyreek, as well. Our guys get that, they understand that, and they live on that. So, we're looking forward to him getting out there and making the most of the opportunity he's being presented with."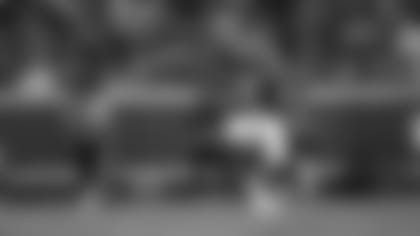 Conversely, the Chiefs' defense will look to slow down a Raiders' offensive attack that also includes plenty of new faces.
Williams – who caught 41 passes for 653 yards and five touchdowns last season for the Los Angeles Chargers - signed with Oakland over the offseason and represents a big-play threat in the passing game. Rookie tailback Josh Jacobs, meanwhile, rushed for 85 yards and two touchdowns in his professional debut after the Raiders selected the University of Alabama product with the No. 24 overall pick in the draft.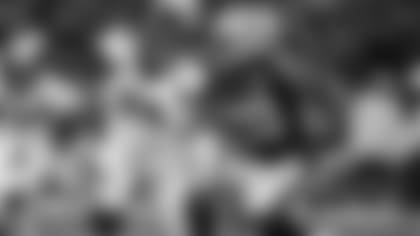 Both players – not to mention tight end Darren Waller, who caught seven passes for 70 yards against the Broncos – helped quarterback Derek Carr put together one of the best games of his career last week.
Carr completed 22-of-26 passes for 259 yards and a touchdown in the game, posting a 121.0 passer rating while leading the offense to convert on 10-of-14 third-down opportunities.
The sixth-year veteran is coming off an up-and-down year for Oakland and has historically struggled against the Chiefs – posting a 76.0 career passer rating - but Monday's performance didn't surprise Reid.
"[He had a] phenomenal game. I've [coached] him in the Pro Bowl before, so I got to know him as a kid," Reid said. "Smart guy with a lot of talent. He's one heck of a player and we're aware of that. It's a great challenge for us when we play them."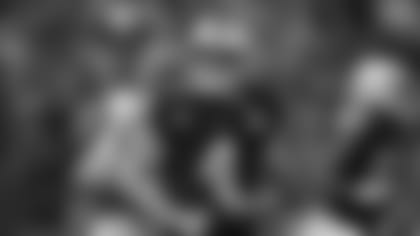 Kansas City's defense – which, much like Oakland, made a myriad of changes this offseason – will look to slow down Carr on Sunday as playmakers such as defensive end Frank Clark, safety Tyrann Mathieu and defensive tackle Chris Jones continue to develop within new Defensive Coordinator Steve Spagnuolo's scheme.
In fact, Spagnuolo even dusted off some old film from classic bouts between the Chiefs and Raiders from decades past for inspiration on Sunday.
"It's about being physical - the most physical team wins - and you can see guys talking smack on the field and off the field. [It's about] just being ready, keeping your head on and just playing ball," said linebacker Anthony Hitchens. "It's going to be a physical match – there are going to be some bumps and bruises – and I'm looking forward to it."
It's been 19,356 days since the Chiefs won that first matchup at the Coliseum all those years ago, and on Sunday, Kansas City will look to end their time in Oakland the same way it started.
Catch the Chiefs and Raiders on CBS at 3:05 p.m. CT on Sunday.