GAMETIME: 8:00 p.m. CT on Saturday, August 13LOCATION: Los Angeles Memorial Coliseum in Los Angeles, Calif.
HOW TO WATCH:KCTV5 Local | NFL Network
HOW TO LISTEN:101.1 The Fox
GAMECENTER: Chiefs.com
The very first time the Kansas City Chiefs travelled to the Los Angeles Coliseum for a game, it was for the world's first Super Bowl against the Green Bay Packers.
While the stakes Saturday night, when the newly relocated Los Angeles Rams host the Chiefs in Week 2 of the preseason, are far lower, it doesn't take away from the history of the venue, or the fact that this could be the last time the Chiefs ever play there.
Last week, the Rams drew nearly 90,000 people, breaking the preseason attendance record.
Potentially in front of another big crowd, head coach Andy Reid will continue bracing his team for the approaching regular season.
The Chiefs closed down their most productive training camp in Reid's four-year Kansas City tenure on Thursday.
"It was the sharpest, but again, it should be the sharpest having been together four years," Reid said. "You expect it to continue the longer you're around. They've done it and they kind of know the offense, and defense and special teams. So, I would tell you – yeah, they started off sharp and finished sharp."
Of course, it is hard to get through a training camp without a few bumps and bruises. Quarterback Tyler Bray, linebackers Tamba Hali, Justin Houston and Josh Mauga and running backs Jamaal Charles and Charcandrick West are expected to be held out Saturday.
Wide receiver Jeremy Maclin and LB Dezman Moses are expected to play despite being somewhat limited in practice this past week.
The playing time breakdown for the Chiefs against the Rams will be Alex Smith and the first team in the first half, followed by Nick Foles and the second team in the third quarter and Aaron Murray and Kevin Hogan and the third team in the fourth. Defensive coordinator Bob Sutton's defense will likely follow suit.
This will be Foles' first action against the Rams since they granted his release earlier this month.
Smith said Thursday that he's looking forward to getting some in-game repetitions with second-year WR Chris Conley after an especially impressive final week of camp.
"This past week, Chris has played really well," Smith said. "He continues to just add to his game. Physically he's always had it, and I think mentally he's been sharp. He's been seeing things really well, he's playing fast, and he's made a bunch of strong catches as of late."
As Conley is standing out on offense, LB Justin March is doing the same on defense.
With Mauga unable to practice the last few days of camp, March has played well with the first team at the "Mike" linebacker position next to Derrick Johnson. Saturday will offer March the chance to work against another first team.
On the Rams unofficial team depth chart, the first-team starting quarterback is listed as Case Keenum, but according to Rams head coach Jeff Fisher, it is "quite likely" that the 2016 first overall pick, Jared Goff, will take first-teams snaps against the Chiefs on Saturday night.
In front of March and Johnson, another player to watch is the first pick for the Chiefs in the 2016 draft in defensive tackle Chris Jones, who has impressed the coaching staff throughout camp.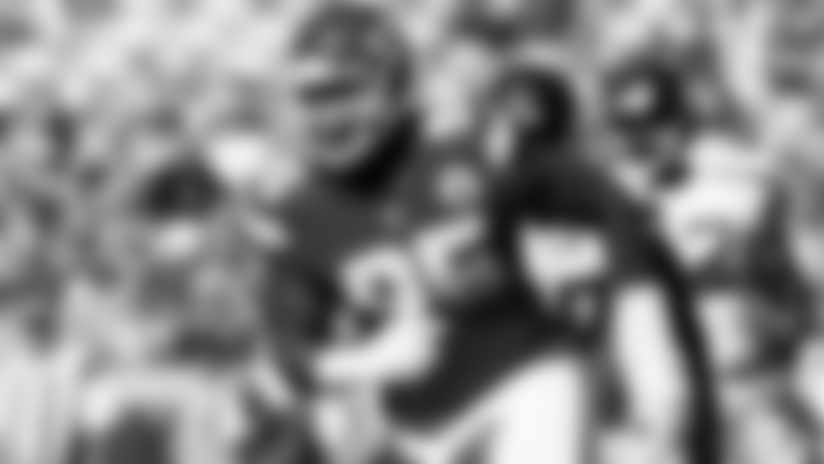 "He's got a good way about him," defensive line coach Britt Reid said of Jones. "He came into a room that had some established guys and that's not always the easiest thing to come into. It helps that he's a good football player, but he has a good way about him and he does show that on the field."
Including reigning Defensive Rookie of the Year Marcus Peters, the Chiefs also have some good, young talent to watch at the cornerback position in Steve Nelson, Phillip Gaines, Marcus Cooper and rookie D.J. White.
"Everybody's working hard," assistant cornerbacks coach Al Harris said. "Steve's doing a good job, Marcus is doing a good job and D.J. is actually doing a good job."
Two of Los Angeles' best players, RB Todd Gurley and defensive end Robert Quinn, are expected to make their preseason debuts against the Chiefs after being held out with injuries last week.
This Saturday night, the Chiefs become the second team to play against the Rams in the NFL's return to the Los Angeles market. In its current environment, Los Angeles has a case for the best place the Chiefs could possibly go to mimic a true regular-season feel.
There is no other team out there with fans more excited that football is back, and the Coliseum should once again be rocking on Saturday night.