The Kansas City Chiefs (3-0) head into Monday night's game against the Washington Redskins (2-1) with an 8-1 all-time record against them, including having won six straight.
Their only loss was a matchup back on September 18, 1983, when the Redskins were led by quarterback Joe Theismann, running back John Riggins, and rookie cornerback Darrell Green, who nabbed the first interception of his Hall of Fame career off Chiefs' quarterback Bill Kenney in that game.
This game Monday night will mark the second week in a row that the Redskins will be playing on national television. Last Sunday night, they had an impressive 27-10 victory over the Oakland Raiders.
The Chiefs, who beat the defending Super Bowl champion New England Patriots on Thursday Night Football to open up the season, will be playing on national television in four of their next five games.
"I think it's a compliment to the organization," Chiefs coach Andy Reid said earlier this week. "It's quite an honor to be picked for a Monday night game. So, you kind of earn that respect, both us and Washington to have that chance and you're playing against a team that's playing really good football. They're coming off a big win, they're well-coached. I think the fans are going to love this, they're going to fill up Arrowhead.
"It's one of those nights where it's going to be a great football game and it's going to be electric. That's what this league is all about."
Reid, who spent 14 years in the NFC East playing the Redskins when he was leading the Eagles, has an 18-11 all-time record against them. Although this won't be Reid's first time facing the Redskins with the Chiefs.
These two teams met back in 2013 during Reid's first year in Kansas City, and the Chiefs went on the road and won in decisive fashion, 45-10. That 35-point victory is still tied for the largest victory during Reid's time with the Chiefs.
The Redskins have gone through a lot of changes since then, most notably, bringing in their current head coach—Jay Gruden, who has put together back-to-back winning seasons after taking over a 3-13 team following the 2013 season.
On Monday night, Reid is looking to improve to 4-0 this year and go a perfect 6-0 against the NFC East during his time with the Chiefs.
Here are five things to watch:
It's strength vs. strength
This is the matchup to watch—the league's No. 1 rushing offense against the league's No. 2 run defense.
The Chiefs, who are led on the ground by rookie third-round pick Kareem Hunt—the reigning AFC Offensive Player of the Month and who leads the league in rushing, paces a Chiefs' rushing attack that's averaging 162 yards per game.
On the flip side, the Redskins defense, which is led by linebacker Zach Brown, edge rusher Ryan Kerrigan, cornerback Josh Norman and safety D.J. Swearinger, has allowed just 62.3 yards rushing per game through the first three games.
"They're a very talented team," Chiefs' offensive coordinator Matt Nagy said of Redskins' defensive performance against a prominent Raiders' offense last week. "They played fast and they played a great offense and did well against them in front of everybody. You look at a team that is as balanced as they are for us the last three weeks we've seen some pretty aggressive defensive lines and linebackers, so we have been tested.
"But you watch these guys on tape and they play fast, they play hard and they don't give you much time."
Over the first three games, the Chiefs have been particularly good on first down—averaging a league-best 9.58 yards per play.
Much of that can be attributed to the play of Hunt, who is averaging 9.6 yards per touch right now, and last week against the Chargers, he became the first player in NFL history to score a touchdown of 50-plus yards in the first three games of his career.
Can the Chiefs' pass defense keep it going?
Last week against the Chargers, the Chiefs' pass defense, which has been among the best in the league since defensive coordinator Bob Sutton arrived in Kansas City prior to the 2013 season, stepped up and made the plays that made the difference in the game.
The Chiefs picked off Chargers' quarterback Philip Rivers three times in that game, including a pair by cornerback Terrance Mitchell, who continues to be challenged with plenty of targets with All-Pro Marcus Peters on the other side.
Although Peters was able to snag his NFL-leading 15th interception since the start of the 2015 season in that game as well.
This group will be challenged again this week as Redskins' quarterback Kirk Cousins, whose wife just had a baby on Friday night, comes into this game with some impressive statistics so far this year.
He has completed 68 percent of his passes for 784 yards with five touchdowns and just one interception.
"When you have a guy like that it gives you a chance, every single week," Sutton said of Cousins. "I think he's surrounded by some good football players. They've got really great balance in their offense in the running game, I think they have 97 passes and 90 runs for the year. That's about as balanced as you're going to see in the NFL.
"Their team is playing really well on offense and going to be a great challenge for us."
The Chiefs' pass defense will be a challenge for them too.
Since 2013, the Chiefs' defense leads the league in quarterback completion percentage against, allowing just 57 percent of passes to be completed against them.
Will the Chiefs keep getting pressure?
Like most quarterbacks, Cousins' numbers aren't as good when he's under pressure.
According to Pro Football Focus, Cousins is just 14 of 27 (52 percent) for 144 yards (5.3 ypa) with one touchdown and one interception when under pressure.
In comparison, Chiefs' quarterback Alex Smith is 12 of 17 (70.6 percent) for 174 yards (10.2 ypa) with one touchdown and no interceptions when under pressure.
And through three games, the Chiefs' defense has had some success getting after opposing quarterbacks. Linebacker Justin Houston leads the Chiefs with four sacks, second-year defensive lineman Chris Jones has three, and veteran defensive lineman Allen Bailey, who they call "The Hulk," leads everyone with seven quarterback hurries.
It won't be easy to get pressure on the Redskins, particularly coming off the left side, as they have one of the best left tackles in all of football in Trent Williams.
"(Trent Williams) is a great football player," Sutton explained. "Gives up very few pressures. A really, really good football player. Playing at a high level. I think their line really plays well together. They function well. They don't have a lot of mistakes, they don't cut many guys loose. They help each other in the passing game and the running game, they're a real physical group of guys.
They can set the tone of the game, if you will, by the way they play. That's why that word challenge is going to keep coming up because we're kind of challenged at all levels in this game."
It's also worth noting that when blitzed, which the Chiefs have done fewer times than anyone else in the league so far this year, Cousins' completion percentage is eight points lower than when he's not blitzed (62.1 to 70.6).
Will they continue their streak of long touchdown plays?
The Chiefs set an NFL record last week by scoring a touchdown of at least 50 yards in nine consecutive games.
It's an incredible stat, particularly for a team that's been questioned by some as not being explosive enough.
Unsurprisingly, Tyreek Hill has been involved in many of those plays, while Hunt has gotten in the mix this year as well. Tight end Travis Kelce and receiver Albert Wilson also have plays that chipped in to help with that record.
Reid was asked about that statistic earlier this week.
"Everybody gets credit for it," he said. "Whether it's [Nagy] with the plays, whether it's the offensive line blocking or whatever receiver it is—the quarterback. Everybody's got a piece of making it work.
"But you're only as good as your last one."
The Redskins have given up just one touchdown play of 50-plus yards so far this season, and it came against the Eagles and quarterback Carson Wentz, who scrambled around and found receiver Nelson Agholor open down the field for a 58-yard hookup.
Overall, the Chiefs' offense ranks third in the NFL right now by averaging 397.3 yards per game, which only trails the New England Patriots (440.7) and Minnesota Vikings (400.3).
Will we see some new faces out there this week?
On Saturday during his final press conference of the week, Reid mentioned that outside linebacker Dee Ford and center Mitch Morse will not play Monday night
Ford has been dealing with a back issue and didn't practice all week, and Morse has been out the last couple of weeks with a foot injury.
In Ford's place, the assumption would be veteran Frank Zombo would continue to play at that spot opposite of Justin Houston.
"You have trust that he's going to go in and do the right things," Reid said of Zombo last week after the Chargers' game. "Are there a couple plays he'd like to have back? Yes, but he came in and everybody has full trust in him."
There's plenty of reason to believe the next guy up would be rookie second-round pick Tanoh Kpassagnon, who was a standout during offseason workouts and training camp and is the only other outside linebacker currently active on the roster. He has played just two defensive snaps so far this season.
With starting left tackle Eric Fisher, who didn't practice Friday or Saturday with a back issue, being given the "questionable" tag for Monday's game, the question becomes who's the next man up at left tackle. A lot of signs point to the recently-acquired Cam Erving, whom the Chiefs traded for from the Cleveland Browns at the end of the preseason.
At the time, Chiefs' general manager Brett Veach said they see Erving as a swing tackle, and there may be a spot available if Fisher can't play. In the past, right tackle Mitch Schwartz has also slid over and taken some reps over there, so it looks like it'll be a game-time decision.
Along with Erving, the other guy the Chiefs acquired during the preseason was linebacker Reggie Ragland, who was active last week against the Chargers for the first time all season but didn't see the field.
Earlier this week, Sutton spoke about Ragland's development.
"I think he's really progressed," Sutton said. "It's hard to make those determinations because, one, there's not a lot of reps in practice to do that on, and two, from our standpoint we haven't seen him yet in a live scrimmage, a live preseason game, or a live game, but I think he's made a lot of progress and getting to that position where he can contribute."
Sutton went on to say that Ragland has spent a lot of extra time with the Chiefs' coaching staff to get up to speed on this defense—adding that he's picked things up and quick and is a "very intelligent player."
Ragland, whose locker is right next to veteran Derrick Johnson's, spoke about what he's learned from the franchise's all-time leading tackler.
"Just how he carries himself and how he handles himself," Ragland said. "He's a pro and an All-Pro for a reason, and he has had the type of career he's had for a reason."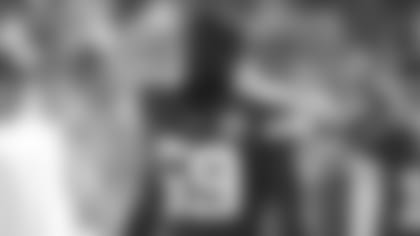 Ragland even joked that he's always watching Johnson.
"Everything he does—he doesn't know, but I watch him, like real close, not like stalking or anything, just to see how he carries him and how everyone reacts to him. He's the guy out there."
Since arriving in Kansas City, Ragland's days have been long and consisted of arriving at the facility at 7am for rehab and treatment of his knee, which he injured during training camp with the Buffalo Bills and which forced him to miss all of his rookie year last year, and staying for extra meetings until around 6pm.
"It's been intense, but they're just trying to get me up to speed and it's been working," Ragland added.
Considering he hasn't played in a real game since he won a national championship with Alabama in January of 2016—just a month after winning the SEC's Defensive Player of the Year award, Ragland spoke about how comfortable he is at this point to step in and contribute if his name was to be called.
"I'll be fully ready, but right now, there's just been a lot of intense meeting sessions with (assistant linebackers coach) Mark DeLeone—he's been helping me out a lot. (Rookie linebacker) Ukeme Eligwe and [Johnson] have been helping me out a lot, too.
"When my time is called, I'll be ready."