The Kansas City Chiefs (3-2) are looking to pick up consecutive wins for the first time all season as they host the New Orleans Saints (2-3) Sunday afternoon at Arrowhead Stadium.
It will be just the 11th overall meeting between the two teams and will serve as the tiebreaker, as both teams have previously won five games.
The Chiefs haven't lost at Arrowhead Stadium in more than a year and the Saints have had mixed results on the road—dropping a 16-13 contest to the New York Giants back in Week 2, and then bouncing back against the San Diego Chargers in Week 4 with a 35-34 comeback victory that saw them score 14 unanswered points in the final five minutes to pull off the win.
Heading into Sunday, the Chiefs are looking to ride the momentum of a dominating 26-10 win last week over the Oakland Raiders, while the Saints and their high-powered offense have won two straight and scored 76 points in the process.
Here are five things to watch on Sunday:
Can the defense contain Drew Brees and the Saints passing game?
There's little secret as to the identity of the Saints offense. It's all about quarterback Drew Brees, who ranks third in NFL history with more than 62,000 yards passing, and at 37 years old, he hasn't seemed to be slowing down.
"I don't have enough good things to say about him," Chiefs coach Andy Reid said of Brees on Wednesday. "He's a phenomenal player. Works at the profession – he's relentless that way. Obviously, keeps himself in great shape to be able to do it at this age.
"Maybe he doesn't run as fast, but he sure has the skill of throwing the football there."
Brees has completed 67 percent of his passes with 14 touchdowns and just four interceptions this season, averaging more than 335 yards passing per game.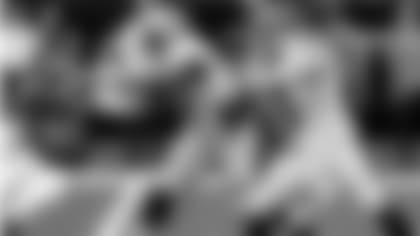 Overall as an offense, Brees and the Saints haven't had much trouble moving the football—ranking No. 2 in the league in yards per game (413.4) and points per game (31) so far this season.
Brees' top targets are receivers Brandin Cooks (41 targets, 25 receptions, 428 yards, 3 TDs), Michael Thomas (36 targets, 26 receptions, 307 yards, 3 TDs), Willie Snead (25 targets, 19 receptions, 296 yards, 2 TDs) and tight end Coby Fleener (35 targets, 19 receptions, 237 yads, 2 TDs).
When asked specifically about Cooks this week, Sutton couldn't speak highly enough of his speed.
"He's fast," Sutton said of Cooks, who ran a 4.33 40-yard dash at the 2014 NFL Scouting Combine. "He's real fast. A fast—fast man and he's proven that out on the field. He's turned into a really good receiver and not just a 'blow-the-top-off' guy. He's running routes and he's going to be a really good guy for them."
It's also going to be interesting to see how the Chiefs deal with the season-ending injuries to defensive lineman Allen Bailey and linebacker Justin March. Both of those players were starters and were lost for the season because of injuries suffered last week against the Raiders.
Will Spencer Ware continue to have the hot hand?
Heading into the NFL's seventh week, running back Spencer Ware ranks sixth in the league in total scrimmage yards—accumulating 646 so far this season by averaging 7.1 yards per touch. He has four receptions of 20-plus yards, and 12 rushes that have gone for at least 10 yards—both of which lead the team.
Last week in the win over the Raiders, Ware carried the ball 24 times for 131 yards and a touchdown, adding two receptions for 32 yards as well.
"When you think of [Ware], you think dynamic," Chiefs co-offensive coordinator Matt Nagy said this week.
The Chiefs used plenty of pre-snap motion and multiple personnel groups to find mismatches in a variety of ways throughout that game against the Raiders.
"You just want to keep a defense on their heels—however that is," Smith explained of the offense's balance last Sunday. "Any time a defense doesn't know what's coming, when they see multiple personnel groups, different formations and they're having to defend all of that, it goes hand-in-hand and opens up everything."
On Sunday, the Chiefs will face a Saints defense that has struggled this year, allowing an average of 419 yards and 33.6 points per game.
More specifically, the Saints have also allowed an average of 118 yards rushing per game, which ranks near the bottom of the NFL.
With the success the Chiefs offense found relying heavily on the running game last week, along with New Orleans' inability to consistently stop the run so far this year, this is a battle to watch on Sunday.
Jamaal Charles is listed as questionable headed into this game as Chiefs coach Andy Reid said on Friday that Charles had some swelling in his knee, which limited him at Friday's practice. Last week against the Raiders, Charles had 11 touches for 45 yards and a touchdown.
Can the Chiefs continue to take care of the football?
In addition to running the football as a way to matriculate the ball down the field for the Chiefs offense, the other benefit could be controlling the time of possession and limiting the number of opportunities Brees has in order to try and put points on the board with this potent Saints offense.
The Chiefs can't afford to give Brees extra opportunities by turning the ball over.
"Obviously if you get into one of those games where you're not turning first downs, whether it's running the ball or passing the ball, then you could be in trouble," Nagy explained. "Because right now, [the Saints] are on fire. They're a top 1 or 2 offense in the league. So I think if it's running the ball or if it's passing the ball, you've got to get first downs.
"And then more importantly, you've got to get touchdowns in the red zone. Three points just doesn't do it. So I would say getting first downs is huge. That's a part of time and possession and then the touchdowns instead of field goals is huge.
Since 2013, the Chiefs are 22-4 in games in which they have a better third-down conversion rate than their opponents, and they're 14-0 in games they have a better third-down rate AND win the turnover battle.
Will any of the Saints standout defenders make an impact?
Despite giving up considerable yards and points so far this year, the Saints defense does have some talent that the Chiefs respect.
When asked who stands out on the Saints defense when he flips on the tape, Nagy mentioned a couple of the guys up front.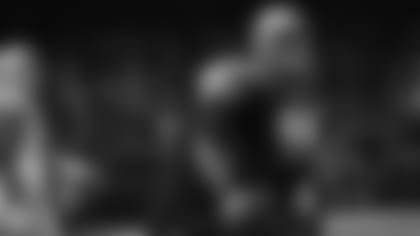 "Right now, [Cam] Jordan jumps out," Nagy explained of the 6-foot-4, 287-pound defensive lineman who has 21 tackles, 2.5 sacks and three tackles for loss so far this year. "He's a guy that can definitely penetrate and get pressure on the quarterback.
"I think they've had some injuries and there's been some different guys in there, but I think [Craig] Robertson—their linebacker—he's a downhill type player but he's physical and he can move."
Robertson leads the Saints with 53 tackles this year.
Nagy also mentioned safety Kenny Vaccaro as a guy to watch.
"He's kind of that joker guy where he can play down low as a linebacker," Nagy mentioned. "He can cover like a safety—without a doubt he's integral part of that defense. He's a physical guy."
Can Dee Ford put together another good game?
One of the reasons the Chiefs found success last week against quarterback Derek Carr and a potent Raiders offense was their ability to get pressure and "affect" him.
That was led by Dee Ford, who finished the game with two sacks and a key forced fumble.
Now "affect" doesn't always mean sacks. It could be as simple as getting the quarterback to move his feet. A good example of this last week was Marcus Peters' interception midway through the first quarter.
It was Ford's pressure that got Carr off his spot and ultimately led to an awkward, mistimed and off-balance throw from Carr, which made the interception possible.
Heading into Sunday, the Chiefs face a quarterback in Brees who has made a career of manipulating and maneuvering his way calmly through a pocket.
"He's a great quarterback," Ford said. "Any time you're playing a great quarterback, you've got to take it up another level. We have to affect him—any quarterback that's affected isn't so great."
Ford spoke earlier this week about his two-sack performance and what it takes to be a successful NFL pass rusher—something he's constantly striving for:
With the idea that Brees and the Saints will try and throw the ball around the field on Sunday, Ford said his mindset doesn't really change.
"I look at the cards I'm dealt," Ford explained. "If we can get there in 2.5 seconds, that's a sack every time. So that's my mindset every play. If I can get there in two and a half that's magic."
Brees has been sacked just eight times through five games, which ranks among the least in the NFL thus far, although it's worth noting that headed into last week's game, Carr had only been sacked a league-low five times before that game, and Ford got him twice.
So it'll be up to Ford, Jones, Tamba Hali and company to try and disrupt the timing of one of the best quarterbacks in NFL history on Sunday.
They have the benefit of playing at home in front of Chiefs Kingdom, which has been known to make an offensive tackle a click late off the snap from time to time because they can't hear the quarterback.
Here's to hoping that's the case again on Sunday.