GAMETIME: 12 p.m. CT on Sunday, October 23LOCATION: Arrowhead Stadium in Kansas City, Mo.HOW TO WATCH:FOXHOW TO LISTEN:101.1 The FoxGAMCENTER: Chiefs.com
It's been almost a month since the Kansas City Chiefs (3-2) last played a game in Arrowhead Stadium.
That changes Sunday when quarterback Drew Brees and the New Orleans Saints (2-3) visit Kansas City. After beginning the season with three straight losses, the Saints have rallied back with two consecutive wins in a row.
New Orleans continuing the streak Sunday could prove to be tough at Arrowhead, where the Chiefs haven't lost in more than a year.
"This crowd that we have here, the fans here, they're great," linebacker Derrick Johnson said this week. "It's hard to play here in Kansas City if you're an opposing team, and I play on defense so that crowd helps us out, and what better way to use it than against Drew Brees, who is one of the best to ever play the game."
Brees has the led the Saints to the No. 2 offense in the league in terms of yards per game (413.4) through the first six weeks of the NFL season.
"He's one of the really great quarterbacks of all time," Chiefs defensive coordinator Bob Sutton said this week. "He's very bright. He understands the defenses and coverages. Even within coverages, he understands leverage. He knows how a guy is playing, 'I know this guys is going to be open or I can get him open by throwing him open.' So, you're not going to fool a guy like him very often."
Brees spreads the ball around to many different receivers, but speedster Brandin Cooks leads the team in yards receiving with 428. Both he and Michael Thomas have three touchdowns apiece.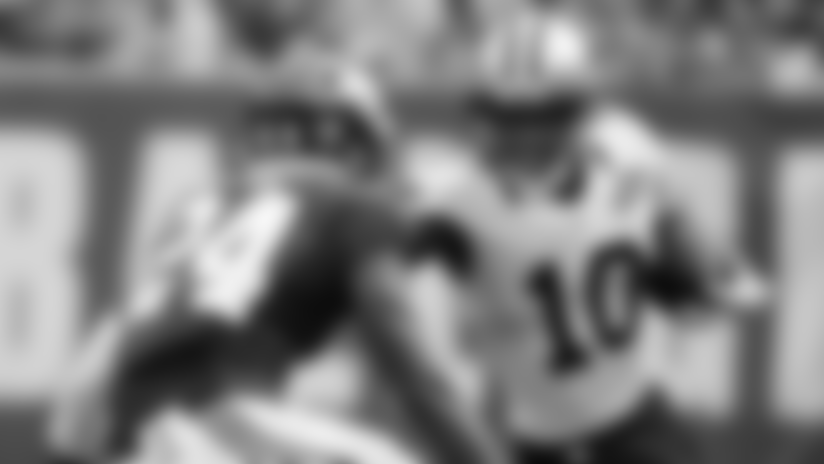 "He's fast," Sutton said of Cooks. "He's real fast. A fast—fast man and he's proven that out on the field. He's turned into a really good receiver and not just a 'blow-the-top-off' guy. He's running routes and he's going to be a really good guy for them."
Cooks already has both 87 (Week 1) and 98-yard (Week 6) touchdown catches this season.
With Phillip Gaines questionable to go as he continues to deal with a knee injury, Sutton could once again be relying on the likes of Steve Nelson and D.J. White to fill in at cornerback.
"I think he's coming along well," Sutton said of White this week. "He's obviously a rookie learning how to play. The more he plays, I think the better he's going to get. If that's the guy that we have to go with, we really don't have a lot of choices. We're going to line up and play. He's got to battle like heck, you know, other guys have to help. A lot of times there are certain things you can do in coverages to help a guy, and other times, you just have to win on your own out there."
The Chiefs lost starters in defensive lineman Allen Bailey (shoulder) and "Mike" linebacker Justin March to the Injured Reserve list this week, so rookie second-round pick Chris Jones and linebackers Sam Barrington, Sio Moore and Ramik Wilson could be in line to see more work.
On offense, the Chiefs could be without running back Jamaal Charles, who is officially questionable after there was some swelling in his knee on Thursday. But fortunately for the Chiefs, Spencer Ware is in the midst of a breakout season.
Ware has 78 carries for 415 yards rushing and a team-leading two touchdowns. He also has 13 receptions for 231 yards for a total of 646 all-purpose yards, which is the sixth best mark in the NFL.
Chiefs quarterback Alex Smith is coming off one of the most efficient games of his career last week against the Oakland Raiders, and he is looking forward to taking on the Saints defense.
"I think they do a lot of moving around, some unorthodox things, a lot of unorthodox coverages and they have a ton of guys that play," Smith explained this week. "So when you're watching film, it's hard to get a beat on anyone. They have a lot of guys that play back end and a lot of guys that play up front. At some point, it's hard to get a beat on who's playing and how they play. They change week to week too so you have to be ready for the unknown and prepare for a few different game plans." 
The Saints are currently ranked 31st in the league in terms of yards allowed per game (419.4), and yards passing allowed per game (301.6).
Making matters worse, the Saints will be missing a number of players on defense against the Chiefs, and their offense will take the field without offensive tackles Terron Armstead and Andrus Peat.
Sunday marks the 300th game in the career of Andy Reid (regular and post-season combined) as a head coach in the NFL. Only two other active coaches, Los Angeles' Jeff Fisher and New England's Bill Belichick, have reached that mark, and only 13 have done so in league history.
After a month away from Arrowhead, there likely isn't a place Reid would rather be to commemorate the milestone.