After participating in padded practices five out of the last six days, the Kansas City Chiefs are working their way through the grind of training camp right now.
Luckily for them, they finally get to hit someone they aren't quite as familiar with on Saturday as they host the Seattle Seahawks at Arrowhead Stadium in the first game of the 2016 preseason for both teams.
The game begins at 3:30 p.m. and you can watch on KCTV5, or listen to the "Voice of the Chiefs," Mitch Holthus, along with Len Dawson, Kendall Gammon and company on KCFX.
After a couple weeks of watching every practice of training camp, here are five things to watch for on Saturday:
1. Quarterbacks splitting up playing time
It's unusual for a team to have five quarterbacks taking reps during training camp, so the challenge for head coach Andy Reid and company is to try and find snaps for Alex Smith, Nick Foles, Tyler Bray, Aaron Murray and Kevin Hogan on Saturday.
When asked after practice on Wednesday how those snaps will be divvied up, Reid said they'll do their best to get everyone in the game.
"We basically have three groups in full," Reid explained. "We'll go first quarter with the 'ones', second quarter with the 'twos' and we'll mix up the third, fourth and fifth quarterbacks in the second half."
This means Alex Smith will play the entire first quarter, and then it'll be Nick Foles coming in to begin the second quarter.
"We'll let Nick [Foles] take the 'twos' initially and see what he's comfortable with," Reid explained. "We know Tyler [Bray] can take over if he's needed at that point."
Foles has been with the team for just over a week after signing as a free agent, and despite the fact that he's been with Reid before—four and a half years ago when he was a rookie—the language of the offense is a little different and something he's been cramming since arriving at camp last week.
"I would say about half of it is where he is comfortable," Reid explained of where Foles is with the playbook. "He just recently stepped in. We have about 403 pass plays so I don't expect him to have every one of those down.
"We've been going at this since April and he's only been here about a week, so it's understandable."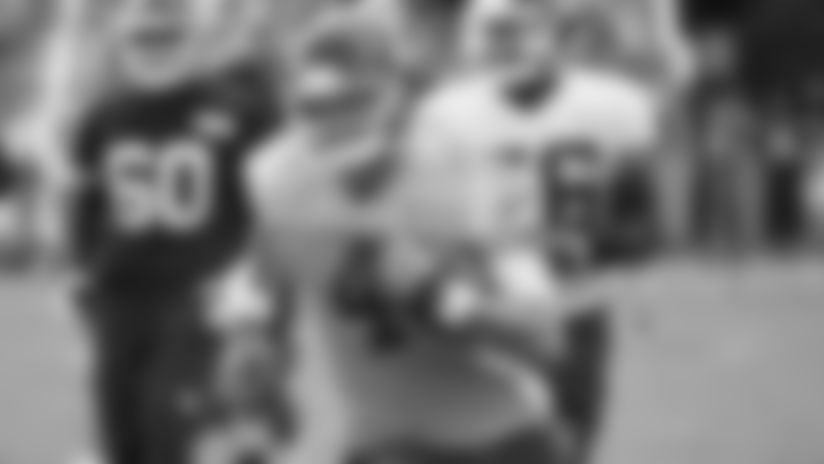 2. How do the rookies perform under the lights?
According to general manager John Dorsey, this is as talented and deep of a roster he's had since taking over the personnel for the Chiefs before the 2013 season.
He recently said that there will be a number of players who don't make this roster who will find their way onto other teams.
So the fact that they have a number of rookies who have been flashing at camp with the first and second team units only goes to show the depth Dorsey and company have built and further solidified in the most recent draft.
Guys like defensive lineman Chris Jones, left guard Parker Ehinger and receiver Tyreek Hill have flashed the kind of ability that could help the Chiefs early in the regular season, and with Saturday being the first time they'll ever play in an NFL game, this was Reid's message to them:
"You definitely want to enjoy that moment," he explained. "A lot of people don't have that opportunity to do that (play in the NFL). Make sure to study the game plan, so you have that down and you can just go play.
"There's that element of unknown for us, and that's part of the evaluation process. How are you going to handle that situation, when the lights are on and a lot of people are in the stands?"
We'll find out on Saturday, but those three, along with the three young defensive backs—KeiVarae Russell, Eric Murray and D.J. White—have also been impressive.
3. The return of Justin March; Ramik Wilson's opportunity
He was a standout during training camp last year and then a knee injury suffered in the first preseason game against the Arizona Cardinals ended a promising rookie campaign for Justin March—the undrafted playmaking linebacker out of Akron.
After rehabbing all of last season and even into the offseason, March is back and making plays again at camp this year just as he was a year ago.
Through a couple of weeks of camp, March has once again caught Reid's eye.
"He's always around the ball, first of all," Reid explained. "He's got a real knack. We saw that last year before he got hurt, and you saw it here [Monday]. He's constantly around the ball.
"There's just some guys who have that natural instinct – they just get it. Other guys, they just learn it and become equally as good, but that's a good starting place if you've got that extra sense there."
Sticking around the inside linebacker position, Ramik Wilson, the second-year player out of Georgia, has been taking the lion's share of the reps at the "Mike" position next to Derrick Johnson with the first-team defense as veteran Josh Mauga has missed some time recently with a groin strain. 
Wilson stepped in and performed well last year when called upon, and he's extremely confident heading into his second season. For more on Wilson and all of the inside linebackers, check out Derrick Johnson's breakdown of the group right here.
4. The young and talented defensive line
The success of any team starts with the foundation—the trenches. Football is won and lost along the offensive and defensive lines, and the Chiefs are deep and talented along the defensive line with a solid four-man rotation through the first couple of weeks of training camp.
The three starters are pretty solidified in Jaye Howard, Dontari Poe and Allen Bailey, and when you add in rookie Chris Jones, who has impressed thus far, the competition for the last one or two spots on the roster along the defensive line becomes a major storyline.
"[Jones] is a very talented guy," Bob Sutton, the defensive coordinator, recently said. "He's a big man, and he's very athletic for a big man. I think he's shown very well here, and these first couple of padded practices he's shown that he's got some ability to stop the run and he also shows that obviously he's got pass rush ability."
We'll see if what Jones has shown during practice over the last two weeks translates when he steps onto an NFL field for the first time.
Behind those four, both second-year player Rakeem Nunez-Roches and fourth-year player Nick Williams, who the Chiefs signed off the Pittsburgh Steelers practice squad during the 2014 season, have mixed in with the first-team defense at times as well.
Nunez-Roches is more of a gap-shooting defensive lineman who uses quickness as his major ally, while Williams, who stands at an impressive 6 feet 4 and 309 pounds, is an anchor in the run game.
As these roster spots are being filled out over the next few weeks, the depth behind the top four spots in this group is a major area to watch during these preseason games.
5. Ross Travis' first opportunity since high school
For a guy who played college basketball at Penn State and hasn't stepped on a football field in pads since he was a teenager in high school, tight end Ross Travis has been impressive through a couple of weeks at training camp. 
What Travis is doing is not a surprise to most of the guys because he was making plays on the scout team a year ago, but that was in shorts. The question all offseason has been, "What's going to happen when the pads come on?"
Travis has flashed an ability to split out and become a mismatch in the passing game on the outside.
"He's a big, tall athlete who has a wide-ranging catch radius," Brad Childress, one of the co-offensive coordinators recently said of Travis. "He's explosive, he can run – we know what he looked like running against our defense all last year.
"We're anxious to watch him play in a padded situation – we see some of it here, but when the lights come on - what's the guy able to do?"
Reid echoed that same sentiment on Wednesday.
"Let's just see how he plays," Reid said of Travis. "It's about consistency and to see how he handles these live situations."