GAMETIME: 12:00 p.m. CST on Sunday, November 16LOCATION: Arrowhead Stadium, Kansas City, MO. HOW TO WATCH: FOX (WDAF Local) | NFL Network Game Rewind (Monday, 12:00 p.m. CST)
HOW TO LISTEN: 101.1 The Fox GAMCENTER/LIVEBLOG:KCChiefs.com
The Kansas City Chiefs (6-3) have yet to allow a rushing touchdown this season. Seattle Seahawks (6-3) running back Marshawn Lynch (No. 24) scored four last week.
The two sides will come to a head when the Chiefs host the defending Super Bowl champions at Arrowhead Stadium Sunday at noon.
For the Chiefs to win their fifth game in a row and their seventh in eight games, they will not only need to control Lynch, but also contain quarterback Russell Wilson (No. 3), who at 7.6 yards per carry is on a pace that would place him in the top five in that category in NFL history.
"He's a dynamic player," Chiefs defensive coordinator Bob Sutton said of Wilson. "This quarterback is a dangerous guy in the run game and not just in drop-back scrambles."
What Sutton alludes to is that the Seahawks frequently call designed run plays for Wilson, including a sometimes seemingly indomitable read-option with the explosive Lynch.
"[They] are problems no matter who keeps the ball," Sutton explained this week. "It demands you be disciplined, aggressive, all those things you have to do and the hard part is, you can be doing the right thing and you still have to tackle these guys."
Besides an obvious ability to run and his 500 yards rushing that go with it, Wilson can also hurt opposing teams by throwing the ball. So far this season, he has thrown 162 completed passes in 259 attempts for 1,841 yards, 11 touchdowns and just five interceptions.
"We can't overplay plays," Mauga said. "Guys have to stay home and do their job and just trust that the next guy is playing their job."
When Wilson does throw, his number one target this season has been Doug Baldwin (No. 89), who leads the Seahawks in both receptions and yards receiving. Baldwin's matchup with defensive back Ron Parker, who starred for the Chiefs in the Bills' final drive last week, will certainly be one to watch.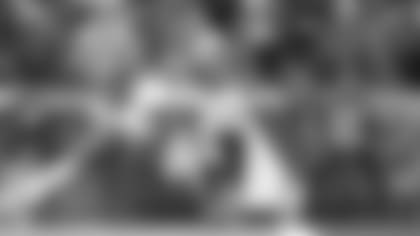 "It's going to be real fun going up and playing against them boys," Parker said this week. "It's something me and Jaye, I know he's looking forward to it, something I've looked forward to since I left."
On offense, the Chiefs will be up against one of the top defenses in the NFL.
In nine games this season, the Seahawks have allowed just 307 yards per game, fourth best in the league. Widely known for a secondary that includes cornerback Richard Sherman (No. 25), the Seahawks are another team whose success starts with their impressive front.
This week, Seattle received word that defensive tackle Brandon Mebane would be out for the season due to a pulled hamstring. And though that's a big loss, defensive ends Cliff Avril (No. 56) and Michael Bennett (No. 72) still have an ability to ruin games, and the two have a combined six of the team's 12 sacks recorded this season.
Behind the defensive line, linebacker Bobby Wagner (No. 54) has been ruled out with a toe injury, but Seattle's secondary of safeties Kam Chancellor (No. 31) and Earl Thomas (No. 29) and cornerbacks Byron Maxwell (No. 41) and Richard Sherman will all start for the Seahawks for the first time since mid-October.
"They play good football," Chiefs quarterback Alex Smith said. "It's 11 guys all on the same page, all flying around. I think they all kind of fit the scheme well from the secondary perspective to the front, then get up to the passer."
Against Seattle, Smith will be without some weapons he's used to having in the lineup. Wide receivers Donnie Avery and A.J. Jenkins are already out with injury and tight end Anthony Fasano is listed as questionable. With that being the case, Frankie Hammond Jr. and Albert Wilson will see more time and new tight end Phillip Supernaw and fullback Anthony Sherman could lend a hand in his usual multiple-tight end sets.
On the ground, you can't forget about the Chiefs' biggest offensive threat of all, running back Jamaal Charles, who has a team-leading eight overall touchdowns. In addition, when Charles reaches 90 or more yards rushing in a game this season, the Chiefs are an undefeated 3-0.
On September 29, in the Chiefs' game against the Patriots, fans made Arrowhead Stadium the "loudest in the world," retaking the crown from Seahawks fans and CenturyLink Field.
This Sunday, the Seahawks visit Arrowhead in front of a crowd that will likely look to display that intensity firsthand.
Lynch will be looking for a touchdown. The Chiefs hope to prevent that on way to their fifth win in a row.
View the starting roster for the 2014 Seattle Seahawks.