Game Date/Time
Sunday, November 16, 2014 at 12:00 p.m. CT on FOX
Series History
The Chiefs are 32-18 all-time against the Seahawks entering Sunday's contest. Since the conference realignment in 2002, the Chiefs are 2-1 against the Seahawks. In all three of those contests, Kansas City has posted 30 points. Kansas City has won six of its last seven games.
Prior to joining the NFC West in 2002, the Seahawks regularly played the Chiefs twice a year in the AFC Western Division. Kansas City is 30-17 all-time in division play against Seattle. Prior to Seattle leaving the AFC West, the Chiefs won 17 of their last 22 division matchups against the Seahawks.
Seattle's last trip to Arrowhead Stadium came on October 29, 2006, in a Kansas City 35-28 victory. Overall, the Chiefs are 20-5 at Arrowhead Stadium against the Seahawks. The Chiefs last played in Seattle on Nov. 28, 2010, defeating Seahawks 42-24.
TV CoverageFOX (WDAF Local)
Play-by-Play: Kenny Albert
Color Analyst: Daryl Johnston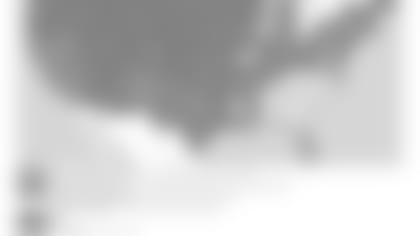 RadioChiefs Spanish Radio - La Gran D (1340 AM)
Play-by-Play: Enrique Morales
Chiefs FOX Football Radio Network - KCFX (101.1 FM)
Play-by-Play: Mitch Holthus
Color Analyst: Len Dawson
Sideline: Kendall GammonChiefs Postgame Show
KCFX (101.1 FM)
KCFX Hosts: Art Hains, Len Dawson, Dan Israel and Kendall Gammon
Online
Visit kcchiefs.com for live play by plays, stats and info, plus a game day story, along with videos and photos.
You can also watch the game on-demand after its conclusion using the NFL's Game Rewind package.