The Kansas City Chiefs (5-0) host the Pittsburgh Steelers (3-2) Sunday afternoon with a home atmosphere that could rival anything Arrowhead Stadium has seen recently.
Based on current information, the Chiefs are expecting one of the largest crowds they've had since the 2010 stadium renovations were completed.
So, fans planning on attending are asked to leave for the stadium earlier than normal, and all pertinent information can be found here.
The Chiefs—winners of five straight, are looking to maintain their status as the league's only undefeated team, while the Steelers are looking to bounce back after a 30-9 loss to the Jacksonville Jaguars last week.
The recent history of this matchup has been all Steelers, who have won five of the last six, including last year's 18-16 victory in the Divisional round of the AFC playoffs.
The Chiefs are widely recognized as the NFL's best team right now, and beating the team that knocked them out of the playoffs last year will be another step in proving that to be the case.
Here are five things to watch on Sunday:
Key matchup—Alex Smith, Kareem Hunt and company against this Steelers' defense
Offensively, the Chiefs boast two of the league's best players.
Both quarterback Alex Smith and running back Kareem Hunt are headliners of the way-too-early NFL MVP talk, but if nothing else, that just gives context to the seasons they're having.
Smith is leading the league in passer rating (125.8), completion percentage (76.6), yards per attempt (8.80) and touchdown-to-interception ratio (11-0). His completion percentage is the best in NFL history for a quarterback through the first five games of a season, and he became the first quarterback in NFL history to win his first five games, throw at least 10 touchdowns without an interception, and average at least 250 yards passing per game.
Not to be outdone, Hunt leads the NFL in rushing as a rookie with 609 yards on the ground on just 97 carries, which is good for an average of 6.3 yards per carry. He also has seven carries for at least 20 yards this season, and only two other players in the league (CJ Anderson, Dalvin Cook) even have as many as four.
The Steelers' defense has struggled against the run—allowing 137 yards per game on the ground, which ranks 28th in the league, but they've been great against the pass—allowing just 140 yards per game through the air, which ranks as the best in the league.
But it's important to note that these numbers can be easily misinterpreted.
Maybe teams aren't having to throw the ball because they're having success on the ground. The quarterbacks the Steelers have faced are Deshone Kizer, Case Keenum, Blake Bortles, Joe Flacco and Mike Glennon—but in any case, the Chiefs know they have to play at their best to continue this momentum they're building.
One nugget to watch in this game is the success the Chiefs' offense has on first down. They currently lead the NFL by averaging 7.70 yards per play, while the Steelers' defense also leads the league by allowing just 3.94 yards per play on first down.
Steelers' defensive players to watch—Cam Hayward and Ryan Shazier
While some of the Steelers' defensive stats aren't great as a whole, that doesn't have anything to do with the individual play of two of their stars. Defensive lineman Cam Hayward and linebacker Ryan Shazier are playing at a high level and are among the best in the league at their respective positions.
When the Chiefs are on offense, they will always account for #50 (Shazier) and #97 (Hayward).
"He's a beast. He's powerful, and he can be a game-changer," Chiefs' offensive coordinator Matt Nagy explained of Hayward. "He's a special guy, and when you get together on Monday morning, and you start talking about players that they have on defense, you put a green star next to his name."
According to Pro Football Focus, Hayward already has 15 quarterback pressures this year to lead the Steelers and grades out as both their best front-seven run defender and pass rusher. He has 18 tackles and is one of six Steelers with multiple sacks this season. He has three.
Hayward will move all over the defensive line, while Shazier will roam freely behind him at inside linebacker.
Shazier is the only player in the NFL with at least 40 tackles, five passes defensed and two interceptions. He also has two forced fumbles this year.
"I appreciated getting to know the kid over the Pro Bowl," Chiefs' coach Andy Reid said of Shazier, who earned his first Pro Bowl trip last year. "He's a good kid, too, and a heck of a football player. He's not a real big guy, but he plays so physical and he's so fast, he's got a great feel. He covers almost like Troy Polamalu, just does it at level two instead of the backend.
"They just let him do some things to have a little freedom there to move and roam and read the quarterback. He does it very well."
Nagy said it's difficult to prepare for a guy who freelances as Shazier will do at times.
"It can make it more difficult just because you have certain coverages that this guy right here he's supposed to play it this way and he doesn't because that's who he is," Nagy mentioned. "He's able to do that. He's been successful doing that.
"So, he'll break some of your coverage rules that you have with the guys, so it makes it a little more difficult."
Steelers' offensive players to watch—the triple B's
It's impossible to talk about the Steelers and not mention the trio of quarterback Ben Roethlisberger, running back Le'Veon Bell, and receiver Antonio Brown.
Roethlisberger, who has been one of the best in the league for more than a decade and looks to be a future Hall of Famer, is coming off a game in which he threw five interceptions against the Jaguars last week.
"I would imagine we're going to get the guy that always plays well against us," Chiefs' defensive coordinator Bob Sutton said of Roethlisberger, who is 6-0 in his career against the Chiefs in games he starts and finishes. "He obviously had an off day (last week), but I think his overall work in the league speaks for itself. He's a dynamic player. Can do things that very few other quarterbacks in our league can do. His ability to extend the play and really just stay within the confines of behind the line.
"He has such great vision downfield, that's what makes him so dynamic in those situations when he's moving and scrambling."
In the backfield, the Steelers boast the NFL's most patient running back in Bell, who also often splits out at receiver and who leads the NFL in offensive touches with 129—averaging 4.0 yards per touch.
Chiefs' veteran defensive lineman Bennie Logan spoke about the challenge of playing against Bell.
"He's a guy that is steady pressuring the blockers, pressuring the defender and making them commit," Logan explained. "He pretty much sets up his blocks and whatnot, so you've got to be patient with him. You can't get too antsy and jump from one gap to another. You can't be so desperate to make plays or what-not that none of the plays come to you.
"We're going to be sound in our gap, squeeze the gap with whatever kind of block we get, and just let the linebackers flow and just react."
On the outside, Brown leads the NFL in targets (64), receptions (40), yards (545), and receptions of 20-plus yards (8). He's as sound of a route-runner as there is in the league.
Key Chiefs this week—WR Demarcus Robinson and DL Allen Bailey
A couple of individual Chiefs to watch this week who may be flying under the radar are receiver Demarcus Robinson and defensive lineman Allen Bailey.
With the season-ending Achilles injury suffered by third-year receiver Chris Conley late in the game last week against the Houston Texans, the door has opened for Robinson—the former 2016 fourth-round pick out of Florida, and others to step up.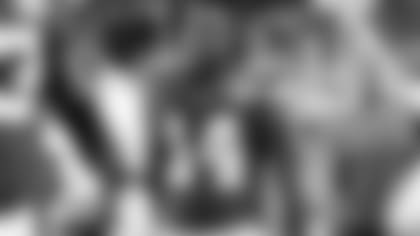 Earlier this week, Nagy spoke specifically about what Robinson brings to the table.
"Very talented route runner and then ball skills. Really good ball skills," he noted. "For us, the biggest thing with Demarcus is going to be making sure that we don't overload him too much with a bunch of different stuff. Make sure we balance it a little bit to let him play fast."
Robinson has three career catches for 25 yards, which includes a 16-yard reception last week against the Texans. He spoke on Friday about where he's developed the most over the past few months as he's preparing for what could be the most extensive offensive action of his career thus far.
"Just getting into the books more," he said. "I feel like the physical attributes for me are there, it's really just honing in on my position, and hitting it with the quarterbacks."
"It's a great opportunity for me," Robinson added. "Just to go out and show them what I can do once I'm on the field in a real live situation. It's a good opportunity for me to step up and show people that I can make plays."
And Robinson, who is close friends with Tyreek Hill, was asked whether there's a potential touchdown celebration in the works if he's able to find pay dirt.
"We've got something special," Robinson smiled.
On the other side of the ball, Bailey is one of the guys who will find himself right in the middle of the action against Bell.
Through five games, the Steelers are running to the right side almost 60 percent of the time with Bell, and that's also where they've had the most success—running behind right guard David DeCastro,
According to Pro Football Focus, the Steelers are averaging 5.73 yards per carry running through the right guard and right tackle, and in comparison, averaging just 2.6 yards per carry through the left guard and left tackle.
Again, numbers are just numbers and can be thrown-out any number of ways, but the guy who will be lined up most-often across from DeCastro—the Steelers' best offensive lineman—is Bailey, who spoke about his plan for facing this offense.
"Hit them in their mouth and then go from there. Ain't too much thinking involved," he laughed. "I mean, just play your technique and come off the ball."
Will Justin Houston continue to dominate in the fourth quarter?
Chiefs' standout edge rusher Justin Houston (calf) didn't practice Wednesday or Thursday, and then was limited on Friday. And although the official injury report didn't have anything listed on him, Reid mentioned that all the guys in that camp (which included Houston) were good to go on Sunday barring any setbacks.
Houston, who would also often find himself lining up off the Steelers' offenses right side like Bailey, has dominated in the fourth quarter this season.
Of Houston's 5.5 sacks on the year, five of them have come in the fourth quarter. He also has three passes defensed—one of which he deflected at the line of scrimmage and was intercepted by Chris Jones on a key play late against the Philadelphia Eagles, and then had a fumble recovery returned for a touchdown to seal the win against the Washington Redskins, in the fourth quarter.
The Chiefs are outscoring opponents 76 to 34 in the fourth quarter this year, and Houston is a big reason for it.