GAMETIME:3:25 p.m. CT on Sunday, October 15
LOCATION: Arrowhead Stadium in Kansas City, Mo.
HOW TO WATCH: CBS (KCTV5 local)
HOW TO LISTEN: 101.1 The Fox
The Kansas City Chiefs did it again last Sunday, earning their fifth win in as many weeks.
The league's lone unbeaten team tallied 42 points behind 450 yards of offense, further making their case as the class of the NFL.
It was a continuation of Kansas City's stellar start to the 2017 campaign, though it doesn't get any easier on Sunday as the Chiefs take on the Pittsburgh Steelers at Arrowhead Stadium.
The Chiefs are all too familiar with Pittsburgh (3-2), falling twice to the AFC rival last season – once in Week 4 and again in the Divisional Round of the playoffs.
Steelers' quarterback Ben Roethlisberger was under center for both contests, and will lead Pittsburgh's offense once again on Sunday.
The 14-year veteran is one of the best to ever play the position, and has historically played well against Kansas City, winning six of the seven meetings in his career.
This season, however, hasn't been the same for the future Hall of Famer.
Roethlisberger tossed a career-high five interceptions last week against the Jacksonville Jaguars, and the Steelers' offense, which usually ranks as one of the best in the league, is averaging just 19.8 points per game.
Though despite his struggles, the Chiefs are preparing for Roethlisberger to be his usual self on Sunday.
"I would imagine we're going to get the one that always plays well against us," said Defensive Coordinator Bob Sutton. "He obviously had an off day, but I think his overall work over the number of years he's been in the league speaks for itself. He's a dynamic player. He can do things that very few other quarterbacks in our league can do."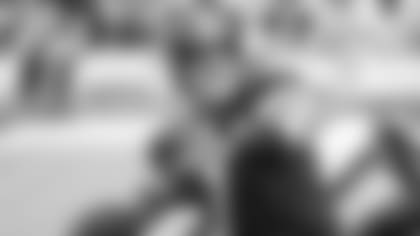 The Chiefs will be up for the challenge, as they've held some of the NFL's best passers in check already this season.
Of the five opposing quarterbacks Kansas City has faced, four of them boast a passer rating that ranks among the top 10 in the league, and the Chiefs have beaten them all.
In fact, the Patriots' Tom Brady, Eagles' Carson Wentz and Chargers' Philip Rivers have all posted their worst passer ratings against Kansas City.
The Chiefs will try to do the same on Sunday, and it'll start by containing Pittsburgh's wide array of playmakers, notably wide receiver Antonio Brown and running back Le'Veon Bell.
Brown leads the league in receptions (40) and yards (545), picking up an average of nearly 14 yards each time he touches the ball.
The eight-year veteran was an integral part of Pittsburgh's win over Kansas City in the playoffs last season, hauling in 11 catches for 108 yards, and will likely be a point of emphasis again on Sunday.
Bell also put together a strong performance in last January's matchup, rushing for 170 yards, though he's struggled to find that kind of success this season.
After averaging nearly five yards per carry in each of the last two seasons, Bell is picking up just 3.6 yards per rush this year. He's topped 100 yards rushing in a game just once, and was held to only 47 yards on the ground last week against the Jaguars.
It hasn't been the kind of start the All-Pro was looking for, but just like Roethlisberger, the Chiefs aren't buying into it.
"Even though the numbers aren't up, he's still a top two or three running back in the NFL," said linebacker Derrick Johnson. "With his patience and everything he has to offer, he doesn't need much blocking. He can create a lot of things for himself, and we still have the same respect for him."
Conversely, the Chiefs' offense has been clicking on all cylinders.
Kansas City is averaging a league-high 32.8 points per game, the second-highest mark through five weeks in franchise history.
That success is directly derived from quarterback Alex Smith, who is off to the best start of his career.
Smith leads the NFL in passer rating (125.8), completion percentage (76.6) and yards per attempt (8.80), tossing 11 touchdowns without an interception.
He's posted a passer rating of at least 100.0 in each of Kansas City's five contests, and has led the offense to over 400 yards three times.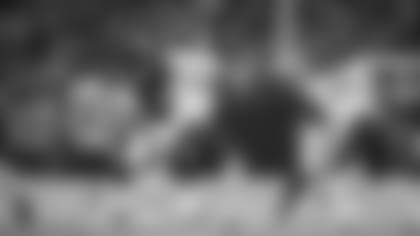 He's simply been the best signal caller in the league thus far, creating an intriguing matchup against a Pittsburgh defense that's held opposing quarterbacks to a 66.1 passer rating.
"There's not a lot of tendencies with them," said Offensive Coordinator Matt Nagy. "One of the things that's going to be important for us is being able to try to find any tendencies we can and work with it."
One of those tendencies – at least so far this season – has been an inability to stop the run. The Steelers are allowing 5.06 yards per carry this season, the second-worst mark in the NFL.
That plays well for Chiefs' rookie running back Kareem Hunt, who leads the league with 609 yards on the ground.
Hunt has topped 100 yards rushing in four of his first five career games, and will be looking for more of the same on Sunday.
The crowd also looks to play a factor once again, as the Chiefs have won 13 of their last 15 regular season games at Arrowhead Stadium.
The Chiefs are expecting one of the largest crowds since the stadium was renovated in 2010, only emphasizing Kansas City's usual advantage.
The contest has all the makings of a classic, and if Kansas City can keep rolling on offense while keeping Roethlisberger in check defensively, the Chiefs could once again find themselves in the win column.