The Kansas City Chiefs (4-0) and Houston Texans (2-2) have become pretty familiar with one another—facing each other four times over the past four seasons, and they meet again this week in primetime on NBC's Sunday Night Football.
It'll be the fourth-straight time these two teams have squared off at NRG Stadium in Houston—with the Chiefs having won three of the last four, but dropping the most-recent contest—a 19-12 loss in Week 2 of last year.
But heading into this game, both teams have to be feeling pretty good about where they are right now.  The Chiefs stand as the NFL's only undefeated team, while the Texans are coming off an impressive 57-14 dismantling of the Tennessee Titans last week.
It figures to be another close game as three of the last four meetings have been within a touchdown.
Here are five things to watch in the game on Sunday night:
Can the Chiefs slow down Deshaun Watson and the Texans' offense?
Whenever a team throws up 57 points in an NFL game, everyone takes notice, and that's exactly what the Texans did last week.
Much of that success can be attributed to rookie quarterback Deshaun Watson, who earned the AFC's "Offensive Player of the Week Award" after his performance last Sunday.
Watson went 25 of 34 for 283 yards with four touchdowns and an interception against the Titans.
"He's a great player," Chiefs coach Andy Reid, who spent time before the draft with Watson, said of the rookie on Wednesday. "What he did at Clemson was what we thought he would do (in the NFL). He's got some good players there around him and he's utilizing them. As good of a player as he is, he's an even better person. He was a real pleasure to deal with before the draft."
Watson, who took over as the starter for the Texans in Week 2, has completed 65 percent of his passes for 811 yards with seven touchdowns and four interceptions through four games.
On the outside, Watson has a couple of dynamic targets who played well against the Chiefs last year. DeAndre Hopkins and Will Fuller each had more than 100 yards' receiving in the Texans' 19-12 win over the Chiefs.
Last week, Fuller returned from injury and caught a couple of touchdowns, while Hopkins went over 100 yards for the first time this season, and he leads the NFL with 59 targets this year.
"He's got great speed," Chiefs' defensive coordinator Bob Sutton explained of Fuller, who ran a 4.32 40-yard dash coming out of Notre Dame two years ago. "He's going to run past you, and that's the dynamic he brings. He gives them another dimension. They've got some pretty good receiving guys there.
"Obviously, [Hopkins], No. 10, is an outstanding player. They have about three or four guys in there that are playing pretty good for them right now."
On the other hand, the Chiefs' defense has been playing pretty good too as they currently lead the league in opposing quarterback completion percentage, and that has come against four quarterbacks all currently ranked in the Top 12 in the league.
They'll try and make it tough for Watson on Sunday night, and that job can be made easier if the guys up front are affecting him.
Can the Chiefs' pass rush get home?
Outside of the plays that are simply designed runs to take advantage of Watson's athletic ability, the Chiefs' defense needs to stay disciplined when they're rushing the passer to not give him easy running lanes.
It's really easy for a young athletic quarterback like Watson to take advantage of an open lane and space down the field to make a play without having to throw the football, particularly against the league's best secondary (when it comes to completion percentage).
"Any time you're dealing with an athletic quarterback, a guy who can escape the pocket and can extend the play—it forces you to do a lot of things," Sutton explained. "Your coverage is going to get extended at times during the game so the term most people use is 'plastered.' You have to stay on your man. You can't get your eyes in the backfield, and you can't be watching the quarterback because as soon as you do—most of these teams they have a scramble principle that goes into place."
Watson has run the ball 19 times for 148 yards and a couple of touchdowns this season, and his athletic ability has been useful in the pocket as well. Four of the Texans' starting offensive linemen have allowed at least two sacks this year, and as a group, they rank as the second-to-worst group in the NFL in pass blocking, according to Pro Football Focus.
The Chiefs had had success getting after opposing quarterbacks this season, and Watson's passer rating when under pressure is 57.0, which ranks 21st in the NFL among quarterbacks who have played at least 50 percent of the snaps.
But that doesn't make getting him down any easier.
"And as impressive to me as his speed is, he's very elusive in the pocket," Sutton added. "He can kind of dodge and weave and bob and do all of those things. He's going to be a real challenge for us. You have to rush. You can't just stand there on the line and do that because you have to affect the quarterback, but you have to conscious of it, and you have to have good lane discipline."
Part of the discipline that comes along with facing Watson and the Texans also applies to play-action, where Watson has the second-highest percentage in the NFL this year with 27.4 percent of his plays being of the play-action variety.
Will the Chiefs' specials team's units finally break one?
The last time the Chiefs and Texans met, All-Pro returner Tyreek Hill—then, an unknown rookie, had four punt returns for an average of 15.8 yards per return. He was close to breaking a couple for even longer gains—potentially a touchdown, and he did have a kick return touchdown called back because of a questionable penalty call.
All the makings were there for a big play, and that might be the case again this week. The Texans rank 30th in the league in both punt and kick coverage.
But in order for a game-changing play like that to happen—the return group has to play better according to Chiefs' special teams coach Dave Toub, who spoke about it this week.
"Not good enough," Toub said of where they're at right now. "We're not happy with our return game right now. We have to do a better job of blocking on kick returns. As far as punt returns, we're getting a lot of pooch punts and they're hanging the ball up on us and causing fair catches."
"We're going to get our opportunities," Toub added. "It's a long season."
One of those opportunities could be this week when it comes to punt returns.
The Texans' punter, Shane Lechler—an 18-year veteran with a big leg—routinely bombs them as far as he can down the field, which gives guys like Hill all the more space to run around and make a play.
Lechler ranks second in the league by averaging more than 50 yards per punt, but the only thing that really matters is how far back it comes the other way, which is in a lot of ways made easier the further it goes down the field.
Alex Smith continues his case as the early season NFL MVP
Alex Smith leads the NFL in overall passer rating and has a perfect passer rating against the blitz. He's leading the No. 2 offense (405.3 ypg) in the league and is on pace to shatter his personal career records.
Furthermore, Smith is completing 76 percent of his passes and has thrown eight touchdowns and no interceptions. He's a popular early candidate for the NFL's MVP award and is off to the best start of his 13-year career for the NFL's only undefeated team.
But when he's asked about his own performance thus far, Smith deflects to the entire offense.
"We have come a long way," Smith said of the group through four games. "We had efficient work all throughout OTAs, all through camp, all season so far, and we communicate really well. I think just as an offense, especially the skill position guys, there has been an open line of communication."
There may not be a more apt storyline going into this game than the communication up front for the Chiefs' offensive line, which faces another tough test Sunday night with the Texans.
The Chiefs have been without starting center Mitch Morse for the past couple of games as he's dealing with a foot injury, and starting right guard Laurent Duvernay-Tardif is "day-to-day" with a knee injury. It's not official if either of those guys will play this week, but they haven't yet practiced.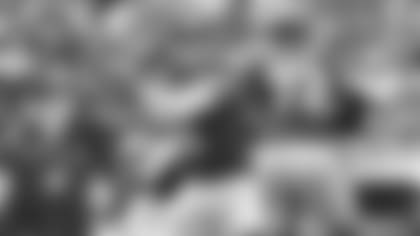 Smith spoke about the challenge the guys up front face this week.
"Good across the board, but certainly starts up front," Smith explained of the Texans' defense. "They have one of the best D-lines in football—a couple of the most disruptive guys in football up there. They are good at the linebacker position, and they are good in the secondary. We obviously have played them a lot, and there is a lot of history.
"We know what we are getting into."
It's one thing to be short-handed along the offensive line on any given week, but it's quite another when you're facing J.J. Watt, Jadeveon Clowney and Whitney Mercilus that week.
The Chiefs will need another big performance from Smith if they're going to beat the Texans on Sunday.
It's another chance for Kareem Hunt to show something special
Oftentimes, the things that are the most special aren't properly appreciated until they're over.
In the case of Chiefs' rookie third-round pick Kareem Hunt, the first four games of his rookie season have been among the best for any player ever in the NFL. He's been *that *special.
Hunt currently leads the NFL with 502 yards rushing and 659 total yards from scrimmage.
Overall, Hunt is averaging 8.1 yards per touch, and its numbers like that which put him in the NFL MVP conversation as a rookie—a feat not accomplished since Pro Football Hall of Famer Jim Brown won the award in 1957.
"I like what he's doing," Reid said this week of Hunt. "You're getting a complete back is what you're getting. He's not just a ball carrier. That's the thing that's important to a coach. Can he block and is he willing to block? Is he willing to get in the book and learn all of the pass routes and how they situate with the run game?
"He does all of that, and the kid's willing to do the work."
At this point, Hunt has already proven that he can play at this level, and now it's a matter of putting it together week after week.
One player Hunt can lean on in dealing with the attention he's getting and who was a standout rookie not too long ago is Tyreek Hill, who said earlier this week that he's not worried about the humble-Hunt getting too big of a head with all of his early success.
"We have a tremendous group of guys in this locker room to help keep him level-headed," Hill explained. "I think he's done a great job on and off the field. He's a great kid, and man, he's going to be a beast."
The Texans' defense has only allowed one team to rush for more than 100 yards through the first four games, which was the Jacksonville Jaguars in Week 1 with 155. As a whole, they're giving up an average of just 3.75 yards per carry to opposing running backs.
It's the easy storyline to watch and mention, but probably the most important. Hunt's success on the ground has opened up the Chiefs' offense, which has been the main story for the undefeated Chiefs this season.