GAMETIME: 3:35 p.m. CT on Saturday, January 9
LOCATION: NRG Stadium in Houston, Texas
HOW TO WATCH:ESPN | ABC locally in Kansas City
HOW TO LISTEN:101.1 The Fox
After the Kansas City Chiefs (11-5) clinched a playoff berth two weeks ago with their 23-17 win over the Oakland Raiders, safety Eric Berry stood in the center of the team huddle inside the locker room at Arrowhead Stadium.
"Don't be surprised," he told them. "We're supposed to be right here."
The quote is short and sweet, but its confidence and conviction is telling. That mentality is not a new concept for the Chiefs, but rather, it has been an attribute they have possessed since earlier this season, when they were 1-5 and the playoffs looked out of the question.
"We said we were going to be right here, so, we're here," Berry said, "and it's just time to set out to do what we set out to do and we do that by one play at a time and one game at a time."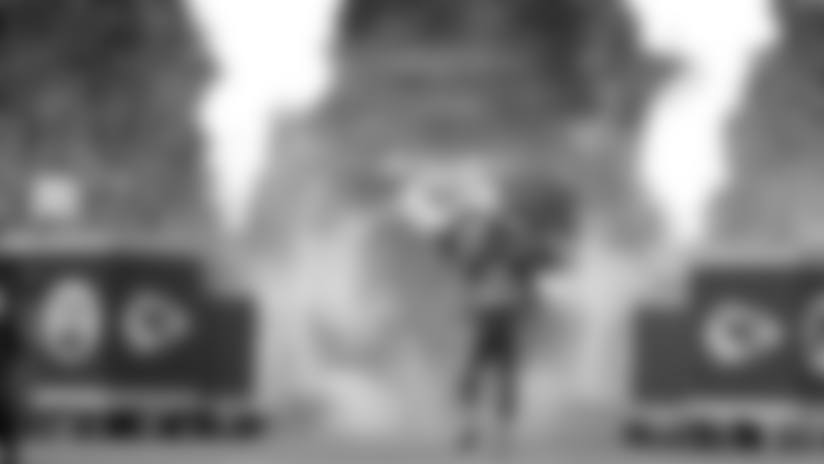 The one-game-at-a-time approach has been a staple in head coach Andy Reid's mindset since training camp more than 17 weeks ago, when the Chiefs were preparing for their Week 1 opponent—Houston.
"I think each team has changed a bit since we played last," Reid said. "We respect the heck out of them, they've got a great football team, they're well coached."
The Texans traveled a very similar road as the Chiefs to make it to the playoffs. After early-season struggles, Houston rattled off 7 of their last 9 games to win the AFC South division, edging out the 8-8 Indianapolis Colts by one game.
"I think we all just said, 'Look, we've got to forget about the first half of the year. We've got to concentrate on this next eight games and take them one at a time and treat them each a season unto itself,'" Texans head coach Bill O' Brien said. "That's what the guys did. It wasn't always pretty, but I think that these guys always hung in there and played good football for the most part."
Saturday's matchup marks the fourth career playoff game for quarterback Alex Smith, who started in two with the San Francisco 49ers in 2011 and one with the Chiefs in 2013.
In his three previous games, Smith completed 66 of 114 passes for 873 yards, 9 touchdowns and 0 interceptions. His playoff passer rating is 108.6. Smith enters this game against the Texans after what some would argue was his finest year yet.
"I think he's probably having the best season of his career," offensive coordinator Doug Pederson said this week. "Numbers may not be up there with some of the top guys in the league, but his wins and losses are. He's understanding what we're asking him to do, we've given him more opportunities in games to get us out of certain things or put us into certain things. He's leading this football team like we knew he was capable of doing and given us opportunities to win games."
Smith has found success throughout the season with wide receiver Jeremy Maclin, who proved to be a great offseason addition to Kansas City in 2015. Maclin finished the season with more than 1,000 yards receiving for the second season in a row.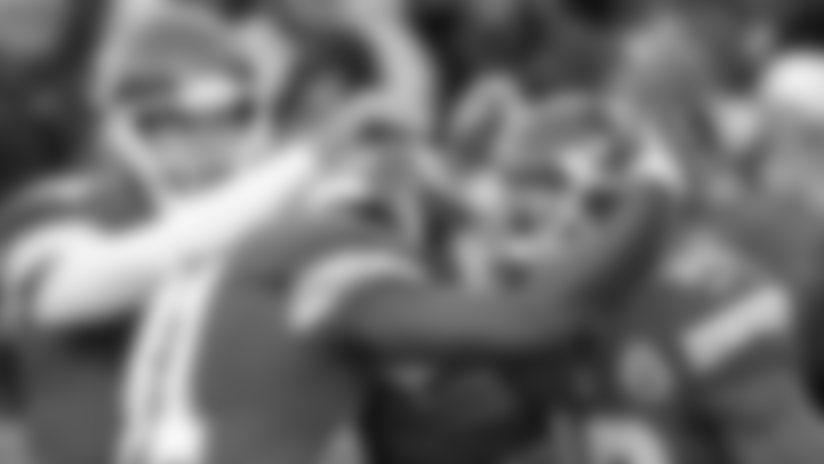 "I think we've definitely gotten better," Maclin said of how far he's come with Smith. "I think that's our mindset, that's our goal, to get better each and every game."
Smith and the Chiefs could be without center Mitch Morse (concussion) against the Texans. If so, Zach Fulton will start in his place.
The Chiefs will be up for a challenge in defending against Houston's offense featuring another talented receiver in DeAndre Hopkins. Hopkins stepped into the No. 1 role for the Texans in 2015 and shined, putting up 1,521 yards receiving, the third highest mark in the league for any receiver.
Hopkins led the Texans in touchdowns with 11.
"He's just an elite wide receiver," Berry explained this week, "so you have to be aware of him. Basically we just approach it like we've been doing the whole season."
As they aim to defend against Hopkins, the Chiefs should be aided by the return of both linebacker Justin Houston (knee) and safety Husain Abdullah (concussion), who missed the last five games of the season with injuries.
As Houston, the 2014 NFL sack king (22 sacks), aims to take down Texans QB Brian Hoyer, defensive end J.J. Watt, the 2015 NFL sack king (17.5 sacks), leads a defense that will look to rattle Kansas City's Smith.
"He's been a good player," Smith said of Watt. "You're talking about the former Defensive Player of the Year, a really, really good player. Every game he plays in he makes plays, finds ways to make plays. He's disruptive and they are as a whole. They're good, they're playing really good up front, not just him."
The Houston defense, which ranks third in the league against the pass (210.4 yards allowed per game), has been especially good over the last three weeks of the season, compiling 12 sacks and forcing 6 fumbles.
Besides Watt, a lesser-known player to watch on the Houston defense is LB Whitney Mercilus, who had the best season of his career in 2015. He finished second on the team in sacks behind Watt with 12.0.
In what should be a battle between two of the best defenses in the NFL, the Chiefs head down to Houston hoping to continue the marvelous turnaround they started in Week 7. From 1-5 to 11-5, they have earned their right to be one of the 12 teams remaining.
As Berry alluded to in the locker room two weeks ago, in a time perfect for disbelief, the Chiefs believed.
"We're supposed to be right here," he said.
Now it's time to prove it.