The Kansas City Chiefs wrap up the preseason Thursday night against the Tennessee Titans. Kickoff is set for 7:30 p.m. CT and the game can be seen locally on KCTV5.
Here are five things to watch:
1. It's the last audition for a lot of these guys
While many first-teamers on both sides of the ball are routinely are given the night off, there's still plenty on the line for the other guys.
All NFL teams must trim their rosters down from 90 players, to just 53 by Saturday afternoon, which means more than 1,100 players from across the league will be playing their final games with their respective teams Thursday night.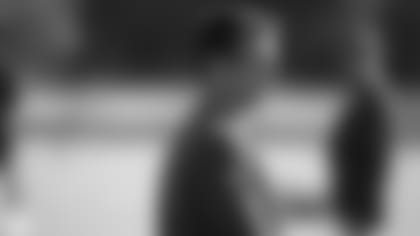 This is the last audition for these guys to state their case to make an NFL team.
"There are always decisions that still aren't made," Chiefs special teams coach Dave Toub explained of the last preseason game. "There are always a few guys that may show up, may disappear. It is really important for those guys to put a resume together. This is their resume, what they put on tape.
"All of the other teams look at this stuff, but there will be some guys that we are still looking at and evaluating."
With a roster as deep and talented as what the Chiefs have right now, the decisions become that much more difficult. It's a good problem to have.
2. Rookie first-round pick Patrick Mahomes gets his first start
Chiefs coach Andy Reid announced Sunday morning that rookie first-round pick Patrick Mahomes will start Thursday night's game against the Titans.
It's something Mahomes said he's ready for.
"I feel like I've gotten better every single time I've been out there," Mahomes explained. "That's just learning the playbook more and more, and trying to get the protections right—something that will keep being a process. You have to come in every single day and work hard, get in that meeting room and get in that film room, and do whatever you can to be able to do the mental side of it as well as the physical."
Through three preseason games, Mahomes has played well—completing 66 percent of his passes (25 of 38) for 207 yards and three touchdowns. He's had plenty of throws that showed off the arm talent that's largely defined his time in Kansas City thus far.
Despite the fact that it's the fourth preseason game and he'll be working with the second-team offense, Mahomes is looking forward to starting his first game.
"It's still an opportunity for a lot of guys to get some reps," Mahomes added. "They're going to be going hard every single play."
3. Another rookie has a chance to show what he can do
After missing last week's game against the Seattle Seahawks because of an illness, rookie second-round pick Tanoh Kpassagnon returned to practice this week.
If Kpassagnon is able to find some time on the field Thursday, there may be more of a hint of how the Chiefs plan on using the versatile 6-feet-7, 290-pound defensive player, who is making the transition from the FCS level (Villanova).
Kpassagnon has spent time as a defensive tackle, defensive end, and outside linebacker at training camp and through the preseason.
4. Young receivers with another big opportunity
For young guys like Seantavious Jones, Marcus Kemp and Gehrig Dieter, the opportunity Thursday night is a big one.
Each of those guys has shown flashes of ability at training camp and during the preseason, and whether it's standing out on special teams—as Kemp did against the Seahawks—or making plays on offense, which Dieter did as he led the Chiefs with three receptions for 42 yards in that game—those three have a good opportunity to add to their resume against the Titans.
Jones is a guy who Reid mentioned going back to OTAs as a guy who impressed him, and with Jones missing the game last week with a shoulder injury, there's plenty of reasons to keep an eye on No. 81 this week.
5. A guy to watch defensively is Earl Okine off the edge
According to the folks over at Pro Football Focus, the Chiefs' second-highest rated defensive player this preseason has been outside linebacker, Earl Okine (7.8).
In 85 defensive snaps, Okine has picked up two sacks, three quarterback hurries, and a quarterback hit, which equals out to a PFF Pass Rushing Productivity score of 12.8, which ranks fifth in the NFL this preseason among 3-4 outside linebackers.
Okine, who played collegiately at Florida, originally entered the NFL as an undrafted free agent with the Houston Texans in 2013. He also spent some time with the Colts before signing to the Chiefs' practice squad last September.
At 6-feet-6 and 290 pounds, Okine (No. 44) is hard to miss, and a player to watch Thursday night.