GAMETIME: 12 p.m. CT on Sunday, December 18LOCATION: Arrowhead Stadium in Kansas City, MissouriHOW TO WATCH:CBS (KCTV5 Local)HOW TO LISTEN:101.1 The FoxGAMCENTER: Chiefs.com
Sunday marks the final out-of-division game of the regular season for the Kansas City Chiefs (10-3), but despite that fact, the playoff implications couldn't be higher.
With a win, the Chiefs clinch their third playoff berth in four seasons, while their opponents in the visiting Tennessee Titans (7-6) need a win to stay alive in a congested AFC South.
"There's a lot of reasons and incentives put on this game," Chiefs quarterback Alex Smith said this week. "[Clinching a playoff berth is] certainly one of them – no question. Every team wants a ticket to the dance and you can't win it unless you get in. To be able to clinch this week, that is important for sure."
One of the most unique aspects of this game will be the role the weather plays in it, as Sunday's low temperature in Kansas City will reportedly be below 10 degrees Fahrenheit. Smith said that being able to practice in Kansas City all week, a luxury the Titans haven't had, could be critical to how the Chiefs come out of the gate in those conditions.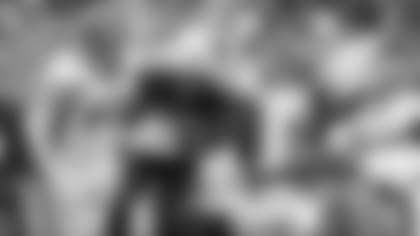 "Last week was pretty close to what it will be like this week," Smith said. "We've been outside in the elements a lot and it's been good practice for us."
The coldest game at Arrowhead Stadium since 1994 was December 17, 2000, when the temperature at kickoff was only 9 degrees Fahrenheit.
With low temperatures, there could be a higher propensity to run the football, and the Titans boast one of the league's finest running back tandems in DeMarco Murray and rookie Heisman winner Derrick Henry.
"These are just two guys that are sharing a load," Chiefs defensive coordinator Bob Sutton said. "They're obviously a heavy run team. I think they've just tried to spread that out a little bit. So, as it's getting close to the end, they have two fresh guys instead of one that's just beat down from the wear and tear of the season, and it's worked very well for them. Both of them are very capable players. To us, there's no drop off."
Murray ranks second in the NFL this season with 1,135 yards rushing on 250 carries (4.5 yards per attempt) for nine touchdowns, and Henry has 354 yards on 82 carries (4.3 yards per attempt) and two touchdowns.
The Chiefs will once again rely upon Spencer Ware and Charcandrick West, while featuring a blazing hot Tyreek Hill and Travis Kelce in the passing game.
After posting outputs of 38 yards receiving or less during the Chiefs' first six games, Hill has averaged 60.3 over the last seven. He is currently the reigning AFC Special Teams Player of the Week thanks to his 78-yard punt return touchdown last Thursday against the Oakland Raiders.
Only two other tight ends in the history of the NFL have recorded such a feat—Tony Gonzalez and Jimmy Graham—and if Kelce can record another Sunday, he'd be the first at his position with five in a row.
"100-yard games for tight ends are rare," Chiefs co-offensive coordinator Brad Childress said this week. "I don't think anyone realizes at the end of the game that, 'Hey this guy just had a 100-yard game.' We've come to look to him for big plays—even catch-and-run plays. A lot of guys can catch and fall down but he has the ability to catch and run after the play."
On the defensive side of the football, the Chiefs enter familiar territory from just two seasons ago, as they deal with the loss of Derrick Johnson due to a ruptured left Achilles injury. Johnson suffered the same injury to his right leg in a Week 1 matchup against the Titans back in 2014.
"We're not going to replace Derrick," Sutton said. "He's a Pro Bowl football player, veteran guy, has a great voice in our locker room, great energy. We hate to lose him, but we've been through this before with different guys from EB [Eric Berry], to Justin [Houston], to whatever. Those other guys have done a great job preparing for these first 12 weeks."
Candidates to replace Johnson in this week's game include veteran Frank Zombo, who would move from the outside to the inside, second-year special teams guru D.J. Alexander, safety Daniel Sorensen in more of a hybrid role, or even Terrance Smith, who was signed to the Chiefs active roster from the practice squad at the beginning of November.
The Chiefs won't have Phillip Gaines (knee) on Sunday, and both linebacker Justin Houston (knee) and defensive lineman Kendall Reyes are officially questionable. Titans starting defensive tackle Jurrell Casey, among others, are questionable (FULL INJURY REPORT).
While the Marcus Mariota and Delanie Walker-led Titans offense is ranked No. 8 in the league based upon yards per game (372.3), the defense falls closer to the other end of the spectrum, ranking No. 22 based upon yards allowed (361.5).
The Titans boast a very talented defensive line, highlighted by linebackers Brian Orakpo and Derrick Morgan, who have 10 and nine sacks, respectively.
In what should be one of the coldest regular-season games in recent history, the Chiefs host the Titans Sunday in a game that could be, but shouldn't be, overlooked.
With the Chiefs holding on to that No. 2 position in the AFC and the Titans still in the thick of a playoff race, there is still much to play for.
Matchups late in the season between would-be playoffs teams, in a sense, are playoff games themselves, and that's what Sunday is.