GAMETIME:3:35 p.m. CT on Saturday, January 6
LOCATION:Arrowhead Stadium in Kansas City, Mo.   
HOW TO WATCH:ESPN (ABC local)
HOW TO LISTEN:101.1 The Fox
That's all that stands between the Kansas City Chiefs and a trip to Super Bowl LII this February.
It's the ultimate goal for a team that's been knocking at the door for the past three seasons, and the first step takes place this Saturday at Arrowhead Stadium.
Standing in the way are the Tennessee Titans, who earned the fifth seed this postseason after a second-place finish in the AFC South.
It will mark a second-straight season that the Chiefs have hosted a playoff game at Arrowhead, though the Chiefs will be looking to shake some perpetual bad luck on their home turf in the postseason.
Kansas City hasn't won a playoff game at home since January 8, 1994, but they can put all of that in the rear view mirror with a win on Saturday.
Though the Titans certainly won't make it easy.
Tennessee is led by quarterback Marcus Mariota, who is in his third year in the league after the Titans made him the second overall pick in the 2015 Draft.
Mariota seemed to take a step back this season despite making strides in his initial two campaigns, tossing 15 interceptions to just 13 touchdowns. His passer rating – which sat above 90.0 in each of his first two years – ranked 27th in the league at 79.3.
But while the numbers don't jump off the page, Mariota still presents problems for a defense – especially when a play breaks down and he has a chance to show off his legs.
"Marcus has great speed, not good, but great speed," said Defensive Coordinator Bob Sutton. "You're dealing with a guy who, every time he touches the ball, it's going to be difficult to catch him. That's the kind of speed this guy has. He has the ability to get out of trouble in the pocket and extend plays. He's playing pretty good football and he's a big time playmaker."
Mariota indeed managed to play his best football when it mattered most last week, as the Titans defeated the Jacksonville Jaguars in a must-win game. He completed 12 of 21 passes for 134 yards and score while rushing for another 60 yards on the ground.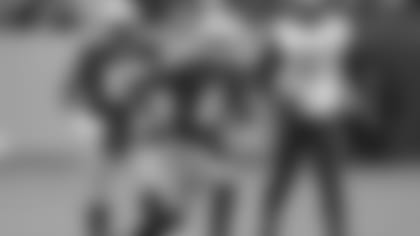 It was an example of what Mariota is capable of despite his inconsistent play this season, and something the Chiefs will need to be ready for on Saturday.
Also a threat on the ground is second-year tailback Derrick Henry, who will assume the bulk of the carries in Tennessee's backfield with starter DeMarco Murray already ruled out with a knee injury.
Henry actually led the Titans in rushing this season despite starting just twice, averaging 4.7 yards per carry through the campaign's first 15 games. Murray's injury opened the door for Henry to take over the lead role in Tennessee's season-finale against Jacksonville, but he struggled mightily.
The former Heisman Trophy winner ran the ball 28 times but picked up just 51 yards – averaging 1.8 yards per attempt.
It was an underwhelming performance in an important game, but Henry still has the ability to be a force on the ground. The 6-foot-3, 250-pound tailback was often effective while splitting touches with Murray this year, and he'll surely have a chance to show what he can do on Saturday.
"He won the Heisman for a reason in college," said linebacker Reggie Ragland, a former teammate of Henry's at Alabama. "He's a strong guy and he's got the speed to outrun corners and safeties, so we have to do a good job of corralling him up the field."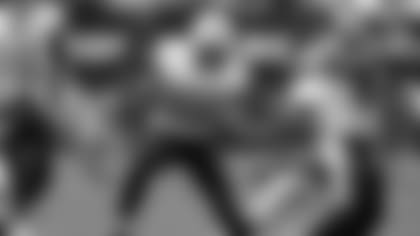 Ragland is part of a Chiefs' defensive unit that's played its best football in recent weeks.
Kansas City allowed just 16.3 points per game over the season's final four games, and that includes a Week 17 matchup with Denver in which many starters didn't see the field.
The key in each of those games was the ability to create turnovers, as the Chiefs' 12 takeaways ranked second in the league over that span.
Turnovers are often the difference between winning and losing, and it's an area where the Chiefs and Titans couldn't be more different.
Kansas City posted the second-best turnover margin in the league this year at plus-15, meaning the Chiefs forced 15 more turnovers than they committed themselves. The Titans, conversely, finished the season with a minus-4 margin – the worst mark of any team to finish with a winning record this year.
The Titans went on to allow 94 points off those turnovers, the third-most of any team in football.
That presents an intriguing opportunity for Kansas City's offense, which seemed to rediscover its early-season success in recent weeks.
The Chiefs averaged 29 points per game from Week 13 through Week 16, wrapping up a second-straight division title and a much-deserved week off for the starters in the season finale against Denver.
Quarterback Alex Smith posted a 105.3 passer rating in those games, tossing seven touchdowns with just one pick. It completed what was a career-season for the veteran signal caller, as he established career-highs in touchdowns (26) and passing yards (4,402).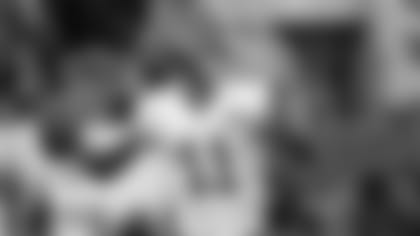 In order to continue that success on Saturday, Smith will need to elude one of the better pass rushes in the NFL.
Tennessee tallied 43 sacks on the season – its most since 2008 – and it's been a true team effort as the Titans have four different players with five or more sacks.
"They mix things up. They play a lot of games up front and they're very active," said Head Coach Andy Reid. "They're not the biggest guys, but they're fast, quick and have great timing."
Those players include linebackers Derrick Morgan (7.5 sacks), Brian Orakpo (7.0 sacks) and Wesley Woodyard (5.0 sacks), but perhaps the most dangerous in the bunch is defensive tackle Jurrell Casey.
Casey has six sacks this year and has been one of the more disruptive tackles in the league this season with 12 tackles behind the line of scrimmage.
"He's crafty and he likes to get after the quarterback," said Offensive Coordinator Matt Nagy. "He has a lot of good moves on the inside, so our guys on the interior have to be focused on that. He's a good player, a Pro Bowl player, that plays hard. His motor is always going, so we have to know where he's at."
One way to keep that pass rush honest is by getting tailback Kareem Hunt going early.
Hunt finished his rookie season by taking home the rushing title, something only two rookies have accomplished in the last two decades, but he'll have his work cut out for him against a stout Tennessee run defense.
The Titans allowed just 3.57 yards per carry this season, the fourth-best mark in the league.
Hunt's ability to find success could play a big role on Saturday as the Chiefs try to return to the Divisional Round of the postseason for a third straight year.
The Chiefs have a chance to do something special this postseason, and it all starts this weekend at Arrowhead.