GAMETIME: 12 p.m. CST on Sunday, October 18
LOCATION: TCF Bank Stadium in Minneapolis, Minn.
HOW TO WATCH:CBS | KCTV5 Local
HOW TO LISTEN:101.1 The Fox
In Week 2 of their 2014 campaign, the Kansas City Chiefs (1-4) received a scare when running back Jamaal Charles was injured very early in a divisional matchup against the Denver Broncos.
The Chiefs replaced him with Knile Davis for that game and the next, going 1-1 in the process. Charles returned for Week 4.
Last week, the Chiefs suffered a similar fate, but the result was much worse. Charles tore his ACL, meaning he won't play this Sunday against the Minnesota Vikings (2-2) or for the rest of the 2015 season.
To replace him, head coach Andy Reid and the Chiefs have opted to use Davis, second-year running back Charcandrick West and the recently called up Spencer Ware in a running back-by-committee approach.
"What you do is, you play to their strengths and give them opportunities to show and help the football team," Reid said, before emphasizing that it would not be a competition this week. "I think they all need to work together and when given an opportunity, do their thing … Right now it's about being a productive offense and then you narrow it down to being productive at that position. I think we have guys that are very capable of doing that."
The group's counterpart this Sunday is one of the best in the league in Minnesota's Adrian Peterson.
Thus far, the NFL's 2012 Most Valuable Player looks to have returned to his old form after missing the majority of the 2014 season.
"Adrian is one of the best backs going, ever, probably," Chiefs defensive coordinator Bob Sutton said earlier this week. "The speed factor, if he gets to your second or third level, it's tough – you're dealing with a guy with breakaway speed. What you have to do is, one, you have to do a great job of trying to slow him down in the line, not letting him have clean lanes into the second level."
The Chiefs will need to accomplish that without two of their staples on the first and second levels of their defense, as both nose tackle Dontari Poe (ankle) and linebacker Josh Mauga (groin/Achilles) have been ruled out for the game.
Defensive lineman Jaye Howard and rookie LB Ramik Wilson, who recovered a ball in the end zone for a touchdown last week, will start in their respective places.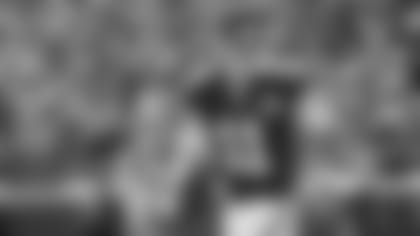 No Charles will likely lead to a higher emphasis on quarterback Alex Smith and the pass game for Kansas City.
So far in 2015, that aspect has shown flashes of success, but Smith said the frustrating part has been finding consistency. 
"It just hasn't been for four quarters," he said. "You put a half together and you look great. It's the same game plan that we're running in the second half – same game plan, and we're not executing."
Bridgewater has efficient numbers through the first four games, throwing 2 touchdowns and 2 interceptions in his league-low 115 pass attempts.
"He does a great job of taking care of the ball," Sutton said of Bridgwater. "I don't think he jeopardizes the football at all, he does a really good job. He has escape-ability, but I think he's done a great job of staying in the pocket and playing the play out."
Without Charles, the Chiefs head to Minnesota this week needing a victory to turn around a four-game losing streak. To win, they'll have to find a way to stop Peterson and a young Vikings team that is perfect to this point at home.
Last year, the Chiefs managed success in the two-game stretch without their best player, and Sunday marks the beginning of the same scenario with a much longer trek.
No Charles means a Chiefs offense with a much different identity and one that desperately needs to win in Minnesota.