Speaking of additions, newly signed linebacker Anthony Hitchens and fellow linebacker Reggie Ragland, who the Chiefs traded for prior to last season, were two of several players that spoke to the media on Monday.
Andy Reid also addressed the local media as the Chiefs' offseason program got underway.
This part of the offseason is strictly for weightlifting and conditioning—there's no work taking place on the field between coaches and players, although players and can (and do) get together and work out on their own.
"They were all in and ready to go," Chiefs coach Andy Reid explained during his media availability of the team's attitude coming back and getting together. "We've got a lot of work ahead of us, and we look forward to that. It seems like there's great energy in the room.
"I was able to address the guys and talk to them a little bit about expectations of going forward, and what we're going to try to get accomplished for this offseason."
For more of Monday's press conference, which included over a dozen players, click the link below.
One of the many topics discussed during Monday's media availability was the readiness of second-year quarterback Patrick Mahomes. Kansas City's first-round pick from a year ago wasted no time preparing for the 2018 campaign this offseason, arranging impromptu throwing sessions at local high schools.
"I tried to simulate it as if there was a defense out there," Mahomes said of those workouts, which took place at high schools around the Kansas City area. "I would give the guys the routes and then I would give them certain (defensive) coverages because we run (the routes) differently (against them). I would say 'single safety middle zone' or 'cover two,' and try to let the receivers run the routes how they would run it versus the coverages so that we can build timing and things like that."
It was a way for all of them to communicate amongst themselves and learn how they will all work together.
As fun as those workouts likely were, the players seemed excited to be back in the building based on this week's social recap.
In other news, the NFL Draft is inching closer by the day. In our continuing series on positional groups the Chiefs may target next week, we took a look at the top cornerbacks available in this year's draft class.
Speaking of the draft, we continued our series on the Chiefs' round-by-round selections since the common draft's inception in 1967 with a look at the third round.
From Pro Football Hall of Famer Will Shields and the franchise's all-time leading rusher in Jamaal Charles to current stars Travis Kelce and Kareem Hunt, the Chiefs have enjoyed plenty of success in the third round over the years.
Away from the field, the Chiefs' wide receivers stopped by Cornerstones of Care this week for a Play 60 clinic with over two dozen local kids.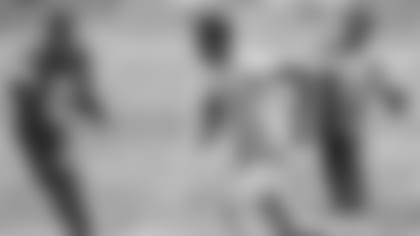 In other philanthropic news, tailback Spencer Ware and his newly minted foundation are committed to raising awareness for sickle cell anemia and other generally overlooked diseases.
The 2018 schedule was unveiled on Thursday, allowing fans throughout Chiefs Kingdom to start marking their calendars with specific times and dates.
The Chiefs will head south of the border for one of those prime-time games, as Kansas City will take on the Los Angeles Rams in Mexico City.
For 10 things to know about this season's schedule, click here.
Tickets for the entire 2018 season went on sale on Friday, April 20. Click here to learn when and how to reserve your seats at Arrowhead Stadium this season. The Chiefs announced an extension with Ticketmaster on Friday to continue to provide fans with the most innovative and reliable ticketing experience in the industry.
The Chiefs were back out in the community on Wednesday as tight ends Tim Wright, Jace Amaro and Anthony Firkser helped over a dozen kids plant a garden.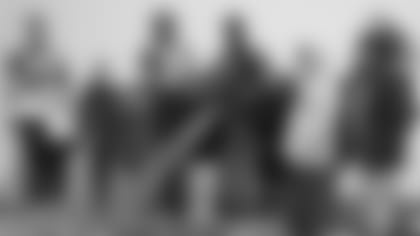 With the draft only a week away, we took a look at who the experts around the web have the Chiefs selecting this year.
While the Chiefs already spent a first-round pick on quarterback Patrick Mahomes last season, a team can never have enough depth at the most important position in sports. With that in mind, we continued our positional draft breakdown on Friday with a look at the quarterbacks in this year's draft.
Speaking of the draft, Chiefs' General Manager Brett Veach spoke to the media on Friday with the first round less than a week away.
For the full transcript of Veach's press conference, click here.
Away from the field, the Chiefs announced a partnership with nearby Park University.
To complete a busy week of getting out into the community, the Chiefs' offensive line stopped by the 15th Annual Private Cellar Wine Tasting & Auction event to support First Downs for Down Syndrome on Thursday night.
Finally, we completed our look at the top photos from the 2017 season with No. 1 – "Brotherly Love."