The Kansas City Chiefs welcomed a handful of players to the Kingdom last week with tours of their new stomping grounds.  
Along for those tours was Chiefs Reporter BJ Kissel, who had a chance to catch up with wide receiver Sammy Watkins, cornerback Kendall Fuller and linebacker Anthony Hitchens as each of Kansas City's newest additions took their first steps on the Arrowhead grass.
If exploring Arrowhead was Fuller's first stop in his tour of Kansas City, trying some authentic barbeque was surely his second. Fuller documented his first Kansas City barbeque experience on social media in this week's social recap.
The Chiefs also announced the sixth annual Arrowhead 5K on Monday. Follow the link below to learn more about the event.
As the first wave of free agency settles down, we took a look at who the Chiefs' division rivals may be targeting in the upcoming draft.
We also continued our "Behind the Lens" content series on Tuesday with the sixth-best photograph from the 2017 season – "Flyin' Dreads."
The Chiefs made another addition this week, signing defensive tackle and Kansas City native Xavier Williams. The fourth-year lineman is known primarily for his ability to stop the run.
The 26-year-old was impressive against the run last season according to the folks at Pro Football Focus. Based on PFF's grading scale, Williams ranked 20th among all defensive and nose tackles in the NFL against the run in 2017.
Click here to learn more about the Chiefs' new defensive tackle.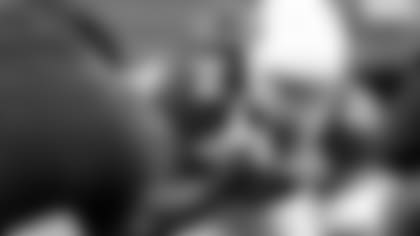 Williams spoke the media on Thursday, detailing his excitement about coming home to play for his childhood team.
"I was a huge Chiefs fan," Williams, who is from Kansas City and spoke of meeting guys like Derrick Thomas and Tony Gonzalez as a kid, explained. "I mean my mom and everybody still have all the gear from way back in the day, so yeah, the whole family is going crazy right now. They're really excited about it."
Speaking of additions, the Chiefs signed running back Damien Williams on Thursday. The versatile Williams has 85 receptions for 733 yards and six touchdowns to go along with his 133 carries for 477 yards and three touchdowns in his career.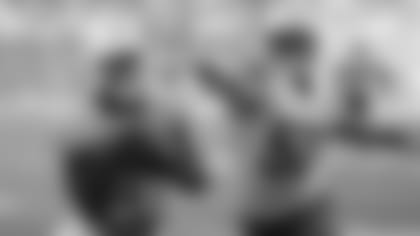 The Chiefs may not have a first round pick in next month's draft, but the seven-round mock drafts seem to think a local product may land in Kansas City next season.
The Chiefs re-signed longtime punter Dustin Colquitt last week, extending his 13-year run with the franchise. Colquitt is already the most prolific punter in Chiefs' history based on a number of statistics, but it's his impact in the community that truly defines his growing legacy.
"It's exciting, because obviously I'm under contract to do a job for Kansas City, but really it's about the city that you live in and being part of the community," Colquitt said. "That just goes back to my Christian faith and loving on other people that are less fortunate or more fortunate than I am - it doesn't matter…Kansas City has been a town that's been so receptive to that, whether it's going into schools or churches or talking to young athletes or whatever it may be, they're so receptive and have been so kind."
Finally, we continued to look at the top photos from the 2017 season with No. 5 – "Taking the Edge."