Consider Friday's time clock punched by the Kansas City Chiefs, who completed another productive day of meetings and practice, less than 48 hours from their Week 8 matchup with the Cleveland Browns.
The team's leader, Chiefs head coach Andy Reid conducted his final press conference, prior to Sunday's game, beginning first with injury updates.
"Alright, (for) injuries, Dwayne Bowe is the only one to mention. He did not practice today. He's got a strain, or a spasm in his groin and we'll see how it goes. We look forward to the challenge of playing the Browns. We know what kind of football team they are. Our guys have had a good week of studying them and getting themselves ready for a good football team, coming in here. Again, we welcome them to Arrowhead Stadium. I know the fans will be out of control, like they always are, which we appreciate."
Coach Reid was asked about Bowe's availability for Sunday's game.
"We'll see," coach Reid said. "It's day-to-day. We'll just see how he does. He was feeling a little bit better today than he did yesterday, which is good. We'll just see how he is tomorrow and we'll go from there."
As far as the Chiefs much-publicized 7-0 record, coach Reid shared reasons why the team's record is what it is and offered the overall goal within the locker room.
"Listen," coach Reid said. "We've got good players here and good coaches, who work very hard. The players have been just diligent. We know it's important every day to get better. We're not where we can be. We just have to stay focused on our job and just keep working. We've kind of put that record thing aside. We're trying to think 1-0's instead of 7-0's or 8-0's, wherever we're at."
The collective mindset of the team starts with coach Reid, his staff and general manager John Dorsey, who is always among the first in the locker room after each game, giving bear hugs to the players who make up the 2013 Chiefs family.
"It's the first team I've ever been a part of as close as this one is," Chiefs long-snapper Thomas Gafford said. "We're a big family in here and we break it down on family about every day and that's the thing I've enjoyed the most being here with this team is the sense of family. Every one of these guys is going out every day and trying to outwork each other and then on the field trying to outperform each other and just having some fun as we do it."
Chiefs Pro Bowl LB Tamba Hali, who ranks fourth in the NFL with nine sacks, gave specific examples of coach Reid and his staff implementing a system that the team has embraced.
"Andy Reid has come in here with a culture that allows us to be who we are and go out and play the game and have fun while we're doing it," Hali said. "What they're doing and their beliefs in their system, they've convinced this entire locker room that what they do works and that's how we approach it every day. There's a lot of coaching; we spend a lot of time on the field. They've brought us together and this is the first time I've been around, where all the LBs (lockers) are together, all the WRs lockers are together, so I guess little things like that made a difference with the chemistry of this team."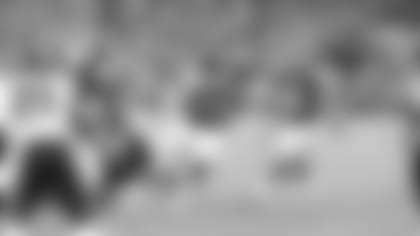 Chiefs QB Alex Smith mentioned other ways coach Reid has helped turn this proud family-owned franchise around.
"He eliminates distractions," Smith said. "He allows guys just to focus on football and exactly that, just be themselves. I even think he encourages it, encourages to play with personality and have personality. He does that through his actions, by letting his own personality shine and come through. I think it really starts with him."
As for the work that's been put in this week by Andy Reid's team, Chiefs DE Tyson Jackson voiced the group's overall focus, entering Sunday's game.
"Our focus right now is just to go out there, be as best as we can possibly be against Cleveland and get a W," Jackson said. "Guys aren't going out there really looking for their numbers; we're going out there to get wins on Sunday and if that calls for somebody to get more sacks than other guys, nobody is selfish on our defense. We're going out there and we're hungry for each other and we're looking for big things, come Sunday."
Chiefs fans are hoping for the very same thing.
For a full injury report from Friday, click here.