The Kansas City Chiefs have rolled out one of the better offenses in the NFL this season, riding it to a 6-3 record and a first-place standing in the AFC West entering the bye week.
The Chiefs have scored 27 or more points in six of their nine games, and though the unit has struggled at times of late, they still rank No. 5 in points (28.1) and No. 6 in yards per game (388.2) when compared to the rest of the league.
That success correlates with what's been the best season of quarterback Alex Smith's career.
Smith leads the league in passer rating (113.9) and yards per attempt (8.34), ranks second in passing yards (2,444) and third in passing touchdowns (18), and has posted a passer rating of at least 100.0 in seven of Kansas City's nine contests.
The 12-year veteran has simply been one of the best passers in the league, and while it certainly helps having an All-Pro tight end in Travis Kelce, his performance is also a testament to a young, but resilient, group of wide receivers.
"All the guys have done a tremendous job of understanding the offense and what we're asking them to do and going out and executing at a high level," said Wide Receivers Coach Greg Lewis. "They haven't blinked an eye. More opportunities came, and they've answered the call in what we've asked them to do."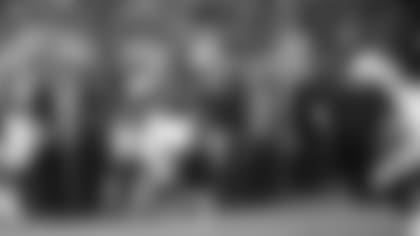 That group – in order of receptions - consists of Tyreek Hill, Albert Wilson, Demarcus Robinson, Chris Conley, De'Anthony Thomas and Jehu Chesson.
None of those players have more than four years of experience in the league, and two of the group's older receivers – Chris Conley and Albert Wilson – have dealt with injuries this season.
Wilson has missed two games with a hamstring injury, and Conley was sidelined for the season in Week 5 with a ruptured Achilles tendon.
That leaves Hill, Robinson, Thomas and Chesson - a group that combines for just nine years of experience - but it's also a collection of players ripe with potential and that's already bearing results in a number of ways.
Hill's play speaks for itself, as he ranks seventh in the league with 617 yards through the air. That's already more than he had all of last season, and he's done it with just 40 catches, picking up over 15 yards per catch.
And Hill's ability on the field goes beyond the numbers, as he consistently seems to find ways to change the game in mind-bending fashion.
That was on full display last Sunday, when he maneuvered through a sea of Dallas Cowboys defenders for a 56-yard touchdown at the end of the first half.
It was already Hill's third reception of 50-plus yards this season, but it was only possible because of another young receiver's help.
"I'm always that guy trying to make the big play for the team, but Demarcus Robinson had a tremendous block on two guys," Hill said. "One guy blocked two guys, so hats off to him. Then I was able to use my speed and get in the end zone."
Robinson has shown flashes catching the ball this season, tallying 12 grabs for 133 yards, but where he's really been making an impact is with his blocking, as evidenced by his block on Hill's score.
"I'm excited about him," Lewis said. "It's something that we emphasize as a staff, and it's something that I as a coach emphasize to the group. We want to turn those 5-yard runs into 15 or 20-yard touchdown type runs. We take pride in going out and trying to cover guys up each and every play."
Another player making an impression in an unsung way is Chesson, who has excelled on special teams.
"Jehu has a done tremendous job of just immersing himself into this culture that we have here," Lewis said. "It's a big role playing special teams, and it's where you really learn how to play football. You have to play fast because there's a lot of stuff happening, and it sort of gets you ready to go in on offense, because you've felt the speed of the game. I'm excited about where he's at and he's going to continue to grow."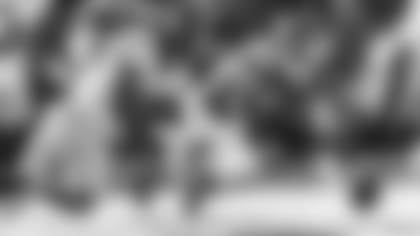 That leaves Thomas and Wilson, who stand as the veterans of this group as just fourth-year players, but a pair that's also shown signs of growth.
Thomas already has a career-high two touchdowns this season, and Wilson has made some huge plays when it's mattered most, such as his 37-yard catch that set up a game-winning field goal in the final minute in Week 4 against the Washington Redskins.
It's been a collective effort for the young core of receivers, and it's caught their quarterback's eye.
"We have a lot of youth, but it becomes infectious – the competition with each other," Smith said. "Everybody wants a piece, everybody wants to pitch in and everybody wants to make plays. Those guys aren't scared of anything. They get in the game ready to roll and they play fast, which is rare for a young group."
The Chiefs are counting on that growth to continue through the final seven weeks of the regular season, and hopefully a few more games after that.
"If I was playing, I would get away over the bye week – but they can do whatever they feel is necessary," Lewis said. "All I want them to do is to come back ready for the stretch run so we can do what we came here to do."