The man is one of the top pass-rushers in the NFL, racking up the seventh-most sacks (32) in the league over the last three seasons. He's tallied a ridiculous 192 pressures in that span – recording at least 55 in each of those three campaigns – while hitting the opposing quarterback 77 times.
Few can get after the passer like Kansas City Chiefs' defensive lineman Chris Jones, and now as he enters his sixth season as a professional, he's embracing an opportunity to take those pass-rushing talents to the outside more often as a defensive end in 2021.
"I feel like I can be productive inside or outside – wherever the team puts me – but I think there's more advantages on the outside because you can't really double team me [out there]," Jones explained on Wednesday. "You can chip, but you're not really getting as many double teams as a three-tech would in this defense. I'm excited about that."
This isn't entirely new for Jones, who logged a handful of snaps last season as a defensive end. He's always been a versatile player who can line up anywhere along the defensive line, but it appears the Chiefs are interested in utilizing him as an outside rusher significantly more often this season.
"He's an imposing player inside – we all know that. If we move him outside on a number of snaps – and he'll need to be flexible to do both – we'll miss that, but hopefully, we'll gain something on the edge," said Chiefs' Defensive Coordinator Steve Spagnuolo earlier this month. "He'll play out there a little bit and we'll move him back inside when we have to…I think it will come down to who we're playing and where we can find a weakness. We just have to get him used to playing the two spots right now and we'll figure out the rest of it later on."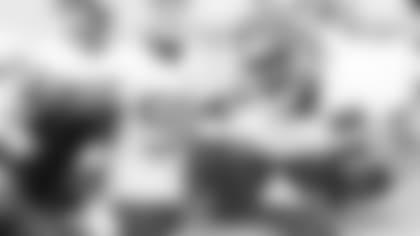 Spagnuolo mentioned that Jones has spent Organized Team Activities (OTAs) – which took place over the last several weeks - and this week's mandatory minicamp to digest the mental aspects of moving outside on a more regular basis. It will certainly be an adjustment, but one that could pay dividends with Jones and fellow pass-rusher Frank Clark coming off opposite edges.
"I think it could create advantages on this defense along the line of scrimmage. Maybe we find a matchup that we like and we're able to exchange gaps now. It doesn't really matter to me about what side I'm on – it's whatever Frank is comfortable with," Jones explained. "I'll rush from the left or right – I'll even stand up and rush from the middle as a linebacker if I have to - I'm just excited to learn this position…I'm still learning, but [I feel like] I'm progressing well."
The move could also provide Clark with more opportunities to get after the passer, too, if opposing offenses choose to focus on Jones coming off the edge. Either way, the fact that the opposition will need to prioritize one of the two is a benefit for Kansas City.
"I think it kind of opens up the game more, honestly. You find a lot of times last year where we made it easier on teams to make adjustments when Chris and I lined up on the same side. That's due to the position - there's only so much you can help when you've got one guy playing a three-tech and you've got another guy playing end," Clark said. "With Chris going to the end position, it just opens up the game much more. It makes it hard - now they have to pick sides, whether they're going to slide right or going to slide left."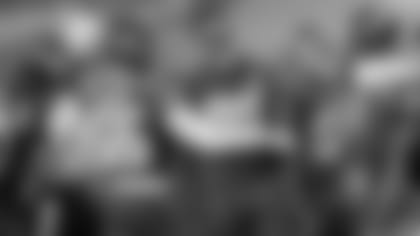 And one of the key factors that makes this all possible is the addition of defensive tackle Jarran Reed, who the Chiefs signed back in March. Reed was one of the top pass-rushing defensive tackles in all of football over the last several seasons for the Seattle Seahawks, racking up 19 sacks since 2018.
He tallied 6.5 sacks in 2020, and as it turns out, Reed's best season – which included 10.5 sacks and 55 pressures in 2018 – was when he was Clark's teammate in Seattle. Reed's presence means the Chiefs' defense will still feature a dominant force in the middle alongside the likes of second-year player Tershawn Wharton, veteran Derrick Nnadi and others while Jones can move around more often.
If you ask Reed, the plan makes a lot of sense.
"I'm not surprised. When you're that caliber of a player, you should be able to move all along on the defensive line," Reed said last week. "I'm actually liking that side, [too, with me] staying at three technique and he stays at defensive end."
It's all still a work in progress, as the Chiefs are early in the offseason program and have yet to practice with the pads on yet, which is dictated by league policy. There's a way to go in terms of figuring out how much Jones will play in either spot this season, but wherever he lines up, the two-time Pro Bowler will be ready.
"[I'm ready for] whatever Spags thinks is best. I know him and [Run Game Coordinator/Defensive Line Coach] Brendan Daly will put a game plan together week-by-week, and some weeks it may be heavy outside while in other weeks, it could be heavy inside," Jones said. "Whatever game plan they have for me, I'm bought in and I'm comfortable with it."