Kansas City Chiefs' Head Coach Andy Reid, linebacker Dee Ford, defensive end Chris Jones, fullback Anthony Sherman, wide receiver Tyreek Hill and safety Eric Berry met with the media on Friday afternoon.
Here are six things that stood out.
1. Reid began Friday's media availability by providing an update on the Chiefs' injured players.
"As far as injuries go, the only guy that didn't practice today was [linebacker] Dorian [O'Daniel]. We have him listed as out," Reid said. "The rest of the guys went."
Berry and tailback Spencer Ware, who each missed last Saturday's Divisional Round matchup with Indianapolis, both fully participated in Friday's practice and were not listed with an injury designation later in the day.
Reid was later asked if he had a message for Chiefs Kingdom headed into Sunday's contest.
"It will be a great atmosphere. Right now, I don't think the Sea of Red cares if it's cold out there," Reid said. "They will be fired up and ready to go. We look forward to it. We love playing here. We love when they get loud. I know that they're going to do that. It should be a great environment and atmosphere for a football game."
2. Ford discussed the impact of having fellow linebacker Justin Houston rushing the passer in Sunday's contest. Houston was injured the last time these two teams met in Week 6 and didn't play.
"It is hard to block the front as a whole. Having all of us together, pick your poison at the end of the day," Ford said. "If you want to chip, that's just less guys that you're able to release downfield, so we'll take it any time. Just having his presence is going to be a lot different. We are definitely looking forward to it."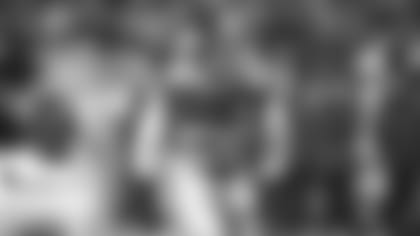 The Chiefs put together the most prolific pass-rush in the NFL this season, getting after the passer a league-most 52 times.
Defensive End Chris Jones
3. Speaking of the pass-rush, Jones discussed how the Chiefs can get after Brady despite his reputation for getting rid of the ball quickly.
"Tom Brady gets rid of the ball very fast. Those guys stick their hands out and Brady gets rid of the ball," Jones said. "We'll definitely try to affect them with our pass rush. Dee Ford on the edge, Justin Houston and [defensive end] Allen Bailey – we'll try to do something to affect him and to knock him off his pivot."
And having the support of the home crowd behind them only helps that endeavor.
"It's great to play at Arrowhead. There's something about Sundays in Chiefs Kingdom that I've noticed - stores shut down and everybody is here for the game. That's amazing. I've never been part of an organization that is like that where stores actually shut down to come watch the Chiefs play. This is an important thing for the community."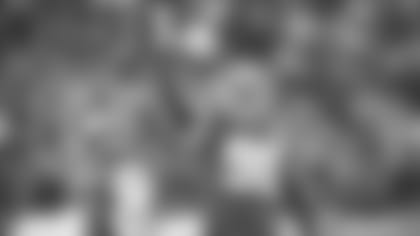 4. Sherman, meanwhile, was asked how the veteran guys in the locker room have helped 23-year-old Patrick Mahomes lead Kansas City to such great heights this season.
"I think the biggest thing with him is he's been a leader since he got here. He's one of those kids who has an unbelievable leadership gene in him," Sherman said. "He does a phenomenal job of coming in and commanding the offense. None of us - I don't think any of us on this team really have been in this position - so we really don't know what to say besides 'Go be yourself and enjoy it and let's have some fun.'"
Wide Receiver Tyreek Hill
5. Hill discussed his preparation heading into Sunday's game after posting some huge performances against New England in recent memory.
"I'm going to do the same thing that I've been doing all year," Hill said. "I have to continue to be humble, continue to trust this process and continue to work hard, so that's what I'm going to do. Come in and work."
That process has certainly worked for Hill during his brief time in the league - and especially when he takes on the Patriots - as the speedy Hill has 14 catches for 275 yards and four touchdowns through the air in just two-career games vs. New England.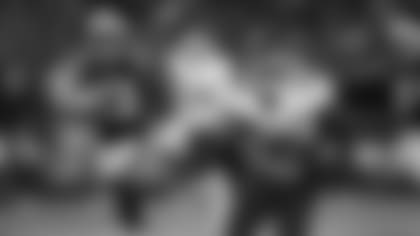 6. Lastly, Berry, who has missed all but two games this season with a heel injury, was asked about what playing for the AFC crown and a trip to the Super Bowl - which will take place in his native Atlanta – means to him.
"That puts a lot on it. Just look at the history behind the [Lamar Hunt Trophy] and look at the organization that we're playing for," Berry said. "It's great just to be in this position and to have this opportunity. You don't get these opportunities often. It's my ninth year in the league and [this is my] first shot at it. I'm going to cherish every moment."
The Chiefs take on the Patriots on Sunday afternoon with a berth in the Super Bowl on the line.