The offseason is all about targeting areas for improvement in anticipation of the upcoming campaign. It's the little adjustments that can really make a world of difference in the end, and for second-year tailback Clyde Edwards-Helaire, that focus has been locked in on one aspect of his game through Organized Team Activities (OTAs) and minicamp.
"Working on my hands and catching," Edwards-Helaire said on Wednesday. "I wouldn't say it was a problem last year, but just understanding our offense - we move the ball around and we spread the field – so why not work on something that I feel like I can improve on? That was one of my steps as far as improvement goes."
It's an exciting thought when considering the strong overall season that Edwards-Helaire put together in 2020. From the beginning of the year through Week 15 – prior to getting injured and missing the final two games of the regular season – Edwards-Helaire ranked fourth among all rookies in terms of yards from scrimmage (1,100) and 10th among all running backs overall.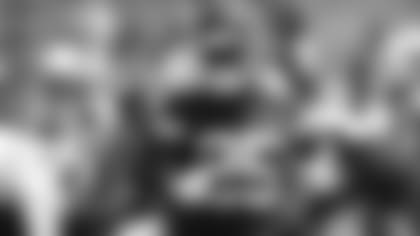 Only Jaguars' tailback James Robinson, Vikings' wide receiver Justin Jefferson and Colts' tailback Jonathan Taylor were more productive in that span among rookies, while – in addition to Robinson and Taylor - the Vikings' Dalvin Cook, Titans' Derrick Henry, Saints' Alvin Kamara, Packers' Aaron Jones, Bears' David Montgomery, Raiders' Josh Jacobs and Cowboys' Ezekiel Elliott were the only running backs to tally more yards from scrimmage than the Chiefs' first-round pick during that span.
Additionally, among the running backs on that list ahead of him, Edwards-Helaire amassed his production with the fewest touches (217) of any of them. The foundation is clearly there for the LSU product to be a productive player in the NFL, and developing into more of a weapon in the passing game is what he considers to be his next step as a professional.
"Everything is based off the things that we install. Talking to [Head] Coach [Andy] Reid and [quarterback] Patrick [Mahomes], there are things we're implementing to get the ball to the running back and just get the ball spread out more," Edwards-Helaire explained. "That was one of the [reasons] why I chose to work on my hands and to just be more of a threat. It was seen that I can run the ball between the tackles and outside [last season]. So, just being able to also get out - and not just routes out of the backfield, but also spread out in the slot and as an outside wideout – [is a goal of mine]."
And as Edwards-Helaire mentioned, it's a goal of the coaching staff, too, heading into 2021.
"We didn't have a huge, expanded role for him in the passing game [last year]. We were just getting him in the swing of [playing in the NFL]," Reid said. "We've tried to give him a little bit more this offseason, and he's handled it well. I look forward to getting him up to training camp where he can continue to keep growing."
Edwards-Helaire certainly has experience in this area, too. In fact, he racked up 453 receiving yards on 55 catches – a school record for a running back – during his final season at LSU. According to the folks at Pro Football Focus, Edwards-Helaire broke 14 tackles as a pass-catcher that year and looked like a natural receiver out of the backfield.
The skills are already in place, and now with a full offseason at his disposal with the Chiefs' coaching staff, the stage is set for Edwards-Helaire to become a more regular target in the passing game. It also doesn't hurt that the man coaching Kansas City's tailbacks in 2021 – Greg Lewis – spent the last four seasons as the Chiefs' Wide Receivers Coach and played eight seasons in the NFL as a wide out.
It's really a perfect situation for a young running back looking to get more involved in the passing game.
"He brings in that [perspective from a] receivers coach as far as the routes that we're implementing. So, just those little things that you don't get taught from a running backs coach, but you get it from a receivers coach," Edwards-Helaire said. "He's been in the league eight years and seen some good backs and also coached some great receivers, so he's kind of seen it all."
This is of course still very early in the offseason program, but it's certainly exciting to imagine what Edwards-Helaire can accomplish this season as not only a runner, but also a weapon in the Chiefs' dynamic passing attack.