As the sun rises on Sunday morning, so do the hopes of Chiefs fans, who watched their favorite team earn its first preseason win, late Saturday night, defeating the Pittsburgh Steelers 26-20 in the City of Bridges.
"I was proud of the guys for the way they battled," Chiefs head coach Andy Reid said during his postgame presser. "I think the ones and the twos, they were able to come back from a 10-point deficit and tie it up at halftime and we came back and won the game at the end. There were some big plays all along that are important. You can't just chip away five yards at a time, you have to make a bunch of big plays, the guys did that and the attitude was right. I thought they played very well against a good football team."
It was truly and ebb-and-flow type of game that saw the Chiefs double-digit deficit quickly vanish before halftime. Chiefs QB Alex Smith led the offense by using several weapons, including Chiefs WRs Dwayne Bowe, Donnie Avery and Junior Hemingway, who caught the five-yard TD pass to cap off a near-perfect two-minute offense.
"It felt good out there," Smith said. "We've had limited two-minute work just from the nature of being together such a limited time, especially in a game situation. So I thought it was great work for us. It was good to get some plays. So I thought the guys just executed really well versus a team that gives a lot of different looks, a lot of pressure. It was a good drive."
Dwayne Bowe spoke about the toughness of his team's QB.
"That's what he does," Bowe said of Smith. "Just standing in the pocket, making the throws he has to. Also, he makes the checks and locates the mike to help the linemen out. He's just an all-around quarterback. He's going to stick in there and get us the ball. Remember, he wants to win too with us."
While Smith and the offense picked things up late in the first half, they were allowed to do so because of their teammates on defense, including a blocked FG attempt by Chiefs DB Tysyn Hartman and continued pressure by Chiefs Pro Bowl LB Justin Houston, who finished with two tackles and a sack during Saturday night's win.
"It's a new year," Houston said. "We are trying to do what we need to this year to become one of the better teams in the league."
With the score tied 10-10 going into the third quarter, the momentum meter swung in favor of the home team after Steelers QB Bruce Gradkowski connected on a 34-yard TD pass to WR Markus Wheaton, giving the hometown fans a very brief seven-point lead.
Cue up Chiefs rookie RB Knile Davis, who dropped back nine yards deep in his end zone to field the kick, per approval from Chiefs special teams coordinator Dave Toub, and did so in spectacular fashion, retuning the kick with his 4.37-second speed, 109 yards later.
"It was a big play to keep the team in the game," Davis said. "I'm really glad those guys picked up their blocks and I was able to make something happen and keep us in the game. We ended up going into overtime and it ended up helping us get the win."
The win didn't happen until after Chiefs K Ryan Succop tied that game, 20-20, after his clutch 38-yard FG. Then, in overtime, a tough Chase Daniel led the Chiefs down the field and to the victory, connecting on a 15-yard scoring strike with Chiefs rookie WR Rico Richardson.
When all was said and done, Chiefs head coach Andy Reid walked away with his first preseason win of 2013, but not before explaining what part of the victory made the win so special.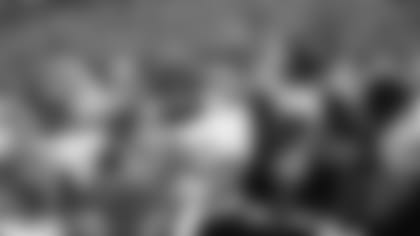 "It is a preseason game, but the part I like is that they're all pulling for each other," coach Reid said. "The one's pulling for the two's, the one offense pulling for the two defense and the one defense pulling for the one offense. So, that's good. That camaraderie is important when you're building a football team like these guys are building. They believe in each other, they trust each other, they support each other. They've done it all through camp. Everything I've thrown at them they've handled."
The Chiefs will continue to handle their business on Monday, following a day off today. Kansas City closes out its preseason schedule on Thursday, facing the Green Bay Packers.