Some truly legendary players have suited up at middle linebacker for the Kansas City Chiefs over the years, from Pro Football Hall of Famer Willie Lanier to franchise all-time leading tackler Derrick Johnson. It's a list that includes some of the greatest players to ever take the field, and while only 22 years old, Nick Bolton has every intention of being the next in line.
Bolton is set to take over at the "MIKE," or middle linebacker position, heading into this season following the departure of veteran linebacker Anthony Hitchens. It's an opportunity that Bolton, who the Chiefs selected with the No. 58 overall pick in the 2021 NFL Draft, earned with a truly historic campaign last year. In fact, Bolton became just the ninth rookie since 2000 to record at least 110+ tackles and 10+ tackles-for-loss in their initial season, and the first since Darius Leonard in 2018.
Bolton joined the likes of Brian Urlacher (2000), Luke Kuechly (2012) and Lavonte David (2012) – among others – on that list, and he did so while playing only 623 total snaps. For context, since Pro Football Focus began tracking snap counts in 2006, Bolton's snap total was the fewest of any player in that group.
He was nothing short of outstanding, and now heading into his sophomore season as a professional, all indications point to an even better campaign for the former University of Missouri star on the horizon.
"I was very impressed with Nick a year ago, particularly from a mental standpoint. He's one of those people that the more you're around him, the more impressed you become with him," said Linebackers' Coach Brendan Daly. "He's grown from a mental standpoint, he's grown from a communication standpoint and he's grown from a leadership standpoint. It's been really fun to watch, and impressive, to be honest. It's pretty amazing the amount that he's handling at such a young age. There are times that I have to [remind myself] that he's only in his second year."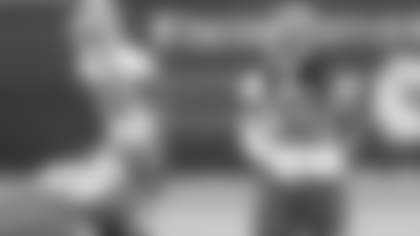 Indeed, Bolton is undoubtedly assuming a leadership role on defense heading into this season despite being one of the youngest players on the team. Only five players – all rookies – are younger than Bolton, but his familiarity with the Chiefs' scheme after a full year in the system makes him seemingly wise beyond his years.
"It's a complete 180. It's a lot smoother," said Bolton when asked about his comfort level as a professional when compared to this time last year. "Everybody around here has been instilling confidence in me to lead the team and play fast. So, I'm counting on those guys and they're counting on me. We're going to keep building and keep stacking days."
That familiarity with the basics lends itself to focusing on the details moving forward, and for Bolton, his field vision is a specific area that he's working to refine.
"The big thing [for me right now] is vision, just seeing the field better. Coming into my first year, everything was moving fast, but as the season progressed, things slowed down a little bit," Bolton explained. "This season, it's about just opening up my vision and being able to see more things on the field at one time. That will help me play a little faster, so that's what I'm aiming to do."
Another aspect of Bolton's game that will continue to grow is his coverage ability against the pass. His aptitude against the run translated almost immediately from college to the NFL, but Bolton's results in the passing game also steadily improved as his rookie season transpired. The advanced metrics back that up, as Pro Football Focus assigned Bolton the fourth-best coverage grade among linebackers with at least 90 coverage snaps between Week 11 and Week 18.
It's an area where Bolton demonstrated significant growth, marking another reason why the Chiefs' coaching staff feels comfortable saddling the 22-year-old with more responsibility this upcoming season. It's also worth pointing out that basically the entirety of the Chiefs' on-field offseason program, at least until training camp, is limited to passing drills. That means a ton of reps in coverage for the linebacker corps, which will only cultivate further development in Bolton's game.
"I think the more understanding he has and the more he does it, it becomes even more friendly to his instincts," said Head Coach Andy Reid when asked about his expectations for Bolton in 2022. "You saw him in the run game be really effective [last year], and now he's able to work on the passing game. That's what these camps are. That's where you see linebackers make a little jump from their first year into their second and third year. They get all these reps with the pass game, and I think that'll help him down the road in rounding off his game. He's attacking it like crazy right now. He's really put a lot of effort into that."
He's not alone, either. Bolton is joined by a slew of exciting players on defense, many of whom are under the age of 27. That group includes cornerback Trent McDuffie (21), linebacker Leo Chenal (21), defensive end George Karlaftis (21), safety Bryan Cook (22), linebacker Willie Gay (24), cornerback L'Jarius Sneed (25), safety Justin Reid (25), cornerback Rashad Fenton (25) and safety Juan Thornhill (26), among many others. The Chiefs bid farewell to some veteran leaders on defense this past offseason, but Bolton believes that Kansas City's young group is ready for that responsibility.
"I feel like it's our time, our young guys, and not just me. Willie, Justin Reid, Juan and the young guys on the defensive line. It's our time to step up and lead as a group," Bolton said. "Nobody will replace Hitch or Tyrann Mathieu – those are special guys. There is a reason why they wore Cs, but it's up to us to come in as a group and get guys in the best position possible to play."